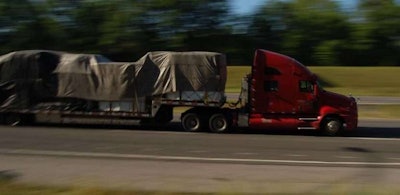 The utility of the CB — or lack thereof when it's turned off or not there to begin with — was well in evidence Tuesday night, as driver Scott LeVan ran westbound on I-80 in Pennsylvania and the weather and road conditions got dicey, he says. LeVan was in touch yesterday about what he saw preceding what turned out to be a terrible accident near the Clinton/Centre County line, MM 165, in which two truckers lost their lives. Below you can catch a local ABC affiliate's report on it from yesterday, while EB I-80 there (as many no doubt already know) was still closed.
It's since reopened, but there's no doubt that the extension of the tragedies from the accident will continue for years.
And, according to LeVan, it all might well have been avoided had drivers heeded his warning. He'd come westbound by the area, where he noticed traffic slowing, backing up with a broken-down tractor-trailer off on the shoulder. "I was yelling on the radio … just before it took place telling you all to spread out because you have a broken-down semi on the shoulder and traffic is coming to a stop," LeVan wrote in something of a message to his fellow drivers. His warning got nary a response in the moment as he passed by. "Get with the program, drivers. There is no excuse for you not to have a CB."
In this case, the warning might well have saved a life, LeVan believes, then describing another accident down the line, which he says had just been cleared and may have been the reason everybody on the EB I-80 side seemed to be in such a hurry. "Here is where I blame Pennsylvania troopers," he says, for opening both lanes too quickly, allowing backed-up, bunched-up traffic to remain backed-up and bunched-up, but at high speed, as those who'd waited jockeyed for position to make up time.
"You should have only opened one lane until traffic got thinned out, so you all are in part to blame," he addressed the police. "I saw what was going on, all those trucks running up on each other and I was yelling for them to spread out because it was getting really bad, freezing rain. If that was me over there I would have pulled off, taken a nap for about 2 hours then got back on when traffic was more spaced out."
LeVan, finally, urges his fellow drivers to "use your head" in such situations. If you don't, the hard reality now facing the families of the two killed in the I-80 EB accident will be coming your way: "you will be in a casket sure enough," LeVan says.