Sanjay Desai got his first taste of the trucking world with the Trucker Path company, where he was Chief Product Officer "in the early days," he said, of the Trucker Path app's explosion onto the scene and its expansion into freight and other areas away from its early navigation-focused utility.
He and another former Trucker Path team member, though, fell hard in love with the idea that more could be done with technology to help really put a dent in a significant business problem for owner-operators and small fleets. It's one that's long put you at a distinct cost disadvantage if not yolked to a larger fleet where big volume discounts on fuel are the norm, or involved in another fuel network like that provided by the National Association of Small Trucking Companies and some other vendors.
"We founded Mudflap with all that understanding" gleaned from countless consultation with owner-operator independents, undertaken via his work with Trucker Path, Mudflap CEO Desai said. He and the team launched the Mudflap mobile app early in 2020 with some investor support and, since, it's been downloaded and utilized by half a million people in the network of independent truck stops the company's built to offer discounts on every gallon of fuel bought.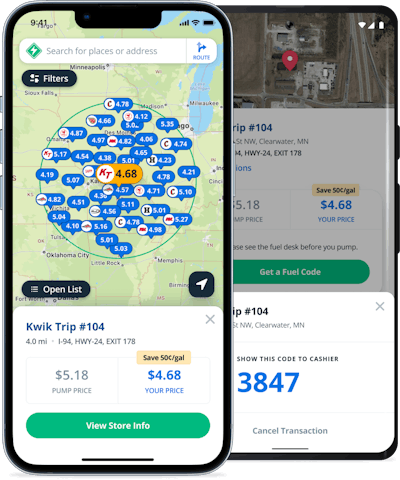 Driving all those downloads in part is ease of start-up. Owner-operators signing up "aren't filling out an application like a fuel card with a credit check," Desai said. It's a "60-second experience" setting up an account to begin accessing in-network fuel purchases from right at 1,000 independent truck stops and regional chains -- among them Sapp Bros., Kwik Trip, Casey's and others.
"Every week we're adding new partners" among fuel stops, Desai said, aiming to double the network by year-end to 2,000.
At sign-up, the company asks just for the user's name and company, email to establish login, and the payment method he/she wants to use, whether bank account or credit/debit card, critical for successful use. Given payments are executed solely through the mobile app, the Mudflap company itself doesn't take on the fees a card company does. That extends to owner-operator users as well.
"We've never charged a penny of fees," Desai said. The company makes its money on commissions it gets from the truck stops when inclusion in the Mudflap network results in business done at the stop.
It's all yielded a huge growth engine for the company over the last two and a half years -- basic "word of mouth," Desai said. "That's how we've grown. Quite often you're literally saving on that first visit" to a truck stop in the network.
Discount levels vary by what each stop or chain is contracted to. Regular readers may recall the story of Joey Terra's use of the app as of early March, when he found discounts ranging from a 20-cent-a-gallon savings at one stop to nearly a dollar at a stop where the pump price was above $5/gal. He paid $4.30.
[Related: Weapons in the fuel arsenal: One owner-operator's price-discount success with a relative newcomer]
Those add up, of course.
The way it works: When an operator stops at a Mudflap network truck/fuel stop, when there they open the Mudflap app and select the fuel stop where they want to fuel. One tap of a button will then "generate a fuel code -- it's a numeric code unique to you and that particular truck stop," Desai said. That code is then what you show to the fuel desk clerk, and how they ID you as a Mudflap customer, turning on the pump for you. Then, essentially, you're done.
"You can always go back in to get a paper receipt from the truck stop," Desai said, "but Mudflap always sends a digital receipt over email."
Given Desai says no one had done mobile payment like this for fuel when the company first started, it was a significant question of just how the company might integrate with point of sale infrastructure already in place. They opted, however, for ease of use and speed to implementation, ultimately. Every merchant that comes on board "gets a Mudflap tablet" through which to handle all Mudflap network transactions, he said. "They use that to look up the code when the driver comes in and record the gallons -- it's easy for the person at the fuel desk."
The same word of mouth spread of the app, as its owner-operator user base exploded, happened among truck stop owners, Desai said, after outreach efforts began to bring numerous stops into the network. The company's pitch to them, as Desai put it: "If we can drive you new customers, are you willing to offer discounts you wouldn't normally offer an owner-operator?"
Discounts are based on formulas most often of the cost-plus variety -- i.e. the retail fuel buyers pay what the truck stop has paid for fuel, plus a certain amount, variable depending on the location. As noted earlier, Mudflap itself retains a small commission on purchases if they do in fact deliver business to the stop.
[Related: Fuel-market insanity: A tale of two loads, bedrock cost control/rates-management tactics]
There's something of a significant side benefit to using the app that at least one operator I know has noted. It's a quality-of-life-on-the-road sort of thing. The phrase "another Mudflap gem" was used to describe a Nebraska independent truck stop this operator had passed by before, but never visited, complete with sit-down dining, magnanimous staff and old-school in most every way. A right-under-my-nose kind of discovery, if you will.
Desai noted that was a common thread among user feedback in the 2.5 years the app and payment system has been operational.
Users "discover truck stops they never would have paid attention to or known about," he said. "In the world of owner-operators and small fleets, there's a natural affinity for" the mom-and-pop independent stops. "The more folks that join on the drivers' side -- the more gallons we have and can negotiate better discounts. As we grow, the discounts get stronger, and we've proven on the merchant side that we can bring great new customers."
When Sanjay Desai and I talked last week, he couldn't put a firm figure on the gallons sold in the moment, but noted it's now in the 10s of millions of diesel gallons per month.
That's right -- diesel only, though the company is considering expanding to gasoline as well possibly in future, particularly given mixed gas/diesel fleets among its user base and the current agonizing fuel-price situation. For now, "we cater to the OTR driver," he said. "Most of [the in-network stops] are full-service truck stops.
"With fuel prices going up, and softening in the spot market, pressure to turn a profit has built. Probably the coolest thing we ever hear and we hear it quite a bit -- a lot of our drivers have changed their workflow based on Mudflap. Instead of picking the best price, they're evaluating load A or load B based on where the Mudflap discounts are, optimizing load selection around Mudflap."
For him, you can't ask for a better compliment on a job well-done, he said.
[Related: Will only the strong survive historic fuel-price highs?]