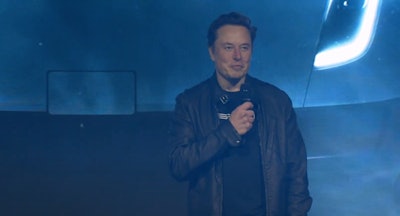 Tesla
The Tesla Semi made its official debut earlier this month, and the company's outspoken founder Elon Musk's bold claim of having created "the most badass rig on the road" was met with a torrent of responses from truck operators of all stripes.
Overdrive polled its readers on their interest in the Semi, and the results actually paint a somewhat positive picture for Musk, in that most people seemed at least willing to be convinced.
The most common answer, with 163 votes and nearly a third of the total, reflected an open mind with regard to the Semi. The next most common answer, though, was a complete and total lack on interest. A very similar number of respondents went even further to completely trash the look of the truck. The remainder, about a fourth of the total number of respondents, held varying levels of interest, from "somewhat" to total interest and even buying into the "badass" claim from Musk.
Over on Facebook, however, opinions got more colorful. A lot of what Musk might have thought of as "badass" simply didn't match owner-operators' expectations.
Performance
The Semi's spec sheet boasts a completely unheard-of rate of acceleration, but most commenters seemed to think that trucking and jack-rabbit starts don't mix.
"As a retired truck driver, I didn't realize acceleration from 0-60 had that much to do with transit time from shipper to receiver," said Alan Thompson. "I feel cheated that my driving school didn't shed some light on that."
Dave Bienvenue wasn't near as sarcastic but no less skeptical about the priority placed on acceleration in the Semi's marketing pitch. "The diesel-powered trucks might not be able to accelerate from 0-60 in just 20 seconds, but they can travel over 1,200 miles," he wrote. "That's more than double the Tesla's range, before needing to refuel. And it probably isn't a great idea to try to accelerate that quickly when loaded to begin with. Bad things happen when the load shifts,"
Hugh J. Simpson: "Truckers aren't drag-racing lol! Bring it to [British Columbia] Canada and let us know how long it takes to go 800 kilometers over multiple mountain passes in the winter pulling a B train and 90,000 lbs."
Indeed on the logging and overweight front, Tesla has some competition from a converted hybrid 1962 Kenworth that might fit more neatly in line with your average driver's idea of "badass," to say nothing of the practicality of electric drive on steep grades, with regenerative braking on the downhills delivering charge to the batteries.
Appearance: Does the Semi look 'badass'?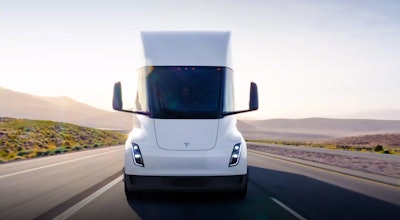 Beauty is in the eye of the beholder, sure, but let's not pretend opinions of fellow drivers and friends don't shape our idea of what a cool truck looks like.
"I wouldn't be caught dead in these goofy-looking things," wrote David Michael.
Still, others urged some historical perspective here. Sure, long hoods bag truck show prizes, but there's no denying styles and times are changing.
"That's what a lot of drivers said when the Kenworth introduced the first aero truck, the T600, back in 1984," wrote K.M. Lee, and "now the majority of trucks you see on the road are aero trucks."
Semi the way of the future?
Eddie Holcomb waxed nostalgic about the present, if that's possible. "I can't imagine not being able to hear the engine pulling, or watching the smoke trail down the side of the trailer from the stack, or feeling the turbo hit the sweet spot," he wrote, then offering an answer to the question above. "Oh well, all good things come to an end."
Maybe, maybe not. Most Overdrive readers, as the poll reinforces, took a long, strategic view of their equipment choices and adopted a "wait-and-see" attitude. Electrification in trucking will bring a whole host of changes to the work of trucking's familiar sights and sounds, such that many operators couldn't be sure just exactly how they'd like the rig until they drove one for themselves. "I'd have to drive one to give my opinion," wrote Jason Hardin. "But, that's not likely to happen."
Just because a hotshot billionaire says a trucking revolution is here, that doesn't mean any immediate changes where the rubber hits the road. With hundreds of thousands of diesel trucks on the road right now, and just 100 Tesla Semis delivered to one customer (after a five-year wait, no less), we'll all have plenty of time to adjust opinions as these trucks start popping up in more places.