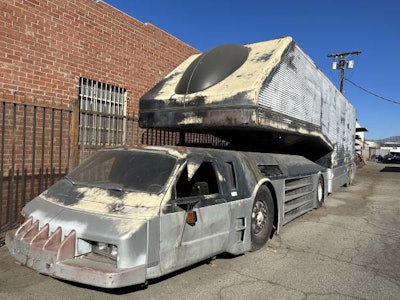 Photo from Craigslist
Perhaps the strangest-looking truck ever built has popped up for sale on Los Angeles Craigslist, listed simply as a "1982 Peterbilt Rare truck."
Where did such an intensely weird old truck come from? Hollywood, where else. The truck appeared in the "The Highwayman" TV show, which aired briefly between 1987 and 1988 and centered around crime-fighting road warriors in the style of "Mad Max" or "Knight Rider."
According to the listing, the truck "cost $500K to build in 1982" and still has its original pink slip. While the truck impresses with its unique body style, it's still hard to spot half a mill's worth of work on it. For reference, $500,000 in 1982 would be more than $1.5 million in 2022 dollars, adjusted for inflation.
The seller doesn't seem too worried about recouping those 1982 dollars and has listed it for just $65,000, a steal of a deal on a truck they claim "can make over $100K" a year on "production/movie rentals."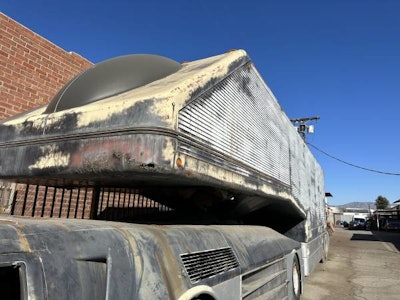 "Roadworthy and registered," the seller advertises, with a "steel clean body" that they admit "needs paint." Perhaps most amazingly, they list a "700-hp new Detroit diesel engine with only 5,000 miles." If anything, the years have only made the post-apocalyptic look of the rig more authentic.
"Starts and drives great, automatic," the listing says.
With used truck prices and equipment availability such a problem, which one of you will be the first to put this thing literally "under a load?"
No tires, no problem? Truck rolls into Port of Entry 'on rims'
The Wyoming Highway Patrol has a holiday reminder for drivers this year, and it's one you maybe thought you'd never need to hear: Make sure there's rubber on your rims.
WHP posted a short video clip of a truck dragging an Amazon trailer across the border with only distant memories of tires or treads on the passenger-side tandems,.
Wrote WHP: "With some of the roads reopening, the traffic is starting to roll. This video is from one of our Ports of Entry that had a vehicle roll [in] on rims... We are all tired of the weather, but please don't damage our roads, your vehicle, or other motorists' vehicles by driving on flat tires or rims."
[Related: Truckers may get the last laugh on Artificial Intelligence]