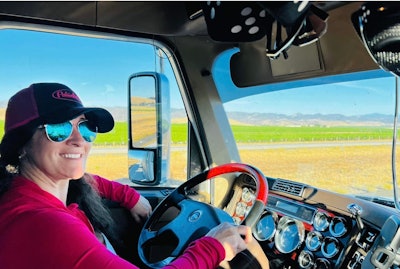 Jeremy and Tiffany Wallin
Tiffany Pell had "never been anywhere" too far from her hometown of Lafayette, near the Georgia-Tennessee border. Her comfortable job as a dean's assistant at a local college provided for her needs well enough, but she would soon get swept off her feet by a charming driver and the allure of life on the road in the trucking industry.
Tiffany stumbled upon Jeremy Wallin, an owner-operator and a driver of more than 30 years, as a profile photo in Facebook's "People You May Know" tab.
"It's funny, the town that I'm from and the town he lived in are super close, boundary counties just 10 miles from each other, but I'd never seen him," she said. "We just never met. I saw this good-looking dude on Facebook and he had these blue eyes and a little dimple and I thought, 'I have to talk to him.'"
But how? For days she pondered "elaborate" and "interesting" introductions, but it was all for naught.
In the end, Jeremy posted a picture from Texas of his newly bought 2017 Freightliner Coronado on his first haul for Noble Trucking, where he's leased on, and Tiffany abandoned the idea of a clever segue.
"How's Texas?" she messaged him.
"Hot as hell," Jeremy shot back. He had actually made it to New Mexico by that time, but he had the good sense not to question the lady.
"We just clicked," said Tiffany. The couple started courting in earnest around that time, and even from the earliest hints of a romantic future, Tiffany started imagining joining him on the road.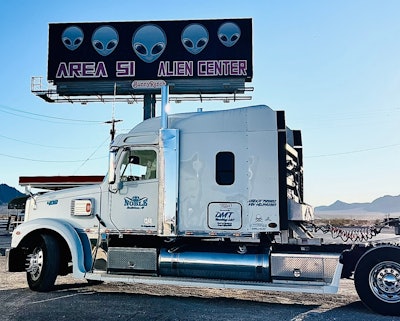 "We started dating and he was gone all the time," she said. The "I miss you" and "wish you were here" texts piled up until Jeremy took her out on a ten-day trip that took them through Texas, somewhere Tiffany had always admired but never visited. To this day, the Texas theme reverberates through the Coronado's cab interior, their new marital home. As it turned out, Tiffany and Jeremy had spent years narrowly missing each other in hometown haunts. Tiffany had been to a restaurant Jeremy used to own, and may have even parked outside his old diesel shop. Somehow, it took Facebook to finally bring them together.
Soon, Tiffany wasn't just missing Jeremy during hauls, but also life on the road. When Jeremy proposed, she knew she wanted a place in the cab beside him.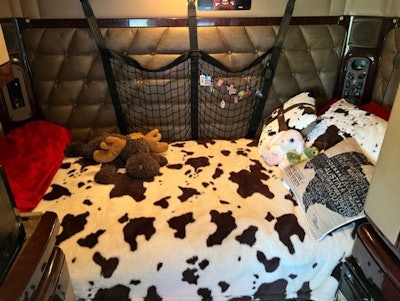 "Honestly, it did start out as more of an adventure," a "follow your dreams kinda thing," she said. "I had never been anywhere. Literally I had only been to a handful of states, so the idea of going to visit all the states in America" greatly appealed to her. Tiffany had uncles and relatives in the trucking industry, so she had an appreciation for the trade and lifestyle.
Yet "I thought truck drivers just kinda load up and chill on the road and eat cool food and come back home with no stress," she said. "After going out, I learned that they actually work! Not just physical work," but running a business.
Before long, Tiffany wasn't just along for the ride. She wanted to drive, and faced the small problem of having zero experience as a gear jammer. Lucky for her, she had a ready, willing, and patient trainer in Jeremy.
During their engagement, Tiffany went to go pick up Jeremy from a haul, and dressed as one would when meeting a date.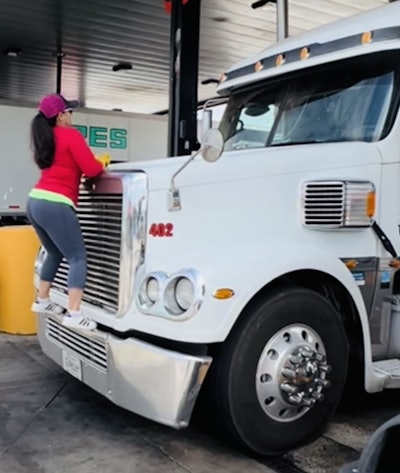 "I didn't know the trucking lesson was about to start," she said. "I was trying to look cute cause he'd been gone for a while, so I was wearing a sundress and sandals. When he said, 'Babe, hop in the cab," I thought he was going to take a cute picture, but no, he shut the door and went around and got in the passenger seat."
That was day one of her trucking career. "I puttered around the parking lot. We actually had drivers stopping and giving us the thumbs-up," and joking that at just five feet tall, "she's too little to drive the truck," she said.
"She was terrified, paralyzed-terrified," said Jeremy of the first few rides. "But she got behind the wheel for 10-12 miles for three hours and I said, 'Babe, you don't get it -- you're actually shifting gears. It takes a lot of guys a long time to learn that."
Even with a few months of experience under her belt, Tiffany "still says she's terrible at it," but Jeremy says she's making steady progress as the couple make solid money and tour the country.
Tiffany, now a team driver with a wealth of administrative experience, found her previous career set her up nicely to handle the customer service, management, and accounting for the business.
And, funny enough, having a woman show up to shipper and receiver appointments has been something of an eye-opener for Jeremy.
"Jeremy always said when he pulls up to shippers and receivers, they're not always really nice," said Tiffany.
"We get amazing service now," Jeremy said, whether it's gaining bathroom access at a facility or getting loaded or unloaded more quickly. Somehow, Tiffany's knack for customer service always helps to make things run smooth.
Overall, she's had a remarkably good time transitioning into trucking, but as a member of female-focused trucking groups like Women In Trucking and Angels of the Highway, she's aware not all women are quite as lucky. Big fleets would love to onboard thousands of people in Tiffany's position, but the prospect of team driving and sharing a cab with a stranger deters not just women, but plenty of other folks, too. Tiffany and Jeremy both acknowledged the "horror stories" they'd heard, but count themselves as "blessed" that Tiffany didn't have to travel that path.
[Related: 2017 Freightliner Coronado glider 'definitely a money maker' for newlywed team]
Her journey hasn't been all smiles, though.
"Seven years ago my brother was killed by a Freightliner flatbed truck in Mississippi," she said. "He walked out in front of it. We don't know all the details and we probably never will. That's exactly what I drive, a Freightliner flatbed, and just knowing that, it was a really hard time for my mom and dad, but it kinda came full circle.
"He was my best friend," she said of her late brother. "Sometimes, I do have problems, if I see someone on the side of the road I think, 'please don't walk out here." Sometimes, too, she has painful flashbacks. This trauma, in addition to the normal challenges of learning something new alongside a new spouse, means as with all marriages it sometimes gets emotional in that cow-themed Coronado cab. Imagine spending a few months telling your spouse how to drive. How would that go for you?
"If you're going to do this with a spouse, starting from zero, there's good days and bad days where she's very emotional," said Jeremy. "She's quit on me a few times but I always hire her back," he joked, adding he's "proud of her for overcoming" past issues.
"There's been a couple of celebratory shots taken a couple times because we got through a tough week," said Tiffany.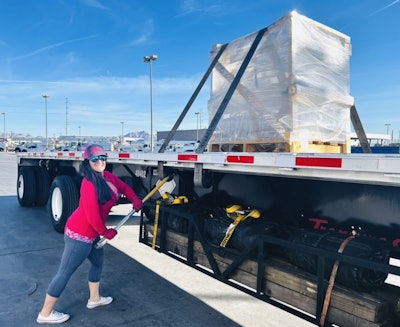 As for romantic date nights launched from truck stop parking lots, Jeremy is something of an innovator.
"I had a really bad week one time and Jeremy didn't even tell me what he was planning, he just said, 'Get us an overnight bag. Our Uber will be here in a minute,'" she said. From there, she found herself on Las Vegas Boulevard heading up to the The Strat hotel's Top of The World restaurant 800 feet above the strip. From the Big Texan Steakhouse in Amarillo to two-foot-long lobster rolls in Maine, Jeremy is empowering Tiffany's wish to travel and check out all the country's great regional dishes and hot spots. Jeremy swears by Uber, and says more drivers should take advantage of the ride-sharing app to get away from truck stop food and sights.
Occasionally, even trucking's headaches present an opportunity for the couple to enjoy their time together. Once when they got stuck in California with a load on a Friday that couldn't be delivered until Monday, they paid to park the trailer and bobtailed it to Monterrey Bay, where they rented bicycles and went whale watching, snapping a few pics of the Coronado by the ocean on the way.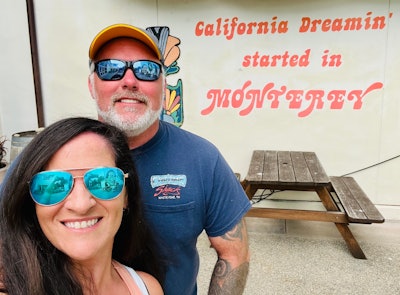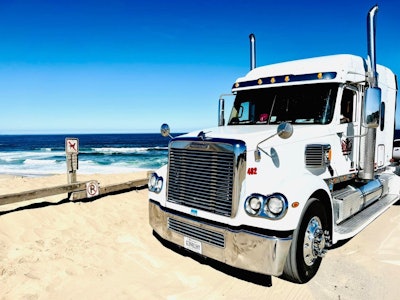 The couple have real spark and enthusiasm as newlyweds, and clearly Tiffany's loving the business so far. Importantly, though, it's all been a wildly new experience for Jeremy, too.
Perhaps the great tragedy of American trucking today is the fact that as experienced drivers age out, they take decades of knowledge and experience with them. And for the most part, it leaves the industry entirely. But for Jeremy, he feels this is a chance to share parts of himself and his business he never thought anyone would have the patience or understanding to learn about.
"This has breathed new life to my trucking career," he said. "It's so much more enjoyable now to have someone to do it with. Nobody knows what you know, and being able to teach her with her looking at me with these big doe eyes... The things I take for granted, she's blown away by."
As Tiffany put it, "He surprises me every day with more things he knows about I never even heard of. I have a deep respect for him, even if he wasn't my husband I'd want to still go out and train with him."
"This is the best time of my life I'm having trucking with my wife and my best friend," Jeremy said.