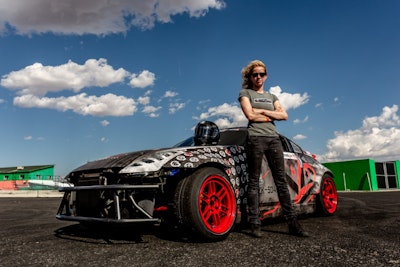 Zandara Kennedy is a professional driver with a CDL, and perhaps the baddest woman on the planet behind a steering wheel. Remember that scene in "Ice Road," Netflix's controversial attempt at a trucking thriller flick, where the two trucks are chained together and jackknifing across a frozen lake? That was her, and she was in fact driving on ice.
She's a Hollywood stunt driver, stunt coordinator, precision driver, and competitive professional drifter in a Nissan 350Z powered by a GM LS V8. She's also the only out LGBTQ+ athlete set to compete in the 2023 Formula Drift ProSpec race in Long Beach, California on April 7.
As such, she's got a lot to say about trucking, how it relates to her chosen sport, and what it's like to be a female star in a male-dominated field -- she's one of very few women competing in the Pro or ProSpec drift series. I caught up with her ahead of her 2023 season to talk variable traction, motorsports and touch points with trucking. Enjoy the brief Q&A.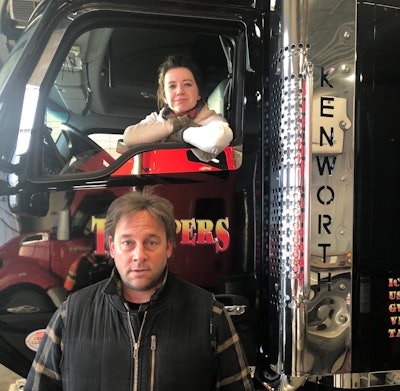 Overdrive: What's your relationship with trucking and your view of the business?
Kennedy: Trucking is definitely my backup career plan -- I got my CDL for stunt driving, and most of the trucks I've driven have been on set, but I do long distances hauling my rig from track to track, and spend a lot of time at truck stops. I have a great respect for people that drive trucks full-time. Truck drivers are keeping the country going, and it's amazing how easy it is not to see that if you're not traveling long distances.
[Related: Will Netflix's 'Ice Road' solve carriers' biggest recruiting problems?]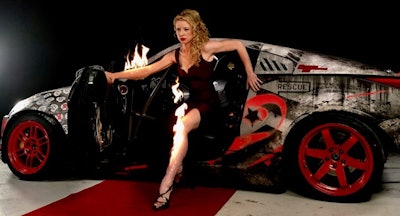 Having my CDL myself, I know how important knowledge of your vehicle and pre-trip inspections are, not just for the safety of yourself and fellow road occupants, but also simply to make your day run smoothly. Unlike regular drivers, truck drivers have to interact with and inspect their vehicles mechanically, every day -- this habit would really help every driver.
Overdrive: Some trucking niches -- log hauling or other off-road applications -- require at least somewhat similar driving techniques as drifting. Do you draw any inspiration from them?
Kennedy: I have a great respect for truck drivers, and even more so for logging truck drivers in particular – that is some of the most technical and risky truck driving that I'm aware of. So many factors and road conditions that are outside of your control. From a stunt perspective, some of the best truck drivers I know come from a log hauling background – lots of familiarity with variable traction!
[Related: Trucking's toughest niche? Inside log hauling]
Overdrive: What advice might you give to women looking into trucking and trucking-related careers? To men in trucking on working with women and LGBTQ+ people?
Kennedy: Getting my CDL was very empowering, and gave me a lot of respect for everyone in the trucking industry. For women looking to get into trucking -- yes, there will be people who see you differently and treat you differently because you are female, but you're no less naturally qualified to do the job. And all kinds of people are needed in every industry!
To male truck drivers, I think the biggest thing you can do is make people feel welcome even if they are different from you. It is hard to imagine what it may feel like to be on the outside of a community or an industry that doesn't seem to have a place for you, or anyone like you, in it -- being friendly and treating people who are different the same way that you would treat your other peers, i.e. not acting astounded that a woman is capable of doing the job, simply because she's female, goes a long way in both making people feel welcome and setting an example.
Overdrive: Any other connection to trucking?
Kennedy: I drove trucks for the movie "Ice Road." There's a scene in the movie where two trucks are chained together and both are jackknifing at the same time. I did the driving for this scene along with stunt driver Jeff Sanca, and we did it practically [meaning a real stunt, not CGI] -- I believe a first on a film set. It was an absolutely amazing experience driving on an ice lake, and learning to time sliding my truck using the force of Jeff's truck, which mine was chained to.
I will also say this -- I did 20,000 miles last year touring with my drift car. There are way more female truckers than I expected, and I'm always excited when I see another woman driving a truck. I'd love to see more stories on these women so we can get more girls seeing trucking as a career option for themselves!
[Related: Why a college administrator quit her job and took up trucking]