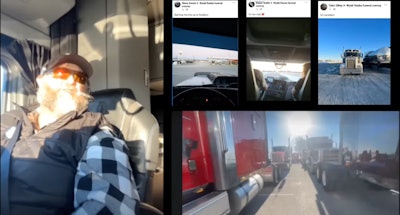 Mutha Trucka via YouTube
A memorial convoy for a 14-year old drew nearly 200 operators and rigs after the local trucking community put the word out that the boy, Wyatt Raska of Coulter, Iowa, had always idolized truckers and aspired to the trucking profession himself.
Jeremy Jansen, the owner-operator who runs the cattle and reefer hauler Rockin' Bar J Transport, lives nearby and helped organize the event for the Raskas, a well-regarded local trucking family in the area.
"A long time friend was really good friends with the dad, and good friends with the family, so he called me because he knew I could put the word out," said Jansen, who has a sizable following on TikTok and in trucking generally.
Jansen's efforts, and later his words on the trucking family that came together to celebrate a life cut short, found plenty of traction. Eventually, the mega-popular Mutha Trucka YouTube channel ran a video featuring Jansen's words. Combined with his own TikTok about the tragedy, both have been viewed more than 40,500 times as of this writing.
Wyatt Raska appears to have died by suicide. "The dad found him, he hung himself," said Jansen. "I was asked to make some comments and a little video from the family," in which he addressed mental health and suicide prevention.
Kevin Hosea, a local salt hauler who came to the convoy, had mistakenly assumed the young man had died of cancer. Only when he was waiting at local truckstop Dudley's Corner for the convoy to leave the funeral home, he ran into an uncle of Raska's and learned the hard news.
"I saw a guy in the parking lot with a sign on the pickup asking truck drivers sign the sign," said Hosea. "I got out and figured it was probably for Wyatt."
"There were 200-plus trucks there, just proving that there's always someone there for you." --Jeremy Jansen, with the message he hopes the convoy sends about suicide prevention
Hosea ended up talking to Raska's uncle. "I gave him my condolences and asked 'was Wyatt sick for long?' He started describing it, 'no, it was just kind of out of the blue, nobody had any indication,'" he said.
"It was a little embarrassing, but I'm kind of glad I didn't know, because it allowed me to have an in-depth conversation with him that might have helped him," and certainly seemed to help Hosea, who has lost loved ones of his own to suicide.
"It needs to be talked about," said Hosea. "We're all here for each other. Look what happens with a phone call, just from one phone call," he said, referencing the astonishing display of support in the convoy.
That message, that just one call or text can find a struggling person, driver or not, the help and support they need to weather life's hardships, reverberated throughout the event.
[Related: We are not alone in the struggle against depression and other serious mental health risks]
"You are not alone. We are your community, and we are here, willing to help. Please: Never, never, never give up." --Clifford Petersen, responding to a recent OTR operator's own suicide. with a personal offer of support in the story at this link.
In light of the tragedy, trucking's normal hardships, like parking, seemed to fade away. Dave Dudley, Dudley's Corner owner, offered up his space for free to the convoy, allowing trucks to park there and drop their trailers before they rolled out. About 80 trucks parked at his stop, with another 80 at the funeral home, mostly the local trucking community, according to Dudley.
"We're a small community with a number of little towns. A lot of these were local drivers, and some were connections to" the Raskas, said Dudley. "A few dropped trailers, but most were shined-up tractors.
"He was interested in anything with wheels," Dudley added of the young man, a regular at his store. "So he wasn't legal to drive a big truck, but he was driving trucks whenever he could."
"You know that was the biggest focus that the Raska family wanted, the fact that all that convoy was done through a phone call and a text message," said Jansen. A Raska family member "shot me a text and I called him the next day and put something together. It's just that easy. If you're down and out, there's always somebody there, just throw out a phone call or text message and say, 'I need help,' instead of making a rash decision," he said. The national 988 suicide prevention call/text hotline is operated 24/7 with professional support, too.
Jansen wanted the huge convoy showing to send a similar message to young people, to anyone, really -- a reminder that there are people here for them when in need. "There were 200-plus trucks there, just proving that there's always someone there for you," he said. "The young man wanted to be a truck driver. He wanted to grow up and be like his uncles so, so bad. And he didn't get a chance to see what this industry's all about and what the camaraderie is all about, so I wish someone had got to see him and got to talk to him and tell him they're there for them no matter what."
Jansen said the Raskas wished their boy would have lived to see the outpouring of love and community that followed his passing, and stressed that we should all take a moment to appreciate that the community is here for us, even when it doesn't feel like it.
Overdrive contributor Clifford Petersen, a life coach trained in suicide prevention and other counseling and a professional driver himself, makes that much clear. He offers his personal phone number to anyone in a dark space 24/7, free of charge.
In the eloquent description of the local Hampton Chronicle newspaper, "As the convoy set off, truckers were blaring their horns in unison and a large banner was being signed by attendees expressing their condolences and offering words of support to the family. Drones flew in the air above and well-wishers lined the route, recording the convoy of vehicles of every type, and lending their presence and voices to the cavalcade, with the noise filling the air, but not possibly the void left in everyone's hearts."
The Raskas have launched a Gofundme page to fund the funeral, and as of the time of this writing have exceeded their goal of $24,000.
[Related: Inside help: Fellow truckers offer comfort, support to help prevent suicide]