Driver clocked doing 101 in a Peterbilt
A Peterbilt got clocked by Nebraska State Patrol doing a whopping 101 miles per hour, and as a result got called out on Twitter.
The Pete, seen in the tweet below, was bobtailing near Scottsbluff, Nebraska. No doubt, the driver got a hefty ticket for going way over the speed limit, though authorities wouldn't comment on the case.
The only question that remains, and perhaps should remain unanswered, is if the Pete could have done 101 loaded.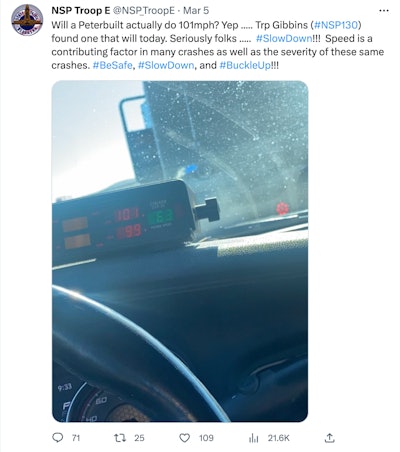 Senator, Teamsters boss exchange fighting words
Teamsters President Sean O'Brien and Sen. Markwayne Mullin (R-Oklahoma) exchanged fighting words at a hearing of the Senate Health, Education, Labor and Pensions Committee on Wednesday, leaving only Sen. Bernie Sanders (I-Vermont) to play referee.
Sanders had been seeking support for his Protecting the Right to Organize Act, but ended up with a near fist fight on his hands as Mullin accused O'Brien of attempting "intimidating" behavior, with O'Brien shooting back that Mullin was doing a "tough guy" act.
Grilling O'Brien about his salary and whether or not the Teamsters pressure people to join, Mullin got called "out of line" by the union boss.
"Don't tell me I'm out of line," said Mullin. "You need to shut your mouth."
Mullin, a hall-of-famer in his home state for wrestling, and purportedly an MMA fighter with a 5-0 record, was only interrupted by the Senator from Vermont's gavel.
Overdrive won't pick sides on who was in the right or the wrong here, but the whole exchange is something to behold.