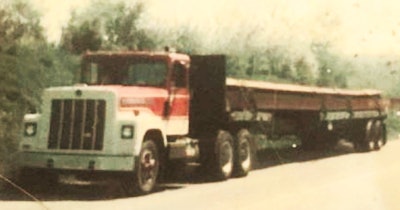 Courtesy of Joe Bielucki
Owner-operator Joe Bielucki's recent tangle with a customer trying to cut his rates turned into something of a how-to guide on fighting cheap freight, and a follow up story on his 2023 International HX with an old-school custom paint job further turned heads here at Overdrive.
Bielucki's story inspired many owner-ops facing the same challenges, but showing off the truck at this publication also gave him something of a "gift" that meant a lot to the hauler of nearly four decades.
After sending in pictures of the rig, someone showed him a post about his truck on Facebook -- in the comments, he found something unexpected.
"The gift is that the guy I rode with as a kid posted a comment," said Bielucki. "I was truck sick all my life. I had a neighbor who was a young owner-operator back in the early 80s and he had an International 4300. I went over one day to look at the truck, and he asked if I would wanna tag along sometime."
Bielucki agreed while "trying to act cool," he said.
The young owner-operator was "Bruce Childs, one early badass of the steel hauling" trade, Bielucki added. "The times I got to ride with him was like going to school. I watched and made permanent mental notes of everything."
The International started with a 250 Cummins and a 13-speed, but "over a few years and some changes it ended up at 380 hp, which was what a lot of those guys did with the old NTC engines," said Bielucki. Childs added an "aftercooler, a bigger turbo and some hotter fuel injectors" to boost the 250, but the truck remained a bit of a bone-shaker.
"It had a Hendrickson walking beam suspension," said Bielucki, "Oh my, rough ride."
Another early mentor of Bielucki was Mark Magnini Sr., an "old-school iron hauler."
Magnini piloted a a Freightliner cabover, he said, "and these guys all hauled for Thruway out of the Milford, Connecticut, terminal when steel was hopping up around here. There were some cool trucks back then, but that 4300 was a truck probably not too many drivers today would want to drive."
Through time, with life simply getting in the way, Bielucki mostly lost touch with his early inspirations. That post on Facebook, though, featured both haulers commenting. In doing so, it reconnected him with those ever-diminishing links to his personal past.
"I watched Bruce chain steel and put it all in the memory bank," Bielucki said. "It has served me well. Putting rubber under the racks and timbers for coils" and so much more. "These guys loaded a lot of iron and did it right." Both Childs and Magnini are semi-retired, he added. "Mark finished at Kaplan as an owner-operator. You can learn a lot by watching these kind of guys."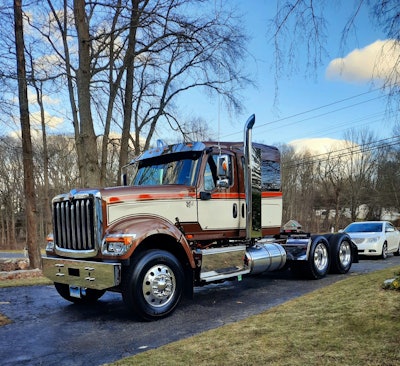 Of course, what's the use of having old friends if they can't bust your chops?
Of introducing Bielucki to trucking, Bruce joked, "I'm sorry I ruined your life." The runs with Bruce Childs, though, remain "some of my best memories of learning trucking, watching how to shift, chain a load and take care of a truck and trailer," Bielucki said. "I couldn't wait for each ridealong to go again, stop at the diner for breakfast and down to the port or some steel plant to load. ... It was a gift, really, at that time in my life. I was probably headed for trouble."
And that is one among many reasons we love to see readers sharing trucking stories, posting your trucks to the Reader Rigs gallery, contributing to the trucking community.
Right now, we're calling on you, yes you, to send in shots of, and a little background about, your truck to keep the conversation going. Sure, there are plenty of Petes and KWs in the gallery there, but some of our most well-read stories have been the oddball and the old-school, the working trucks that haul heavy and anything with more than 600 horsepower. You never know what might happen when you put yourself out there -- you may even meet the love of your life.
After his experiences with Childs and Magnini, Bielucki bought his first truck just a few years later at the age of 22, and he's been a stalwart flatbedder since.
"To get an attaboy from one of your mentors is big deal still all these years later," he said. "Nice lift for my day [to] double down on bringing my A game and do it right."
It's "definitely a sickness, this trucking business, and some may not get it," he said, then with a laugh: "But it's kinda full circle reconnecting with the fellow that 'ruined my life.'"
---
Click here to see more photos, read more about Reader's Rigs in the gallery, or submit your own.
For custom-equipment features delivered to your email inbox, subscribe to Overdrive's weekly Custom Rigs newsletter via this link.