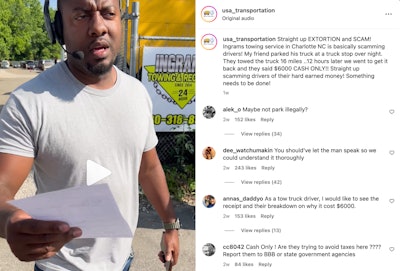 @USA_Transporation via Instagram
In the wee hours of Thursday, May 11, small fleet owner and the admin of the popular USA_Transportation Instagram page Bogdan Kruzhinskiy was celebrating his 30th birthday and a friend's recent graduation when, unbeknownst to them, their friend's 2015 Volvo was being towed from a nearby truck stop.
The stop in question, the BP station at 426 Westinghouse Boulevard in Charlotte, North Carolina, had contacted Ingram's Towing and Recovery, who later presented Kruzhinskiy and his friend with a $6,000 bill for the tow and impound. That's $3,000 for the tractor, and $3,000 for the trailer.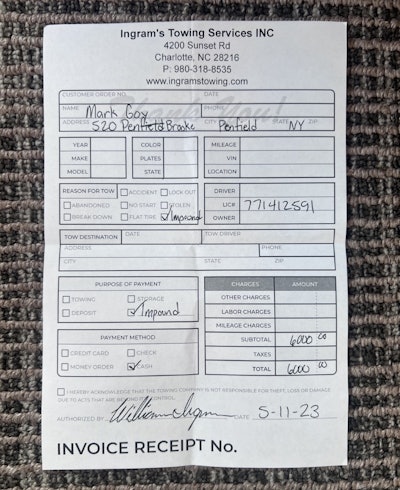 Kruzhinskiy said they checked the Volvo's ELD to find it had been driven just seven tenths of a mile, and that Ingram's used a tool to unlock and start the truck without their knowledge.
When morning came, and Kruzhinskiy and company noticed the truck was gone, they spent all day pleading with Ingram's to lower the price, or at least to accept something besides cash. Kruzhinskiy filmed the encounter in what's now become a notorious, viral video viewed hundreds of thousands of times on various channels.
[Related: More towing horror stories: $7,000 for a cross-town haul]
Kruzhinskiy admits his friend was in the wrong. The BP maintains it had clear signage indicating that trucks must pay $15 to park overnight. Kruzhinskiy said the signage had been obscured when his friend parked, but nobody in this story seems very sympathetic to that.
"When I saw the sign that said $2,000 and up for tractors and trailers, my heart sank," Kruzhinskiy told Overdrive. "$2,000 is already a lot."
The tow was just about 16 miles from the BP to Ingram's impound lot. Kruzhinskiy and his friend needed $6,000, firm, to get the truck or face a $100-per-day storage charge, he said.
"He said with the universal keys, [Ingram] can get into any truck in Charlotte... Is that even legal? There's so much gray areas in the towing business, and in order for us to fight this we'd have to file a civil suit," said Kruzhinskiy.
But Kruzhinskiy did find another way to fight: social media. His video of the encounter at Ingram's lot has been viewed hundreds of thousands of times across Instagram, TikTok and Twitter alone. Ingram's Facebook and Yelp got a barrage of negative reviews, and the company's social media pages are now swarmed by angry commenters, often questioning the legality of Ingram's operation.
An Overdrive review of Charlotte's ordinances on towing didn't find any mention of universal keys, but did find that any "towing service that engages in a trespass tow or any storage facility that receives motor vehicles that have been towed as a result of a non-consensual tow from private property shall accept cash and at least two major credit cards and any debit card for any fee established by this article."
But there does seem to be plenty of gray area in towing, especially around the Charlotte area.
[Related: 'What extortion looks like': Owner-operator Glenn Keller v. Parking pirates, take two]
On the same day of the incident with Ingram's, local news channel WSOC-TV released an investigation into predatory towing and booting practices in the area. In one case, WSOC-TV documented a passenger vehicle driver being threatened with a gun after paying $180 to get one boot off, only to find out they had to pay again to get a second boot removed. Another local outlet, WBTV, reported in October 2022 that despite a company being "practically banned" from towing by a number of lawsuits and court injunctions, the company continued to tow hundreds of vehicles.
The North Carolina chapter of the Public Interest Research Group, a consumer advocacy group, has called for stricter laws regulating towing companies in the state, as have all of the victims in the above mentioned stories. "Predatory towing" is not a legal term, and the PIRG defines it as a practice that "can range from charging exorbitant fees to refusing the owner access to the personal items in their car during business hours. In still other cases, the driver's vehicle wasn't really parked improperly and was towed illegally."
William Ingram, owner of the tow company in this case, maintains his business operates legitimately, though he refused to explain how he arrived at the $6,000 price tag. Instead, he told us to contact several other area tow companies and ask what they would charge for a similar service.
None of the competitor companies Ingram suggested said they'd charge anything close to $6,000 for a short tow and impound, citing figures from $750 to $4,500 in situations that required hours of extensive vehicle recovery.
[Related: Heads-up: Park at the Dandridge, Tenn., Speedway location for an overnight, and you will be towed]
A rep of the BP franchise where the towing took place said that Ingram had not operated in a predatory way, and that the Instagram video had led to racist comments directed at his operation. BP's corporate office declined to say if they offered guidance to franchise locations on towing and impound services. BP recently closed on a deal to acquire the TA brand, and will soon oversee hundreds of truck stops across America.
After going down in flames online and being dogged by hundreds of comments ranging from critical to angry and hateful, Ingram joined trucking social media personality and mentor Alix Burton, known as Alix Good Energy on Instagram, for a live discussion of the event.
There, Ingram likened his work to that of a lawyer. When asked point blank where the $6,000 number came from, Ingram basically said the price is the price.
"So the $6,000 comes from this -- when we're out there and we're tackling these units, it ain't no different from if I go pay a lawyer," he said. "Can't nobody tell a lawyer how much to charge."
Kruzhinskiy also joined the call, but nothing got worked out.
One day later, Burton hosted another Instagram Live video where another driver, this one in New York, said he'd been charged $5,700 for a tow.
"I wish you hadn't parked your truck there," said Burton. he stressed that these inflated prices now may be the norm, and that drivers must do what they can to avoid illegal parking.
[Related: Parking perils: The increased cost, and risk, of booting and towing]
Sometimes, however, even legally parked vehicles get hit by towing and booting outfits.
On Thursday, May 25th, police told a local news outfit in Atlanta that a man named Jahdiel Israel waited until drivers legally parked outside a shipper fell asleep and then booted them before demanding payments of $600 in the morning. Israel now faces two charges: theft by deception and possession of a firearm during the commission of a felony.
Leander Richmond, president of trucking fleet Eagle Express, Inc, alleges that a Valero station located at 4161 Winchester in Memphis, Tennessee, charges truck drivers $5 just to enter the store and make a purchase and runs a "highly lucrative scam" involving armed towing and booting agents, one of whom held his driver's truck hostage after a brief pit stop at the store.
"The driver went inside of the station to purchase two sodas," Richmond wrote on a website he maintains. "He returned to his truck in under nine minutes of pulling onto the property. He climbed inside the cab, placed his drinks onto the bed and sat in the driver seat when he noticed a black vehicle pull in front of him, blocking his path and preventing our driver from leaving the property, which he was about to do."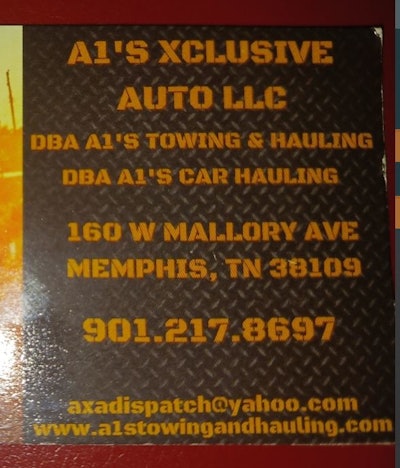 From there, Richmond said the armed tow operator flashed a badge, claimed he was law enforcement, and demanded $272 to let the vehicle go, and even after that, they were charged an additional $2,700 when A1 towed the truck anyway.
A1 refused to comment, citing ongoing legal issues.
If you have had any experiences with what you'd consider predatory towing practices, contact AlexLockie@Randallreilly.com.