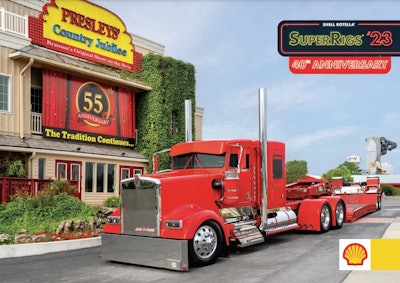 The 2023 Shell Rotella SuperRigs calendar is now available to be ordered online. The calendar tells the stories of 12 hardworking operators and owners who traveled to Branson Landing in Branson, Missouri, to participate in the 40th annual Shell Rotella SuperRigs truck beauty contest in June.
Truckers competed for numerous awards and sought a coveted place in the 2023 Shell Rotella SuperRigs calendar. Twelve drivers were selected to have their trucks featured in the annual calendar, those rigs photographed in the Branson area.
Some highlights of the Shell Rotella SuperRigs calendar include:
JANUARY -- Brock Belina of Eagle, Nebraska, came to SuperRigs for the first time with his 2022 Peterbilt 389 and made the SuperRigs calendar. He started collecting the calendar in 2004 and said he has dreamed of being in it since then.
MAY -- Buck Crombie is a third-generation driver out of Checotah, Oklahoma, and loves coming to SuperRigs with his 1988 Peterbilt 379. He likes the family atmosphere and seeing hardworking people and trucks.
AUGUST -- Bubba Branch, from Lakeland, Florida, has always wanted to build a truck that is worthy of Shell Rotella SuperRigs. His childhood dream came true when his stunning 1996 Kenworth W900, "Just a Phase," was chosen for the calendar. He dedicated the calendar shoot to the memory of his friend and longtime SuperRigs competitor, Troy Huddleston.
OCTOBER -- Apache Junction, Arizona-headquartered Theresa DeSantis won her second Best of Show award with her 1985 Peterbilt 359, which rides with the "Witches Inn" theme. Her advice to anyone who enters SuperRigs "is to pick a nice theme and keep cleaning, don't ever stop cleaning."
The Shell Rotella SuperRigs competition is a truck beauty contest for actively working trucks. Hardworking owner-operators from across the United States and Canada compete annually for more than $25,000 in cash and prizes.
[Related: 'Witches Inn' '85 Pete 359 repeats, and other standout rigs named SuperRigs winners]