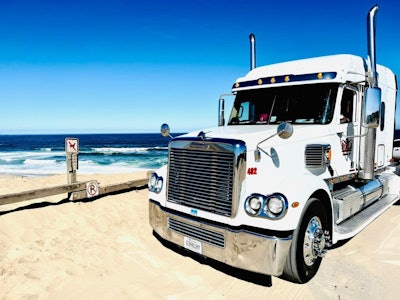 All photos courtesy of Tiffany and Jeremy Wallin
Ringgold, Georgia-based husband and wife team owner-ops Jeremy and Tiffany Wallin haul flatbed freight in their 2017 Freightliner Coronado glider, but the newlywed couple is also in the process of customizing it into a home.
"It looks like a cow threw up in there," Tiffany joked about the truck's interior. "We're partial to Texas, we love Texas and Texas themes, and we like the outside glistening and the inside kinda cowboy."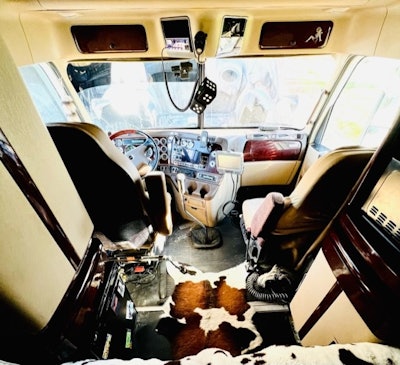 Added Jeremy, "My truck was pretty basic before she moved in, but a woman turns a truck into a home."
The couple married in April of 2022, and Tiffany, a former college administrator, seemed to fall in love with trucking just about the same time she fell in love with Jeremy. The rig sports a 1998 Series 60 Detroit engine, 3:55 rears, and a 10-speed manual transmission, and the pair run electronic logs. The team driving situation rarely sees them hurting for hours.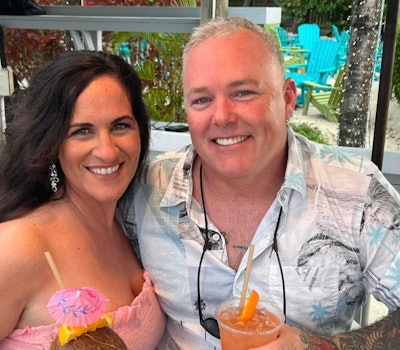 Jeremy got into the truck, affectionately dubbed "Girl Next Door," through the fleet he's leased to -- they sold it to him for $5,000 down at seven percent interest for a total price of $95,000, in August of 2021. "I never thought I'd almost pay $100,000 for a five year-old glider, but I'm happy with it," he said. "It's definitely a money maker."
Jeremy's been hauling for more than 30 years, and schooled Tiffany on the 10-speed manual and all else trucking -- leased to Noble out of Alabama, they've now successfully combined their talents for profitable business and pursuit of the dream of seeing the country one load at a time.
The duo own two trailers, a 2019 Transcraft flatbed and an older Fontaine step deck. Noble keeps the Wallins busy running loads out of Georgia, Alabama and Tennessee, giving them wide berth on return loads. "They know how I like to run," Jeremy said, with dispatch setting him up with "few-dollars-a-mile" loads to haul back in.
The Wallins say business has been good lately, with fuel surcharges taking the sting off recent high diesel costs and Noble's contract freight still paying handsomely. "When rates went up, there was a huge influx of people, companies and brokers jumping in, a lot of them dependent on the spot market," said Jeremy. "You can't base a truck on the spot market. You'll get left holding the bag" when rates dip.
Jeremy formerly ran a small fleet and a chrome shop, where he picked up a healthy appetite for customization.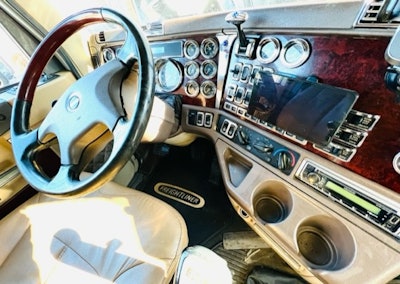 "You're always gonna see Peterbilt and Kenworth, but you'll hardly ever see a Freightliner Coronoado" at truck shows, said Tiffany. "At truck stops or rest areas people will come up to us and literally stop with their jaw hanging open to ask questions about it. They're super excited to see a Freightliner looking like this. They've always been a black sheep."
Part of the spectacle comes from the lights. "I actually have two kits on the truck currently," Jeremy said. "One is XK Glow, and the other is from JHB Lighting. It currently probably has close to 1,000 color-changing, addressable LEDs on it.
"I've actually had to split it off and run more controllers on it. It was overpowering" the current wiring harnesses, he added.
The Wallins, like the majority of the rig customizers out there, said their truck is an ever-ongoing work in progress, and they have big plans to upgrade its look both inside and out. "We're just getting started," Jeremy said. "By this time next year, it'll be a whole other animal."
"Every time we go to a chrome shop he buys something," Tiffany said, adding they mostly have utilized Iowa 80 and Florida-headquartered 75 Chrome Shop. Look to the dashboard shot above (and below) for some of Jeremy's chrome additions.
"I know I'm a lucky man when I can say, 'Hey babe, I just bought $500 worth of chicken lights and some train horns' and she giggles all happy about it," said Jeremy.
Right now, exterior bright parts are limited to small touches on the tractor and mostly "basic stuff on the trailer," he said, like "full caps all the way around, studded, pointed hubcaps."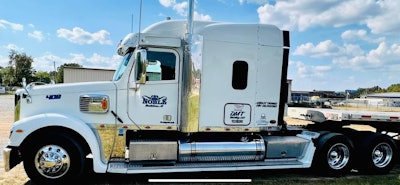 "We did buy a custom bug shield that kind of sets the truck off as a flashy, cool piece that stands out," said Tiffany of the Belmore smoked stainless steel bug shield.
While the rig speaks for itself, it certainly helps to photograph it in scenic locations, and images of the happy couple go further to sell the idea of fun, family and freedom in a Freightliner.
[Related: Custom champs: Heavy/oversize hauler's 1987 359 wins big with iconic style]
---
For custom-equipment features delivered to your email inbox, subscribe to Overdrive's weekly Custom Rigs newsletter via this link.