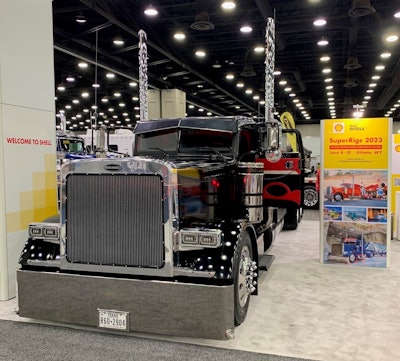 For the first time in more than a decade, the Shell Rotella SuperRigs working truck show is heading West. The 2023 iteration of the annual truck show -- the 41st SuperRigs overall -- will be held June 8-10 in Gillette, Wyoming, at the Cam-Plex off of I-90. It's a multi-use facility that encompasses more than 1,000 acres of land and features a theater, a convention/exhibit hall, two multi-purpose pavilions, a race track, rodeo grounds and more.
"We're really excited to be out West," said Annie Peter, Shell Rotella brand manager. "We haven't been out West in about 10 years, so this brings the opportunity for us to be back out West and have a contingent of our consistent and current participants and contestants that come, but also allow some who may not be able to go out East to be able to compete."
There are numerous events and activities being planned that will honor the hardworking spirit of truckers. SuperRigs contestants, their families, and the community will be able to see some of the best-looking and hardest-working big rigs in North America, all while enjoying some family fun throughout the three-day event.
Traditional SuperRigs events returning this year include the truck lights competition, fireworks, a parade in Gillette, musical entertainment and more.
[Related: 'Witches Inn' 85 Pete repeats: Big winners from the 40th Shell SuperRigs event]
SuperRigs competitors will compete for 24 awards, including Best Chrome, Best Lights, and of course, Best of Show. Hardworking owner-operators from across the United States and Canada compete annually for more than $25,000 in cash and prizes.
Additionally, 12 truckers will be selected to have their rig featured in the 2024 Shell Rotella SuperRigs Calendar, which will also feature stunning views from the area surrounding Gillette. There is no fee to enter SuperRigs, and the weekend is designed to be fun for the whole family. During SuperRigs, there will be a rodeo at the Cam-Plex that attendees will also be able to watch, Peter noted.
"A great event for families, and continuing many of the traditions that we normally do," she said.
More information about the event, including the concert headliner, will be announced at a later date.
[Related: Early views from the 40th annual SuperRigs event in Branson]