Trucking news and briefs for Friday, May 5, 2023:
Registration opens for Shell Rotella SuperRigs
Truck owners interested in participating in the 41st Shell Rotella SuperRigs working truck show can now register online.
SuperRigs will take place in Gillette, Wyoming, at the Cam-Plex multi-use facility that encompasses more than 1,000 acres of land and features a fine arts theater, a convention/exhibit hall, two multi-purpose pavilions, rodeo grounds and more.
Pre-registration for SuperRigs is recommended. Those pre-registering will receive a designated parking spot and an option to select their preferred time for when they would like their truck judged. Final judging times will be determined by Shell Rotella representatives.
The Shell Rotella SuperRigs competition is for actively working trucks. Hardworking owner-operators from across the United States and Canada will compete for more than $25,000 in cash and prizes. There is no fee to enter, and the weekend is designed to be fun for the whole family.
The event will also feature a truck parade, contestant dinner, truck lights competition, musical entertainment and more.
For owners that can't make it out to Wyoming for the show itself, there is also a virtual People's Choice Award that allows owners to submit their trucks online in a category that will be voted on by fans. Registration is open here through June 2.
Votes for the People's Choice Award will be collected online starting June 3, and $1 for every vote will be donated to the St. Christopher Truckers Relief Fund.
[Related: Best of the best: Custom trucks take home the hardware from MATS]
Wisconsin suicide awareness convoy rolls out Saturday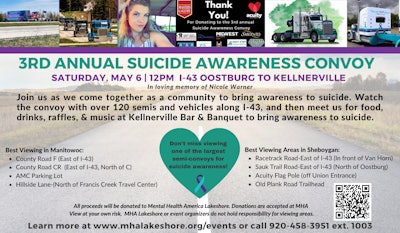 A convoy will be held Saturday, May 6, in Wisconsin with more than 100 trucks and vehicles participating to bring awareness to suicide.
Mental Health America Lakeshore is hosting the event for the third time. The convoy will follow an approximately 45-mile stretch of I-43 from Oostburg, just south of Sheboygan, to Kellnersville, south of Green Bay.
Participants and convoy viewers will meet for food, drinks, raffles and music at Kellnersville Bar & Banquet following the convoy. The convoy is set to begin at noon local time.
All proceeds from the convoy will be donated to Mental Health America Lakeshore. Donations in kind or in cash are accepted.
[Related: Drivers convoy after trucking family teen's tragic death]
Driver named Highway Angel for stopping to help unconscious crash victim
Willie Kouneski, a truck driver from Burkittsville, Maryland, has been named a Highway Angel by the Truckload Carriers Association for stopping to rescue a trapped, unconscious car crash victim. Kouneski drives for ABF Freight out of Fort Smith, Arkansas.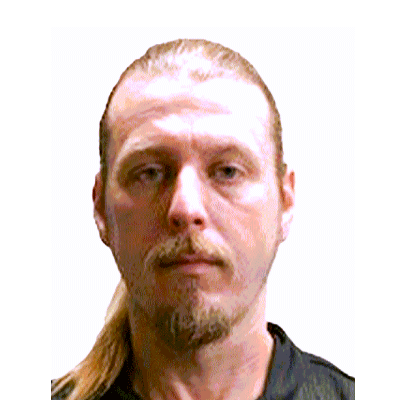 On March 2 around 1 a.m., Kouneski was traveling home from work on Route 70 in Sykesville, Maryland, when he witnessed a car crashed on the opposite side of the highway.
"I saw a car up in the trees, on the other side of the road," he said. "I could tell it was a wrecked car-- it was dark -- people were just driving by."
Kouneski and the driver of another vehicle stopped to check on the driver, and Kouneski called 911. It was hard to tell if anyone was in the vehicle, so Kouneski yelled and got a response from inside the car.
"We opened up the door -- the other person took out a knife and busted out the back window and unlocked the back doors," Kouneski said. "The guy in the front seat was leaning over, breathing weird; he had heavy breath, so we sat him up straight in the seat."
He said the driver was unconscious and the airbag had been deployed. Kouneski stayed with him until emergency personnel arrived and he was taken away on a stretcher.
"If it was me in that car, I would want somebody to get me," Kouneski said. "I did what I would want anybody to do."