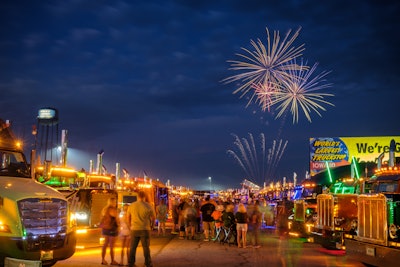 Walcott Truckers Jamboree
Fans of chrome and shiny trucks will have several opportunities throughout the summer and into the fall to check out some of the nicest trucks the industry has to offer with truck shows, big and small, scheduled across the country beginning as soon as this coming weekend.
In Huron, South Dakota, the 20th annual Wheel Jam Truck Show will be held June 1-4 at the South Dakota State Fairgrounds. The weekend will feature entertainment from trucking singer-songwriters Tony Justice and Long Haul Paul Marhoefer, a truck lights show, a truck parade, an engine brake competition and more.
The American Truck Historical Society is hosting its annual National Convention & Truck Show June 8-10 in Reno, Nevada, in addition to the society's ongoing series of smaller regional shows. It will feature hundreds of antique trucks from throughout the industry's history.
At the same time, June 8-10, the annual Shell Rotella SuperRigs takes place in Gillette, Wyoming. The event will feature a truck parade, contestant dinner, truck lights competition, musical entertainment and more.
In one of the biggest truck shows of the year each year, the 2023 Walcott Truckers Jamboree is set for July 13-15 at the Iowa 80 Truckstop in Walcott, Iowa. The event will feature an antique trucks display, the Super Trucks Beauty Contest, the Iowa Pork Chop Cookout, Trucker Olympics, live music and more.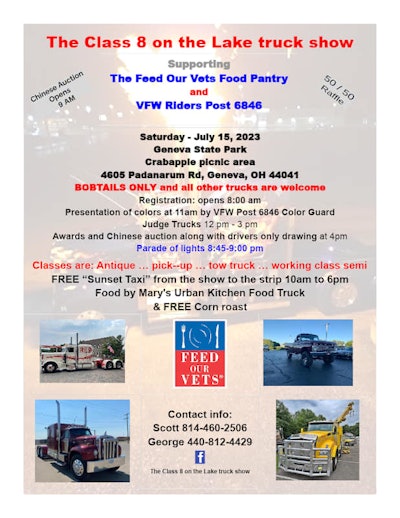 Another long-running truck show, the Waupun Truck-N-Show in Waupun, Wisconsin, will be held for the 34th time on Aug. 11-12. The event will include parades, demonstrations, vendors, nightly entertainment and more.
In September, the 27th annual Richard Crane Memorial Truck Show will be held in St. Ignace, Michigan, Sept. 14-16. Tony Justice is set to perform during the show, which will also feature a truck convoy, a parade of lights and more.
Returning again in 2023 after taking a year off last year: the mammoth Guilty By Association Truck Show presented by the Chrome Shop Mafia in Joplin, Missouri. The event features a truck and tractor pull, a convoy into downtown Joplin, a concert featuring Sammy Kershaw, Collin Raye and Aaron Tippin, and more.
Finally, to pretty much round out the truck show season, the third annual A.J. Soza Memorial Truck Show.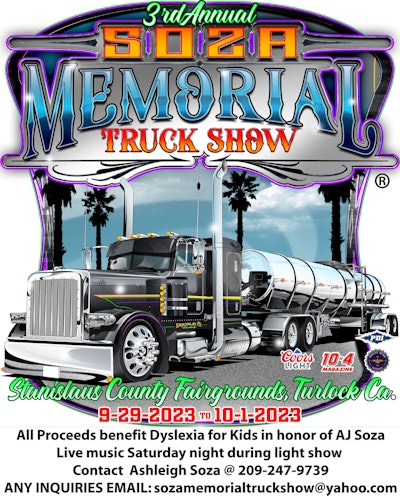 Editor's note: This is not an exhaustive list of truck shows. If you have a show you'd like to share information about, please send it to Matt Cole.
[Related: Best of the best: Custom trucks take home the hardware from MATS]