Transcript
Troy Massey, owner of Nacogdoches, Texas-based Massey Motor Freight and Tri-State Vacuum & Rental -- combining for about 325 power units pulling reefers and tankers, respectively -- rescued this deteriorating 2014 Peterbilt 389 from the lot at his shop and turned it into a one-of-a-kind showpiece. The truck was on display at the 2022 Mayberry Truck Show in Mt. Airy, North Carolina, earlier this fall.
Nicknamed "Lot Rot" by his wife, Abby, given the time it spent pre-customization sitting idle on the fleet's yard, the truck has been reworked from top to bottom, front to back, inside and out.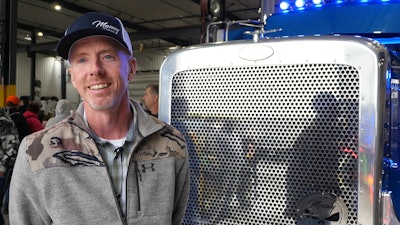 Massey bought the truck from a small dealer in Nacogdoches, and by the time he decided to customize it, it had racked up the miles. It has around 800,000 on the odometer today.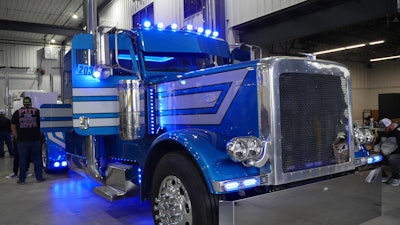 "When you do a large-scale custom job, so much time goes into planning what you want to do before you can ever order parts, and then you can start the job," Massey said. "It requires a lot of patience. You don't see any progress on it for quite some time because you got all your planning, then your ordering, then the installation of your stuff. And then it all just kind of comes together in just a few days."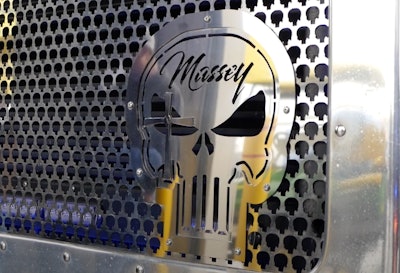 While the exterior features are the first thing to grab your attention, it's the truck's interior that really stands out. Everything in the rig -- "every nut, every stitch, every bolt," Massey said -- is either custom-built by Massey or bought and fit to the truck's theme.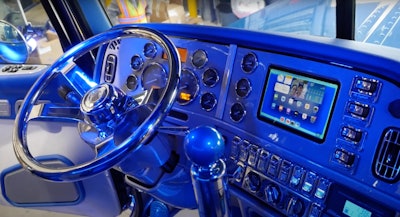 Most interior features are leather-wrapped with premium Alcantara fabric tied in.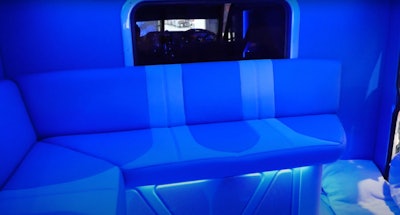 As impressive as the rig is today, Massey said even more is in store for 2023. "If you want to see this truck in the best form that it's ever seen, wait until next show season because I'm telling you, if you think it's great now, just wait. That'll be job number five."
---
Catch plenty views and more in the video up top, and for more video work and custom-equipment features delivered to your email inbox, subscribe to Overdrive's weekly Custom Rigs newsletter via this link.
Transcript
Troy Massey: So what we got behind us here, we've got what I like to say is the world famous "Lot Rot." I don't know if it's really world famous or not, but all jokes aside, we've been working on this truck for quite some time.
Hey guys, welcome to Overdrive. My name's Troy Massey, owner of Tri-State Vacuum & Rental and also Massey Motor Freight out of Nacogdoches, Texas. We operate a fleet of tanker trucks out of Nacogdoches, Texas, and then also a smaller fleet of reefer trucks. They run over the road. About 325 total units.
This is a 2014 model, 389 with a flat top sleeper on it. Truck's got about 800,000 miles on it. So it was a full working truck until we decided that we were going to make it into a show truck. So the name's "Lot Rot." That's important. My wife named it Lot Rot because I was so proud of it. It just set in the yard in front of the shop. Anytime you have a truck and it sits outside, it just breaks down all the time because it gets lot rot. So that's why we named the truck Lot Rot.
This is about the fourth year and the fourth phase of customizing on this truck. So we've done everything from stretch the frame, we've added a drop axle and made it into a heavy haul. We've repainted the truck from top to bottom, inside and out with a brand new custom paint job. But the paint job's real special because you can't feel these lines and that's when you've had someone has taken a lot of time with the paint job.
So we got our breather screens here, Roadworks chopped these out for us. That's Tri-State, Massey Motor Freight, that's our signature Punisher skull here. Then right around front here, we got it again, and then of course, with our name cut out in the bottom right hand corner.
Lift bumper, Double-J headlights, you can't go wrong with Double-J. Every light on the truck will turn from the DOT color to blue. Then we've got underglow that's blue as well. We've got a full deck plate runway with button lights that turn from orange to blue.
Our front T-bar, real sturdy, quarter-inch thick plate, I'm sorry, half-inch. Talladega fenders. We got a teflon pad for our foot on our RGN trailer so that you don't damage the deck plate. So our rear window chop, all of our drop panels, eight-inch drops. Your cab drops right here, your window chops, and then your drop visor there, all that stuff was bub.
So everything inside the truck is either bought and modified or made here in the shop. All this was handmade. All our grills are held on by magnets. So everywhere that you see a grill, upper, doors, and in the sleeper is all held on by these little magnets. So you just put it up there. It just sits in place. All custom made foot pedals, you got an M there, your brake pedal's got an M, and then your gas pedal's got an F over there for Massey Motor Freight. I think that's pretty cool. The lower part of your dash here is a painted in Legendary Silver. Your overhead is painted in Legendary Silver as well. We got our hidden CB mounted in there.
Then your lights in here, your blue lights, now they'll turn to orange as well. We got our RoadWorks shifter and we didn't make that. We bought that RoadWorks. Take a look at these hand stitched seats we got here and that's Alcantara, and then you got your regular leather. Same with your sleeper booth. Then you got a full Alcantara floor in here that we don't really want to touch because it'll probably get dirty. Then your couch cushions is all hand stitched. Then we got our name sewn into the ceiling up there. I thought that was just a little bit of a nice touch.
You can see the way that they hid the blue lights up around the ceiling and it just glows. You can't see the bulbs. It's a nice touch. We've got bulbs underneath the couch cushions where everything just glows and you can't really tell too much of where the light comes from. Sleeper booth was hand built. Both sides and in the top was hand stitched out of leather. Then as you get down to the bottom, we made that out of the Alcantara as well to match the floor.
If you can see the detail in the way that they built that amp box with all your crossovers and all your wires hidden, it's actually got a full-time battery charger built in behind it. It has batteries in there as well and then batteries underneath the passenger step and the driver step. So we got 10 big truck lithium batteries in this unit. Got about 10,000 continuous watts and about 15,000 peak watts. We've got 17, 18 total speakers in the truck. If you notice those wires, how they're twirled up, and all of the speaker wires are twirled in a figure eight pattern equally on all of the speakers. This is some of that Alcantara that I was telling you about. So it's wrapped even out here.
If you want to see this truck in the best form that it's ever seen, wait until next show season because I'm telling you, if you think it's great now, just wait. That'll be job number five.