Transcript
Past Overdrive's Pride & Polish champ "Wicked," a custom 2015 Peterbilt 389, and "Hardway," a 1988 379 heirloom of sorts for Salinas, California-based owner Ray Rodriquez, were but two stars of the show back in June 2022 in Merced, California. There, Rodriquez and his wife, Suzanne, were among other family and friends on hand for the 2nd annual A.J. Soza Memorial Truck Show.
On a Western 48-foot step deck behind the Wicked 2015 389, the Rodriquez family also showed off Suzanne's 1959 restored convertible Chevy Impala and Ray's '48 Fleetline. Behind Hardway, among the trucks in which Ray Rodriquez got his start as an owner, a 1964 Impala rested on one among the fleet's flatbeds, a car bought for their son.
[Related: Lil' Ray raises bar on interior truck design with Pride & Polish competitor 'Wicked']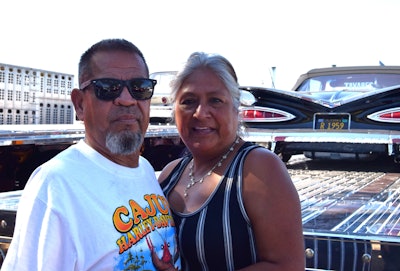 Ray Rodriquez said his "Wicked" 389 was strictly a show truck up until 2021, then he put it to work pulling flatbeds, step decks and RGNs hauling mostly heavy equipment.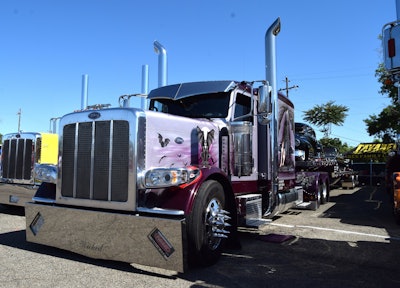 Suzanne primarily drives the 1959 Impala convertible that the couple brought to the show. It features the 327 Chevy engine with three two-barrel carburetors, known as a "Six Pack."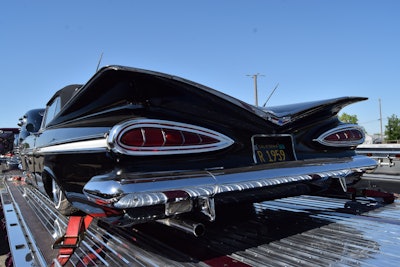 Ray is the primary driver for the 1948 Fleetline he brought out to the Merced show. He's owned it for about two-and-a-half years.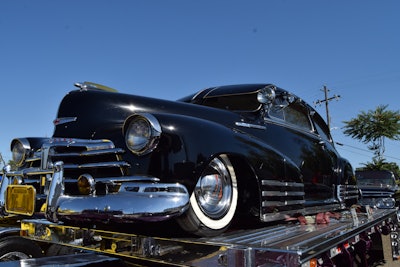 Finally, the 1964 Chevy Impala the couple brought to the show was bought by Ray and Suzanne for their son, who is in the Marine Corps stationed in Hawaii.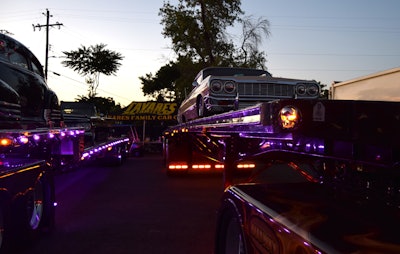 [Related: One more custom build for Lil' Ray]
Transcript
Ray Rodriquez: My name is Ray Rodriquez. I'm with Lil' Ray's Transport out of Salinas, California. My wife, Suzy, is here with me. Today, we brought out two trucks. We got "Wicked" here, the show truck, strictly show truck for five years. Last year, '21, we started working it. So this one, we just haul a lot of equipment, forklifts, a lot of heavy equipment. Whatever we can put on a flatbed or a step deck or RGN.
Airbrushing, we got a guy that I've always used. He's done all my trucks. His name's Adolfo Arias. He's out of Salinas. But the talent that he has, I can't find it nowhere. He's on point. And it's all airbrushed. There ain't no stickers on this thing. On none of my trucks. Let me rephrase that. There is one sticker on "Wicked." That's one that has ARB on it. CARB compliance sticker. The IFTA sticker, we got a plate for it on the side. That we couldn't mess with it either.
"Hardway" is a 1988 Peterbilt, extended hood, flat top. Actually, I don't need a raised roof for one because I'm short. Flat top is just big enough as a condo.
One of my first trucks that I started with, so I'd say back in 2000. Yeah. So that's, like I say, that's when I started out with. The way you see it is the way it's always been. After we fixed it and done it up about 2013.
We got our 1959 Chevy Impala convertible, which is my wife's car. She drives that one a lot. This '59, we've had it for four years. It's pretty well restored. We got a 327 with three two-barrel carburetors on it, which they call it a six pack. The only thing we've done to this thing out of the ordinary would be airbags and we put low rider wheels on there.
The one on top, we got a 1948 Fleetline, the one I drive more. We've had that one for about two and a half years. I really didn't do nothing to it. I just liked it and it's done up.
Todd Dills: Yeah. It had already been restored.
Ray Rodriquez: Yeah.
Ray Rodriguez: So that one there is on a hydraulic.
This one here is a 1964 Chevy Impala, which we bought for our son who is a Marine and who just came back from Hawaii, where he's stationed, and he got deployed eight months ago, and we always, when he comes back home, we're there for him. We'll see him off and when he comes home. I bought it from a friend of mine. And I was asking him to sell it to me for the longest time, but he was like, "No. No. Can't get rid of it. Can't get rid of it." About 20 years later, he calls me up, "All right, come get it." "Is it still the same?" He said, "Yep. Haven't touched it. It's been parked in my garage for 10 years." So I went and looked at it and said, "All right." So that one there has hydraulics and it is an Impala, not an SS. And my son, he was so happy to see it, and he loves it. When he comes back home to visit, it's there, so he'll get in there, it should start right up, and he's gone.