Trucking news and briefs for Tuesday, Feb. 28, 2023:
Nikola recalls BEV trucks over brake issue
Nikola Corporation is recalling approximately 137 model year 2022 Tre BEV trucks, according to National Highway Traffic Safety Administration documents.
In the affected trucks, the shaft locking screw on the brake pedal may be missing or may not be fully threaded, which can cause the brake pedal to detach.
According to the recall report, all affected trucks were inspected and repaired by Nov. 1. Owners may contact Nikola customer service at 1-630-808-4531 with recall number 22VDC0908. NHTSA's recall number is 23V-090.
Cummins unveils fuel-agnostic 10-liter engine for 2026 debut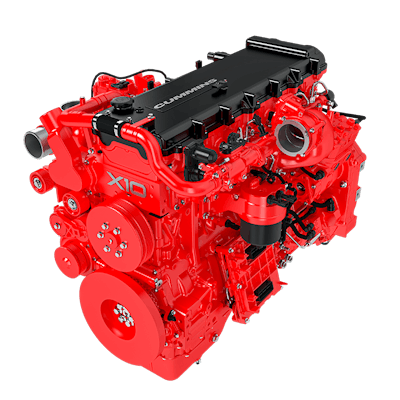 Cummins announced earlier this month that its fuel-agnostic 10-liter engine will launch in North America in 2026.
Positioned to replace both the L9 and X12 engines, the bi-voltage X10 will roll out first as a diesel-fueled variant intended for both medium- and heavy-duty applications.
The new X10 diesel will emit 75% less NOx than required by the EPA's 2027 regulations. Cummins reports that fleets can opt for biodiesel and renewable diesel to further reduce emissions.
In addition to a greener footprint, the engine will "provide a step change in fuel economy improvement," according to Cummins on-highway communications director Katie Zarich. Extended maintenance intervals are expected to reduce downtime in the shop.
The X10 will use both 12- and 48-volt systems. The aftertreatment heater will operate on a "48-volt system separate from the rest of the vehicle," Zarich said. A high-output, belt-driven 48-volt alternator will power aftertreatment.
As part of Cummins' fuel-agnostic lineup, the X10 will eventually be paired up with gaseous fuels, including compressed natural gas, propane and hydrogen.
The engine can be paired with a variety of transmissions depending on the application, including the Eaton Cummins Endurant.
The X10 is equipped with Acumen, which provides digital connectivity and direct, immediate access to a range of applications and capabilities, including over-the-air calibration, predictive service recommendations and more.
This X10 slots into Cummins' product portfolio complemented by the B6.7 and X15 and will serve vocational, transit, pickup and delivery and regional haul customers. It will also eventually be available for off-road applications.
"We are committed to advancing diesel technology while our markets and our customers need it to run their businesses," said José Samperio, Cummins' North America executive director of on-highway. "The new X10 has been designed drawing on our decades of experience as a leader in the medium and heavy-duty space. We have applied those learnings to ensure the product will perform for our customers and the important jobs they need to do every time."
[Related: Trucking groups slam 'challenging' new EPA rule that slashes truck emissions limits]
NYC may crack down on truck parking sites
New York City Mayor Eric Adams' Truck Parking Task Force has issued a survey asking drivers and residents where trucks are parked overnight within the five boroughs. The city prohibits commercial vehicle parking on residential streets between 9 p.m. and 5 a.m., and can fine tractor-trailers from $265 to $515 for repeated offenses.
Now, the city wants more citizen participation in addressing "the longstanding problem of overnight truck parking," according to the text of the survey. The one-page survey asks people what their concerns are with truck parking, and for people to pinpoint on a map where truck parking is an issue, as well as when they see the trucks and what kind of trucks they are.
Additionally, a resolution from the New York City Council has called to increase fines on truck parking to $1,000 per instance. The resolution states that there were "almost 27,000 complaints made through 311 about illegal overnight parking of commercial vehicles," and that at "the moment, the capped fines are minimal enough to be factored in as a cost of doing business."
Separately, New York City has begun paying citizens to report idling trucks.
The survey is open until March, 3.
Women in Trucking Driver of the Year finalists announced
The Women in Trucking Association announced Tuesday three finalists for its 2023 Driver of the Year award, sponsored by Walmart.
The fourth annual award recognizes outstanding female professional drivers who lead the industry in safety standards while actively enhancing the public image of the trucking industry.
The 2023 WIT Driver of the Year finalists are:
Mary "Candy" Bass: She is a company driver for Transport Designs, Inc., out of Burnsville, Minnesota. Bass has been a long-haul truck driver for 50 years, accumulating 6 million accident-free miles. In 2016, Bass was awarded the TA-Petro Citizen Driver award. Recipients of this award exhibit citizenship, safety, community involvement and leadership. A Nashville, Tennessee, TA truck stop is named the Candy Bass Travel Center in honor of her. In 2023, she was named a Top Woman to Watch in Transportation by Redefining the Road, WIT's official magazine.
Bass is a lifetime member of WIT and the Owner-Operator Independent Drivers Association. She is involved in numerous charities, including the St. Christopher Truckers Relief Fund, Hats for Heroes, Special Olympics, Trucker Buddy, and charities for troops. At 78, she is still driving long haul across the United States while encouraging and mentoring other women in the trucking industry.
Ally Cooper: A professional driver for Penske Logistics, Cooper is the daughter of an owner-operator. She enlisted in the military upon graduating high school and served as a lead convoy driver in Iraq and Afghanistan in the mid-2000s. She then ran her own LLC as an owner-operator for six years before transitioning to driver roles with Midwest Logistics and Penske Logistics. Cooper supports her fellow drivers as a ride-along trainer, certified Worklete Champion and role model.
A passionate advocate for working moms, Cooper played a key role in the implementation of nursing policies that improve the experience of new moms behind the wheel. Supervisors and colleagues praise Cooper's positive attitude, dedication to safety, and commitment to work-life balance.
"I absolutely love trucking and can't imagine doing anything else in life," she said. "I hope to show women that you don't have to do the normal 9-to-5 job – you can do anything you set your mind to and be proud of it."
Ann McFarland: She is a consummate driving professional with an expert knowledge of the transportation industry. She exudes pride in her profession through her unshakeable dedication to safety and customer service. Her current position is with Leonard's Express, but she also honed her talents previously with Holman Transportation and Apex, where she achieved the Hard Work & Dedication Award, Excellent Performance Award (Holman), and the Safe Driver Award twice (Apex). This year, McFarland will be honored with Leonard's Express' Million Mile Award.
McFarland is an active trainer for women entering the industry and mentors both men and women. She takes that same level of work ethic and integrity to her home life as a wife, mother, grandmother and sole provider for her household. Through hardship and family illness, she doesn't falter, balancing family needs with professional reliability and responsibility. She currently lives in Fruitland, Idaho, with her husband, Richard.
The winner will be announced at the Salute to Women Behind the Wheel event hosted by WIT on Friday, March 31 at the Mid-America Trucking Show in Louisville, Kentucky.