Trucking news and briefs for Friday, March 10, 2023:
Autonomous vehicle industry lays out policy recommendations for regulators, lawmakers
The Autonomous Vehicle Industry Association (AVIA) earlier this month unveiled its federal policy recommendations for autonomous vehicles' safety, mobility and economic opportunities.
The framework outlines recommendations for Congress and the U.S. Department of Transportation to maximize the deployment and commercialization of safe autonomous technology across the United States.
AVIA convened its members, the leading AV companies in the world, to identify a comprehensive set of policies to encourage the growth and development of the AV industry. This is the first recommended federal framework that includes all modes of autonomous vehicles (AVs), including zero-occupancy delivery vehicles, trucks and passenger cars. The framework serves as a resource for all federal policymakers.
To open a path for the safe deployment and commercialization of AVs, AVIA said Congress should enact federal legislation that:
Supports U.S. innovation in AVs with a clear federal framework that outlines necessary statutory and regulatory elements critical to the AV industry
Recognizes the importance of positive AV policy in maintaining the U.S.' position as an innovation policy leader in the world
Encompasses all vehicle types
Reforms and expands the vehicle exemption process
Expands AV testing and evaluation
Directs NHTSA to complete Federal Motor Vehicle Safety Standards (FMVSS) rulemakings
Codifies preclusion of "make-inoperative" provision for dual use vehicles
Codifies FMCSA interpretation that FMCSRs do not require a human driver
Preserves the federal role in regulating motor vehicles and interstate motor carrier activity
Expands access to mobility by not requiring a driver's license to be a passenger in an AV
Protects confidential information
Studies the economic, access and equity impacts of AVs
Studies and encourages the development of the AV industry workforce
To advance AVs, AVIA encourages U.S. DOT to:
Update regulations to support AV deployment
Accelerate the path for novel design vehicles
Complete the final rule on safe integration of ADS in commercial motor vehicles
Promote AV safety by developing technical standards, conducting research, convening the industry to establish common approaches, and fully leveraging existing data collections to inform future regulatory approaches to AV safety
Preserve foreign market access via active engagement with other governments and international bodies
[Related: FMCSA asks for input on autonomous truck regs]
Fear of autonomous vehicles on the rise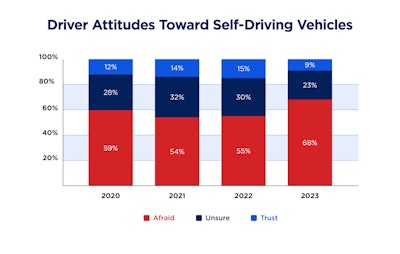 As autonomous vehicle companies look to advance laws and regulations to clear a path for the commercialization of AVs, the American public is increasingly skeptical of the technology, according to a recent AAA report.
The results of AAA's annual automated vehicle survey show that while there is still a high level of interest in partially-automated vehicle technology, attitudes toward fully self-driving vehicles have become increasingly apprehensive.
AAA reports that there was a major increase in drivers who are afraid of fully self-driving vehicles this year, rising to 68% as compared to 55% in 2022. This is a 13% jump from last year's survey and the biggest increase since 2020, the company said.
"We were not expecting such a dramatic decline in trust from previous years," said Greg Brannon, director of automotive research for AAA. "Although with the number of high-profile crashes that have occurred from over-reliance on current vehicle technologies, this isn't entirely surprising."
[Related: FMCSA closes investigation into autonomous truck crash]
Two Missouri rest areas closing to reopen as truck-only parking later this year
Two rest areas on interstates in Missouri will close next week and remain that way until late fall. The good news, however, is that when they reopen, they will allow truck parking only.
The Missouri Department of Transportation said it will permanently close the southbound Platte County Interstate 29 (Dearborn) and Clinton County Interstate 35 (Lathrop) rest areas next week as work begins to convert the facilities to commercial vehicle parking. The rest areas, including parking, will be closed to all motorists beginning the morning of Thursday, March 16.
As part of the project, the current rest area buildings will be removed, additional truck parking will be added, and vault toilets will be installed. The $3.8 million project is expected to be finished by the end of October.
MoDOT estimates that up to 35% of the annual daily traffic on Missouri's interstates are commercial vehicles. Of the 141 sites near an interstate in Missouri, 87 are at or above capacity at the peak hour between 2 and 3 a.m. An additional 23 are between 80-100% full.
"When truckers can't find parking off the road, they resort to parking on the interstate access ramps, and this creates a safety hazard," said Marty Liles, MoDOT northwest district engineer. "By converting the rest areas to truck parking, we're able to help meet the needs of commercial vehicles while decreasing the costs associated in the renovation and upkeep of traditional rest areas."
MoDOT said it maintains seven welcome centers, 14 rest areas and 24 truck-only parking sites on seven interstates throughout the state.
[Related: New site to reserve truck parking something of an 'AirBnB' network for facilities]