The Cobra brand of CB radios and other consumer electronics unveiled the 75 All Road wireless CB today at the Mid-America Trucking Show. The new radio transforms radio communications for the off-road and outdoor crowd with AM and FM capability to deliver improved sound quality, wireless connectivity and rugged functionality, the company said.
Mark Karnes with Cedar Electronics, Cobra's parent company, also noted a new close partnership with the BlueParrott company to enable better functionality, including push-to-talk, connected to both CB and smartphone with a headset at the same time. Karnes and BlueParrott's David Jaques demonstrated the updates at MATS. Both emphasized extensive software and hardware development work put into creating a seamless pairing of the small wireless transceiver, about the size of Cobra's 19 Mini AM/FM dual-mode unit, with the full-functional handset/microphone, likewise with any of BlueParrott's push-to-talk multi-device-capable Bluetooth headsets released over the last half decade and more.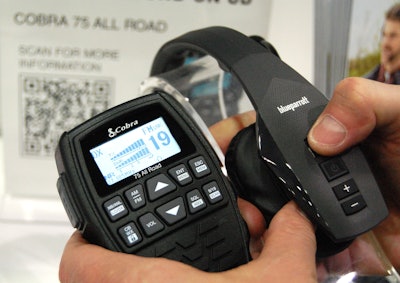 Combining BlueParrott's noise-canceling technology and the Digital Signal Processing (DSP) with Cobra's new CB, BlueParrott noted users can expect the clearest sound quality for both transmit and receive functions. With the ability to connect to both a smartphone and the 75 All Road, users can also make phone calls and interact with other CB users, providing supported, hands-free communication while driving.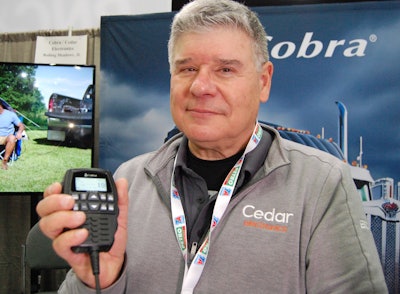 The 75 All Road is the first wirelessly connected CB radio that combines dual-mode AM/FM and DSP to deliver greater clarity. FM mode is a result of the recent approval of Cobra's petition by the FCC to allow FM mode communication on CB radios within the United States. It's on display for users to demo and experience now at the MATS, at the Cobra and BlueParrott booths in the North Wing of the Kentucky Exposition.
[Related: Can you hear the difference? New dual-mode AM/FM CB Radios]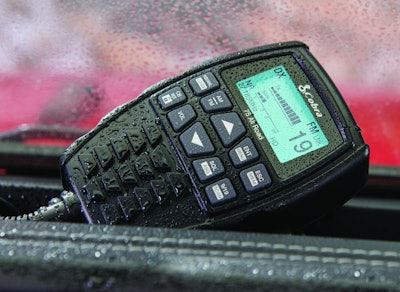 Additionally, the all-in-one handset uses a wireless Bluetooth connection with the transceiver to solve the issue of needing the entire CB radio unit in or near the front dashboard of a vehicle. In addition to BlueParrott headsets, other Bluetooth headsets can be set up for push-to-talk functionality with an add-on All Road Push-to-Talk Button and other accessories like antennas.
It retails at Cobra.com for $199.95, at participating TA and Petro Travel Centers in early April, and in other travel center chains starting in July. The optional push-to-talk Button and accessory antennas, mounts and other adds are also available for purchase online.
Cobra's new CB radio also boasts classic features that customers have come to expect from the brand, including an easy-to-view light-blue LCD display, VOX for voice-operated communication, instant channels 9/19, 10-channel NOAA Weather Alerts, and more.
Time will tell the tale of whether this form factor is the future of CB radios for professional driver users, Karnes added, noting that among the goals of the company at MATS was to hear feedback from operators of just what they thought about this particular direction in design.
Keep tuned for more in the coming days in a detailed video walk-through with Karnes and Jaques.