Trucking news and briefs for Wednesday, May 10, 2023:
FMCSA report on impacts of 2020 HOS changes mostly inconclusive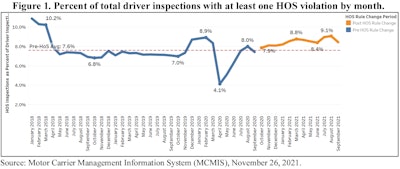 The Federal Motor Carrier Safety Administration said in a new report to Congress that since the 2020 changes to the hours-of-service regulations took effect, HOS violations have seen a significant uptick, while crashes and fatalities have held mostly flat.
The agency said, however, that "initial trends may have been confounded by the COVID-19 pandemic's effects on industry operations and FMCSA's emergency declaration that provided HOS regulatory relief" to truckers hauling "in support of COVID-19 relief efforts." That conclusion in some ways echoed FMCSA's report to Congress on the effectiveness of the electronic logging device mandate,
[Related: FMCSA punts on ELDs' safety effectiveness in Congressional report]
The hours-changes report was required by a Joint Explanatory Statement accompanying the Consolidated Appropriations Act of 2021. It requested that FMCSA conduct an analysis by comparing "safety data, including but not limited to, the number of crashes, crash type, number of fatalities categorized by occupant type, number of serious injuries, the rate of involvement that large trucks have accidents, and the time of day and on what type of roadway the accident occurred."
In the report, FMCSA analyzed inspection and crash data from Jan. 1, 2018, through Sept. 30, 2020, for the pre-change period, and Oct. 1, 2020, through Sept. 30, 2021, for the post-change period.
Driver inspections with at least one hours-of-service violation increased from 7.6% before the HOS changes took effect to 8.5% after the changes, FMCSA said. Driver inspections with one or more out-of-service HOS violation increased from 2.6% to 3.2%. At the same time, the monthly large-truck crash rate per 100 million miles only increased from 5.58 to 5.7, and the monthly large-truck fatality rate per 100 million miles increased from 0.164 to 0.167.
Raw violation numbers analyzed by Overdrive and RigDig for hours violations show generally increasing levels of violation since hitting the early-COVID-era low point in 2020.
Regarding crash trends, FMCSA said no conclusions can be drawn yet because the analysis could not distinguish between drivers using and not using the COVID-19 HOS waivers.
FMCSA said another approach that could be taken to understand the impact of the HOS changes would be to analyze the safety outcomes of drivers who took advantage of the new provisions and waivers. Plenty watchers around trucking have been in favor of an analysis particularly of safety outcomes among carriers who ran under the COVID waiver during its more than two-year history -- holding at least potential to underpin arguments for greater hours of service flexibility in the rules themselves.
FMCSA, speaking on background to Overdrive earlier in the year, noted it had at that time conducted no such analysis.
In the report to Congress, FMCSA noted data limitations, too: "There is very limited data to support an in-depth analysis of the safety outcomes of carriers that took advantage of the new HOS provisions in comparison to those that did not," FMCSA concluded. "The pre- and post-rule change macro trend analysis is limited in its reach given the scale of the HOS rule changes and other confounding factors."
[Related: COVID hours waiver should open the door for more flexibility]
Massive heavy haul to hobble Arkansas traffic, roads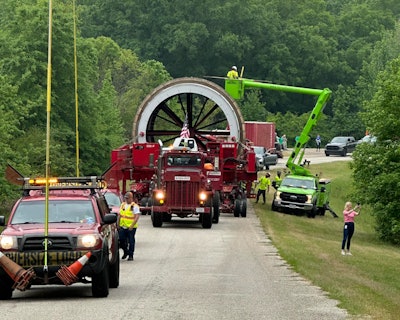 Barnhart Crane and Rigging of Memphis, Tennessee, will move a 300-ton kiln across Arkansas state highways from Crossett to Gum Springs between Wednesday, May 10 and Monday, May 15.
The Arkansas Department of Transportation and Arkansas Highway Police will assist in moving the kiln furnace imported from Italy on its journey to the Veolia Thermal Hazardous Waste Treatment Operation in Gum Springs.
"Travel times will begin at 8 a.m. each weekday and at sunrise on the weekend," Arkansas DOT wrote. The transport will move no more than 5 to 20 miles per hour. Expect travel delays."
Below find the kiln's route through the state:
Wednesday, May 10 – US-82 at Crossett Port to AR-275 in Strong
Thursday, May 11 – US-63 to US-167 in El Dorado
Friday, May 12 – US 167B to US-79 to Stephens
Saturday, May 13 – Stephens to US-278 to Rosston
Sunday, May 14 – US-278 to US-371 to 2nd Street in Prescott; AR-24 to AR-53 to Gurdon
Monday, May 15 – AR-53 to US-67 to Gum Springs
Barnhart's super loads have in past shown up in the Specialized Carriers & Rigging Association's annual Hauling Jobs of the Year awards. Time will tell on this 300-ton kiln.
[Related: The heaviest of hauls: Peek into 2022's biggest, baddest jobs by specialized carriers]
Owner-op-turned-fleet-owner named to ATRI Board
James Burg Trucking Company President Jim Burg has been appointed to the Board of Directors of the American Transportation Research Institute (ATRI).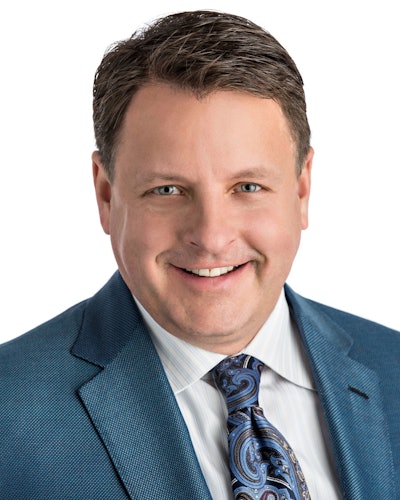 Burg was appointed by ATRI Chair Derek Leathers, chairman, president and CEO of Werner Enterprises, at the Institute's board meeting in Hollywood, Florida, on May 5.
"Jim has been a loyal supporter of ATRI and we are excited to welcome him to the Board of Directors," Leathers said. "As a regional carrier, he brings an important perspective to the Board and we look forward to his involvement as we continue to address trucking's top research priorities."
Burg began his career in trucking more than 40 years ago. He was an owner-operator for eight years before incorporating and licensing his company, which is a flatbed carrier currently operating more than 90 trucks throughout the Midwest.
Burg has logged over 1.3 million miles operating commercial motor vehicles as well as countless hours working on truck and trailer design to achieve the most efficient flatbed equipment in the industry.
Burg is active in the trucking industry and has served on numerous committees and boards of the American Trucking Associations, PrePass Safety Alliance, Commercial Vehicle Safety Alliance and the Michigan State Police.
[Related: New research priorities for ATRI: Public truck parking investment, detention, more]
Penske opens new full-service leasing facility in Washington state
Penske Truck Leasing recently opened a new facility in Pasco, Washington, off of U.S. Highway 395.
At the location, Penske will offer consumer and commercial truck rentals, full-service truck leasing and contract truck fleet maintenance services. It is also outfitted with the company's proprietary digital and voice-directed preventive maintenance process.
"We've been growing steadily in the northwest region and required a larger space to accommodate our increasing customer base in and around the Pasco area," said Chavela Brown, area vice president – Northwest region, Penske Truck Leasing. "The added capabilities and capacity at this incredible facility maximizes fleet uptime, and a state-of-the-art environment, with cutting-edge technology for our associates."
At 12,301 square-feet and sitting on 6.21 acres, this facility features three drive-thru bays, plus an automatic truck wash bay, and a full-service fuel island – offering diesel, diesel exhaust fluid, and gasoline.