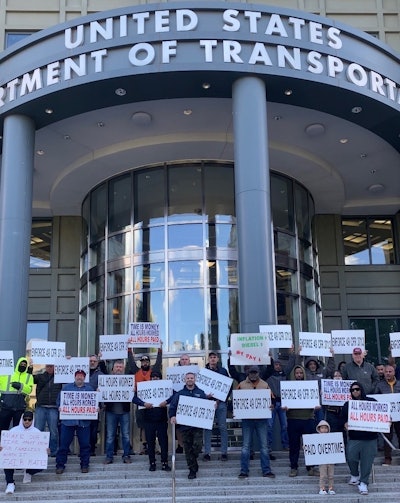 The Truckers Movement for Justice demonstration in front of U.S. Department of Transportation headquarters on Monday, May 1, didn't draw the crowd of operators that some expected, but the event was still a success in the minds of organizers and participants.
The group's goal was to bring more attention to driver pay, overtime pay, and brokered-freight transparency. TMJ has also expressed concerns over predatory leasing contracts in previous interactions with DOT.
TMJ organizer Billy Randel estimated about 75 drivers were at the demonstration at one point or another, with some coming and going throughout the morning. "It wasn't the turnout we would have liked," he said. "We would have liked to have a few hundred. But this, combined with all of our older members and new people who will continue to come in, this is our base."
The group still got the attention of the Federal Motor Carrier Safety Administration and was met by FMCSA Administrator Robin Hutcheson, FMCSA Deputy Administrator Earl Adams Jr., and FMCSA Director of External Affairs Kala Wright.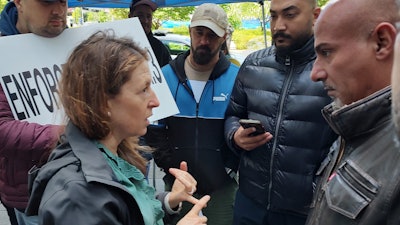 Hutcheson, Randel said, told the group that FMCSA is working on the issues they were demonstrating about, including an ongoing driver compensation study.
In a statement to Overdrive, FMCSA said it takes the concerns of truck drivers "very seriously." The agency said Hutcheson met with TMJ members Monday "to listen to their concerns and highlight efforts actively underway by FMCSA to enhance the lives of drivers."
[Related: 'A line in the sand': Truckers plan organized protest in D.C.]
Randel encouraged Hutcheson to speak to each individual operator in attendance, which she did: "She spoke to every single driver who was there individually, which I feel is a good thing."
Randel noted that it was "Interesting that they announced after their impromptu meeting with us the task force to investigate predatory leasing. ... It shows what a small group of truck drivers can do." FMCSA on Monday announced the nine members of its Truck Leasing Task Force that will evaluate lease agreements in the industry and their potential safety and financial impacts on owner-operators.
Monday's interaction was not TMJ's first with FMCSA officials. The group has previously been involved in meetings with the agency, including in December 2021 in Charleston, South Carolina, and attending a trucking event at the White House in April 2022.
Owner-operator William McKelvie, who's been part of TMJ for a couple years, said he felt the number of people who showed up Monday, while lower than expected, was "a good number of people considering trucks were not allowed." Ultimately, McKelvie felt "it was a great turnout," considering the tough market and many owner-operators feeling like they need to keep the focus on business, their trucks rolling.
[Related: FMCSA reassesses 'detention' definition in latest study]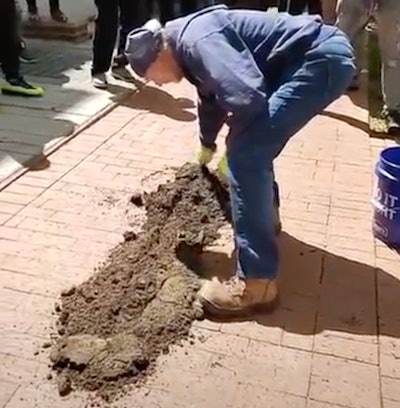 "We got the opportunity to speak to the top three people at FMCSA," McKelvie added. Hutcheson "talked to every single one of us. ... That's very important that they listen to the drivers. One or two or even five drivers can't hit the spot like 50 drivers all at once saying the same thing but in different ways."
McKelvie believes FMCSA is listening, "but I'm not sure how long it would take them to put something forward or how long it would take to get accomplished," regarding the group's pay and overtime concerns. He noted, however, that the "government doesn't move fast at all," and drivers need to understand that it takes time to see results from demonstrations and events like Monday's.
TMJ member Nick Sarakhman, the owner of small fleet Byteks USA out of Maryland, said he expected a lot more people to show up, but "on a positive note, I was really happy to see the administrators come out to talk to us."
He noted he would have liked FMCSA officials to do more than just acknowledge the problems and give more specifics about when action will actually be taken to address the problems. Overall, Sarakhman said he was "pretty happy with the result" of Monday's demonstration, despite feeling like with a bigger turnout, it "could have been a lot different."
[Related: An earful on broker transparency, as FMCSA moves forward in response to petition]