Trucking news and briefs for Thursday, May 11, 2023:
$150 million cargo theft ring halted in California
The California Highway Patrol's Organized Retail Crime Task Force (ORCTF), along with CHP investigators assigned to the Cargo Theft Interdiction Program, recently conducted a statewide enforcement operation targeting a criminal organization believed to be responsible for more $150 million in stolen merchandise.
CHP's operation led to the arrest of 40 suspects, the recovery of more than $50 million in stolen merchandise, the recovery of 20 stolen trailers, and the seizure of several vehicles, multiple firearms (including ghost guns), more than $550,000, and 13 gold bars.
"This team has worked tirelessly to unravel this complex case," said CHP Commissioner Sean Duryee. "I continue to be impressed by the dedication and commitment put forth daily by our officers and investigators. Their efforts help make California a safer place to live and work."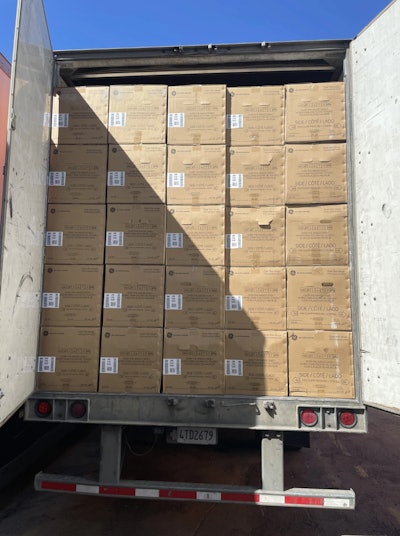 The case originated in March 2022 and resulted in CHP conducting more than 50 targeted operations involving multiple surveillance teams, undercover officers, arrests, and the authoring and serving of several search warrants.
The suspects are believed to be responsible for the theft of more than 200 cargo loads valued at over $150 million. Major retailers are among the victims of the thefts investigated. The suspects involved are facing several felony charges involving conspiracy to commit grand theft, grand theft of cargo, vehicle theft and identity theft.
California Gov. Gavin Newsom continues to prioritize combating organized retail theft, CHP said. The state's invested more than $241.4 million in the last year to bolster law enforcement efforts to address organized retail theft and other crimes, and support affected businesses.
[Related: Driver held at gunpoint, cargo pilfered: How to avoid being an easy mark in dangerous times]
TA shareholders approve BP acquisition
TravelCenters of America announced Wednesday that TA stockholders voted to approve TA's acquisition by the BP plc. Under the terms of the agreement, BP's wholly-owned subsidiary will acquire all of the outstanding shares of TA common stock for $86 per share in cash. The transaction price represents an 84% premium to TA's average trading price over the 30 days ending Feb. 15, 2023, the date the BP merger agreement was signed.
TA stockholders approved the deal with more than 72% of the shares outstanding, and 93% of the total shareholders voted in favor of the merger. The final voting results of TA's special meeting will be reported in a Form 8-K with the U.S. Securities and Exchange Commission.
The closing of the transaction remains subject to customary closing conditions and is expected to occur on May 15.
Upon completion of the transaction, shares of TA's common stock will be canceled and will no longer trade on the Nasdaq, and TA will become a wholly-owned indirect subsidiary of BP.
[Related: Hats off to Candy Bass, and a big honor awarded the very day her truck stop closed]
N.C. individual sentenced after applying for COVID relief money for fake trucking company
A Leland, North Carolina, man, Joseph Alexander Casillas, was sentenced May 10 to six months in prison and three years of supervised release for conspiracy to commit wire fraud. He had pleaded guilty to the charges in February.
As part of the judgment, Casillas was also ordered to pay $92,734 in criminal restitution to the U.S. Small Business Administration (SBA).
According to court documents and other information presented in court, Casillas fraudulently applied for Paycheck Protection Program (PPP) loans in March and April 2021 in furtherance of a conspiracy to defraud the government. The PPP program was created by the CARES Act in March 2020 to provide emergency financial assistance to small businesses that were suffering the economic effects of the COVID-19 pandemic.
As part of the scheme, Casillas submitted two false and fraudulent PPP loan applications, each of which requested more than $20,000. In the applications, Casillas falsely stated that he was the sole proprietor of a longstanding trucking business that was incurring nearly $100,000 in annual payroll costs. To substantiate his claims, Casillas provided the lender with a fraudulent 2019 tax record, among other things. In reality, the company did not exist.
New 2290 payment options for Bestpass customers
Fleets and owner-operators required to file IRS Form 2290 for Heavy Vehicle Use Tax (HVUT) payment annually can now count the Bestpass company, a leader in toll-collections-management options, among potential service providers.
That's thanks to the company's purchase last year of well-known ExpressTruckTax. the HVUT e-filing provider, which Bestpass said serves more than 200,000 businesses. As noted in past coverage of the market for 2290 e-file options, owner-operators retain the option for traditional paper filing, but fleets of 25 trucks or more are required to e-file with one among annually listed providers on the IRS's approved list. (Follow that link to the 2022 list, or watch this site for 2023.)
[Related: 2290 tax-filing season opens July 1 -- here's how to get ahead of the deadline]
Filers utilizing the ExpressTruckTax service have the option to pay by credit card, a new payment option added this past season, Bestpass said. Bestpass customers that file their IRS Form 2290 through ExpressTruckTax are eligible for a discounted rate, too. A fully integrated solution that provides Bestpass customers with access to ExpressTruckTax through their Bestpass account is expected to be available later this year.