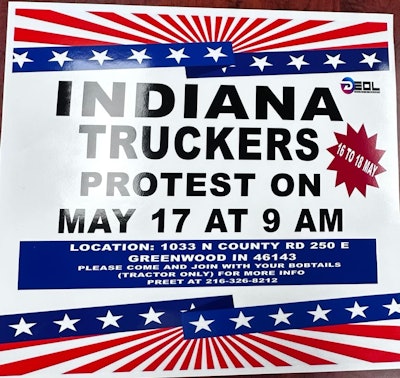 Several groups of owner-operators and small fleet owners are joining forces to organize a slow-roll protest around Indianapolis on Wednesday, May 17.
The grassroots effort, emerging mostly from the Indian-/Punjabi-American community, is hoping to stimulate awareness around low freight rates and a lack of transparency into brokered freight transactions. One of the protest's organizers, Narinder Johal, said the effort began with "a couple of guys from here in Indiana and in California" who "started spreading the message out to our brothers."
This is just the latest in a number of pushes from within trucking for meaningful enforcement of or improvement in transparency regulations. Earlier this month, the Truckers Movement for Justice group held a demonstration in Washington, D.C., and met with Federal Motor Carrier Safety Administration officials to call for improved pay for drivers and in favor of similar transparency improvements. FMCSA in March also signaled that it is moving forward on a rulemaking in response to a petition from the Owner-Operator Independent Drivers Association to the agency to amend regulation 371.3(c) potentially to require brokers automatically disclose records of the transaction within 48 hours of completion of a brokered load.
Owner-operator Johal noted he's been an owner-operator for 27 years and said the Indiana effort has grown to include many groups of truckers. "We are one," he said. "We stand on one platform and listen to each other."
Johal said brokers don't want to hear owner-operators' complaints about the rates they are getting, so the protest is to "let them know that we have united to fight cheap freight."
Wahab Chaudry, the owner of a small fleet based in North Carolina, is also helping organize the effort and said he is seeing rates as low as 90 cents a mile from brokers. "They want us to move this stuff for free," he said. Most recent rate averages, as shown in the chart below, illustrate the sinking spot market.
[Related: D.C. demonstrators get face-to-face with FMCSA administrator]
Chaudry added that the groups are trying to "bring awareness to what's going on in the industry and educate fellow truck drivers to not pick up cheap freight," while signaling to "government officials and brokers that we are still in charge of our business."
Chaudry said owners he has spoken to "can't make ends meet" with the costs of everything increasing -- both in the business and at home -- and rates going down. The price of equipment, maintenance, insurance, fuel, highway use fees and more, he said, is all continually going up, while rates sink. He also noted that, by not stopping brokers from including provisions in their contracts forcing carriers to waive their rights to view the transaction records of a load, FMCSA is costing owner-operators their businesses.
"We aren't making a living," he said. "We need to get this message across to government officials and FMCSA that you're putting hard-working people out of business. This is not what America is about.... We're asking for our fair share of the pie."
Johal noted how he's seen the country's treatment of truck drivers deteriorate since the height of the COVID-19 pandemic in 2020.
"In COVID, we were heroes," he said. "We put our lives on the line every day on the road, away from our families and kids. We skip our kids' birthdays because we have to fulfill that need that we have" when it comes to financial support of the family at home.
Both Chaudry and Johal said they believe the current state of the freight market is price gouging on the part of brokers. "We're going against brokers who are gouging our money," Johal said. "We all hurt. We're not trying to go against the law."
[Related: Remember 'reverse price gouging'? A success story against rate-cutting]
Wednesday's slow roll will begin just south of Indianapolis in Greenwood, Indiana, at 9 a.m. The bobtail-only convoy will depart Greenwood and head north on I-65 toward Indianapolis and roll across the full I-465 loop before returning to Greenwood.
"We need as much support as possible from all communities" of truckers," Johal said. "We need to come together on one platform to have a better life."
[Related: 'Over the road' episode 6: 'Our Punjabi brothers']