Upcoming Webinar: Catching elusive 'work-life balance' as an owner-operator, small fleet owner
DATE: May 23 at 1:00PM Central

More are looking for that elusive goal of work-life balance with healthy profits and maximum time efficiency on the road to justify time spent on other pursuits. In this webinar — sponsored by Bestpass — two men who've been in those shoes in a variety of roles present strategies toward gauging and achieving balance to improve quality of life for yourself and/or your operators, whether you're a one-truck owner leased to a carrier or with authority, or a small fleet owner hoping to deliver better balance to drivers and, ultimately, to yourself.
Tap the link above or here to register to attend our online seminar event with Innovative Logistics Group CEO Adam Wingfield and Silver Creek Transportation founder and President Jason Cowan, Overdrive's 2021 Small Fleet Champ. The event -- there's no fee for registration thanks to sponsor Bestpass -- kicks off at 1 p.m. Central on Tuesday, May 23. (If you can't make it at that time, advance registration will ensure you're updated about the replay after the live event concludes.)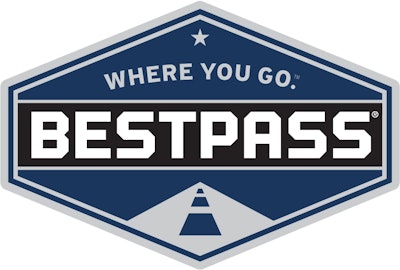 And while it might seem counterintuitive to be addressing work-life balance with trucking conditions as they are, the pressure's on owners to produce with rates down. It's a time owner-operators and small fleet owners can use every work-life advantage you can get to avoid the trap of running yourself ragged at the expense of quality of life. Adam Wingfield brings to his insights personal experience as an owner during the Great Recession, when he had to shift approach as the freight that got him home regularly tailed off.
Wingfield went on to build a small fleet with growing success, then founding the Innovative Logistic Group with a goal of being a resource to owners coming up behind him.
Small Fleet Champ Jason Cowan, as the owner of a growing fleet in Silver Creek -- over just several years tripling in size to 30 trucks -- has contended with generational shifts among employee drivers, developing strategies and tactics to deliver better routine home time, benefits and more quality-of-life improvements to those placing a higher priority on it all, a majority among operators who've come of age since the turn of the century, he notes.
(Read more about both Wingfield and Cowan's experiences via this story, announcing the webinar earlier this month.)
Owner-operators among Overdrive's Truckers of the Month thus far this year -- all contending for our Trucker of the Year award -- might be considered models of success in work-life balance achievement. From Ruth and Chris Smith's big-bunk Pete affording home-like comforts over the road, and plenty space to pack those golf clubs frequently used all across the country, to Tim and Shelley Pulli's management of a three-truck business, both still driving themselves and managing to get four children off to school and at least one of them home by the time those kids finish their studies for the day. ... All four recognized owners have approached balance differently, too, illustrating the diversity of numerous potential paths forward.
What's the biggest shift you've made to improve quality of life over-the-road for yourself or drivers at your company? What questions might you have for Wingfield, for Cowan next week? Drop any in the comments under this post or email me directly, and I'll be sure to put those questions directly to the presenters in an end-of-session Q&A period.
Better yet, join us live to get new ideas and ask any questions yourself. Register for the seminar by Tuesday, May 23 at 1 p.m. We hope to see you there.
[Related: OTR work-life balance in a down market -- is there such a thing?]