I got a call last week from one of the producers of a local show that airs at the noon hour on WPLN, 90.3 FM here in Nashville, Tennessee, where I live. The show, "This is Nashville," was in the process of putting together a trucking-focused episode, and had some background-type questions for me as a sort of gut check on what they were hearing from owner-operators and others around trucking. The result of their work is out, and they did a pretty good job of it all, I'd say, particularly with regard to one of the age-old concerns of those inside trucking when it comes to those outside: we're talking basic share-the-road advice for the nonprofessionals, as it were.
But they didn't stop there. "This is Nashville" host Khalil Ekulona aimed to cut through stereotypes both positive and negative with a dose of reality, noting early on that though truckers may be "like Santa Claus" in the minds of some, there's no dout a whole lot more to the work. The show hosted a couple of working owner-operators -- Mandie Moore of TJ Russ Transports, as well as Walter Sawyer, owner and operator today of 3rd Eye Trucking (in the business since 2016 and today with three trucks).
The basic humanity of the episode shows through with Moore's "happy accident" of being stood up for a date that led her from dental work to falling in love with the business, likewise Sawyer's GPS-lesson learned, the hard way, in East Tennessee on a mountain road unfit for trucks in his very early days. He called the snafu his "worst mistake." (Yes, he was using his phone's general-purposes mapping tool for a shortcut, something he won't soon do again, he noted.)
[Related: 'We don't give directions' -- how GPS has changed our social selves]
Trucking veteran Klark Koharik, today in a safety/managerial role at Dillon Transportation, delivered the basics of historical change with deregulation, the tried-and-true utility of the CB radio and its old social component, and more. Then in conversation with Koharik and Joe Dileo, broker with Chariot Logistics, Ekulona touched on challenges of the current market -- a big part of what I stressed when asked last week. My background talk with the producers preceded last week's news of efforts to pressure larger brokerages around paltry spot market offers of late, but Koharik emphasized his own company's relationship-building strategy around brokerages it dealt with as a way of guarding against big market swings that put owner-operators without those solid partners at a distinct disadvantage.
Other issues highlighted: Parking difficulties and the electronic logging device mandate, the complexity of irregular-route hauling and the reality behind those "supply chain issues" most of the motoring public has now heard so much about for several years.
None of which will be new to this audience, of course, but here's kudos to the show for doing more than just the obvious with the topic. As intimated above, Ekulona got out on the road, too, with a local trainer for some key share-the-road recommendations for the motoring public. Shawn Davis, longtime trucker and now trainer/owner of Tennessee CDL School Inc., illustrated some practices that host Ekulona admitted to being guilty of himself, as he wrote in a follow-up story about the run around town with Davis: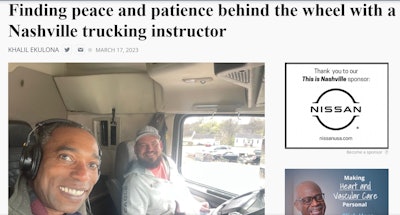 He says that when drivers see an opening in front of a semi on the freeway they move quickly to cut into the lane. That, according to Davis, is dangerous because truck drivers are taught to account for space that they'll need to stop. When drivers (like myself) cut in front of trucks that takes away much needed braking distance and can lead to crashes.
On the show, Ekulona personally apologized for the practice he noted he himself had been guilty of in past. As I wrote last fall, the "highway-speed cutoff" is perennially among the biggest of pet peeves for over-the-road operators about the driving of their non-pro counterparts. Dive back into our PSA of sorts on the subject via Overdrive's 2020 Over the Road podcast collaboration with Radiotopia, aimed at a general listening audience both in and out of trucking:
[Related: Holiday-traffic highway safety PSAs fit for our four-wheeled friends]
On Friday's "This is Nashville," Klark Koharik went further to emphasize another thing that sounds simple, but can be difficult to truly achieve when the blood pressure's on the rise in an on-highway situation and road rage is on the verge of exploding. "Everybody needs to stop and step back before they act out" at highway speeds, Koharik said, and be fully aware of these and other pet peeves. As Davis also advised, bring more patience to the operation. "Have a little bit more patience," Kohairk said. "We're all guilty of impatience."
With his company's own drivers and himself, Koharik said he stresses awareness, too, that your average four-wheeler following too closely "might not even know they're tailgating another driver," or that it's unsafe practice, likewise cruising alongside a truck in the proverbial "No Zone."
In the episode, too, Koharik gave an extended tutorial on that zone, places alongside a big truck where a car might be functionally invisible to a truck operator. You might consider it another one to share around with your four-wheeled friends and family who could benefit from it, as it were. Here's the episode in full, and find more via this link:
[Related: 'I know I'm going to get hurt': Small fleet owner calls for boycott of TQL, others]