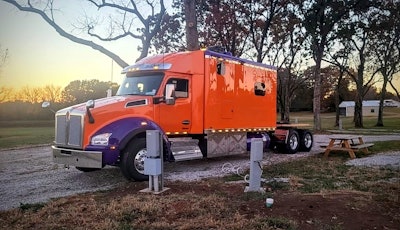 "I got a ticket in a big truck when I was fifteen."
--David Lowry
David Lowry has been in the trenches of trucking since he was fifteen. In the manner of many second-generation drivers of his era, he was driving a tractor-trailer with his dad long before he was of legal age.
"I got a ticket in a big truck when I was fifteen," he said. "We had a load of steel going to Philly. Dad had a 40-foot Raven that'd 'bout beat you to death. That's why he wanted me on that run."
He rolled "across the Black Mountain scales while Dad was sleeping," he went on. "I wasn't supposed to do that. To this day, I'm surprised they ever let us leave."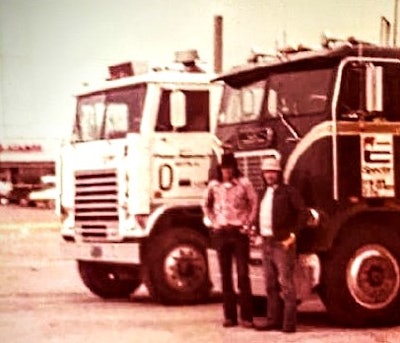 Fast-forward four and a half decades, and you can find that 15-year-old kid at the helm of fleet Bennett Motor Express. At a time when many companies that blossomed under deregulation are entering their second and third generations of leadership, Mr. Lowry might well represent a vanishing breed of CEOs in trucking -- those who have actually driven a truck.
A stocky man of 61, the McDonough, Georgia, native can swap war stories with the most grizzled gearjammers out there. Operating Bennett Motor Express, the oldest of the 11 units in the Bennett Family of Companies headed by his mother, Marcia Taylor, you can still find Lowry at truck shows playing blues harmonica at 2 a.m. in impromptu jam sessions with Tony Justice.
In short, this is one CEO you'll be hard-pressed to out-good-ol'-boy, should you be fool enough to try.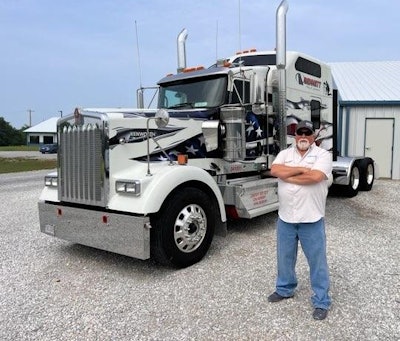 Speaking with Lowry at the Large Cars & Guitars truck show a couple weeks back, there was a detectable glean in his eye as he told me about his latest brainchild, Bennett's "Large Car Campground" in Joplin, Missouri.
"Joplin is such a great town for trucking", Lowry noted. "We found a farmhouse with an old-style barn on 40 acres, and decided to make a resort for our drivers."
Hub for Bennett's elite Heavy and Specialized division, Joplin is home to some of the company's highest earners among owner-operators. 1099s in the $500,000 range are not uncommon out of that hub.
But running specialized freight is not for the faint of heart. For owner-operators Holly and Mark O'Donnell, whose truck graces the top of this article, the campground was a godsend.
"They did a really nice job," Holly said. "They've got a laundry room with three washers and three dryers, all free. There's a dog walk area, dump stations, water, electric [hook-ups]. There's two full bathrooms with showers. They've got a rec room with a pool table and a shuffle board, and good WiFi.
For the O'Donnells, who carry special clearances to haul government freight, the prolonged waiting time at various facilities justifies the price tag of their latest truck, Isabella. Featuring a 144-inch ARI sleeper on a 317-inch wheelbase with a Cummins X15 at 525 hp, the Kenworth T880 stickered at $350,000, and as Holly noted, "That's not something you're going to pay off hauling ketchup and toilet paper."
But there are times when getting Isabella parked safely can be a nightmare. "When we're pulling a 53-foot trailer, there's times we stick out seven to ten feet from other trucks at the truck stop. It's something we worry about all the time" in efforts to park the truck, she said.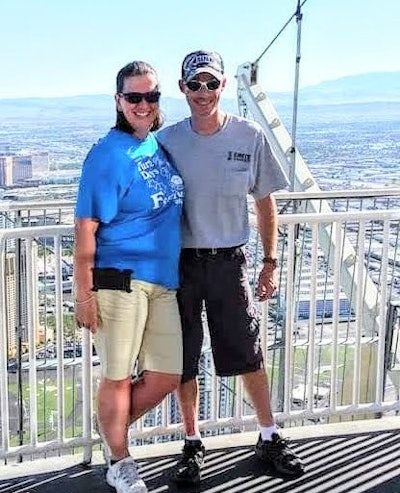 Lowry, for his part, worries as well.
"Fighting that mess at the truck stop" was a principle concern driving the investment in the Large Car Campgrounds initiative, which has expanded beyond just Joplin, he said. "We want to put in a pond and stock it with bass. And we're going to put in a fire pit."
All told, he's "trying to have a nice, relaxing place for our contractors to have some R&R. My goal is to have [Large Car Campgrounds] strung throughout the country. We've also put in one in Casa Grande, Arizona, and have plans for one in Morton, Illinois. They are available for all of our folks to enjoy" and, possibly in the future, for others outside the company as the network expands.
Time will tell on that front.
[Related: How to get access to sometimes-lucrative military freight]
I was reminded of a line from an old Wordsworth poem.
The Child is father of the Man;
And I could wish my days to be
Bound each to each by natural piety.
In a time when we read of CEOs from other companies actively implementing technologies which could eventually replace their drivers, it's good to know there's a former 15-year-old flatbedder out there still looking for ways to make his current owner-ops' lives better.
[Related: An hours of service carveout for specialized carriers beyond the 30-minute break exemption?]
Read more in Long Haul Paul Marhoefer's "Faces of the Road" series of oral histories and profiles.