"That's the one thing you see at all the shows. Everybody says, 'we're hiring drivers, we're hiring all drivers, we love all drivers.' That's a campaign. It's a thing that everybody does. You see it as you walk through MATS. You see it. But how true is it?" --operator and LGBTQ+ Truck Driver Network cofounder Bobby Coffey-Loy
Cliffside Transportation Services operator Bobby Coffey-Loy hauls in a team with his husband, Ricky, and in one of a couple dozen or so rigs Cliffside has dedicated to XPO Logistics freight in the network. In the quote above, part of this edition of the Overdrive Radio podcast, Coffey-Loy was speaking to the mission of his and cofounders' LGBTQ+ Truck Driver Network, established within the last year and engaged in a variety of support efforts for operators all around the nation.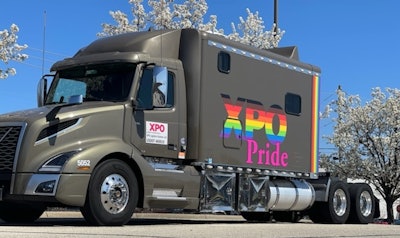 In the podcast, sit in on a conversation I had with Bobby Coffey-Loy at the 50th anniversary edition of the Mid-America Trucking Show last month, where the LGBTQ+ network made its truck-show debut to the delight of plenty at the Kentucky Exposition Center there. The West Wing booth's Mardi Gras beads were a hit -- I saw scads of folks walking around the show floor wearing them, likewise network lanyards for MATS attendee badges you'll hear Coffey-Loy talk about. It's all part of a mission in part to increase LGBTQ+ visibility among the trucking community, but also to make good on its "All Drivers Means All" motto.
[Related: Ride with pride: With changing times, LGBTQ truckers move more confidently]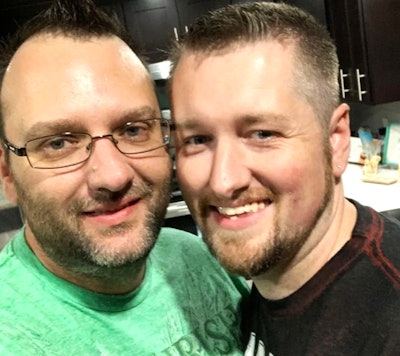 To that end, too, Coffey-Loy here details a program the network has embarked upon to honor drivers lost on the road with messages and other tokens of support delivered to their families. Since the MATS show, he said in a note to me this morning, the network has been getting quite a number of people "wanting a loved one honored and recognized by the Driver Memorial Program. ... We honor all drivers with this program, LGBTQ or not."
Also, more companies have stepped up to "become a part of the network we are creating and vetting ... as LGBTQ+-friendly places to work," he said. The organization adds such companies to this page. Hear more about all of it here:
Also in the podcast, we pause to remember an owner-operator lost. My own interaction with Randy Cunha through recent years wasn't extensive, by any means, but I'll say that when we spoke attendant to my reporting on heavy-specialized hauling in the Spring of 2020, just as Cunha was winding down his own business toward retirement, the man I spoke to then was clearly an incarnation of the very best in the business of trucking as an owner-operator.
He'd become that after a career that spanned five decades and ended on a nice high note -- with a run of very good years under his own authority, heavy and oversize permits and all. In the podcast, catch much more about that directly from a man who knew him much better than me, our own "Long Haul Paul" Marhoefer.
[Related: A hard year on heroes: Remembering longtime specialized owner-operator Randy Cunha]