For this edition of Overdrive Radio, I'm joined by Lee and Lisa Schmitt of Wisconsin. As regular readers may well be aware, Lee's requested an exemption from parts of the hours of service for himself -- it's the first such exemption request for an individual owner I've seen hit the Federal Register and go up for comment in quite some time, a testament perhaps to the methodical nature of the Schmitts' pursuit of it. It's not like it's particularly difficult, though, to break through the dam, as it were, of the federal regulatory system, as Lisa noted in the podcast.
Exemption requests and what's required of them is all laid in the regs themselves, in 49 CFR 381.310.
Having essentially followed the instructions laid out there, the Schmitts' request was posted to the Federal Register and put up for comment last week, and since 600 comments have been filed. But there's been some confusion among some in the Overdrive audience, I know, about just what Lee Schmitt is asking for here.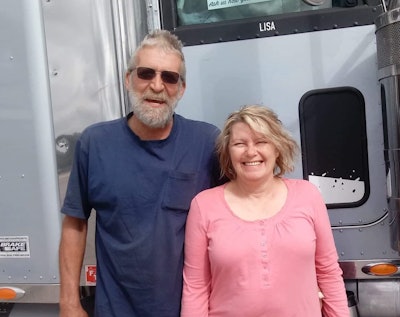 In a word, flexibility -- to use a daily 11 hours' worth of driving however he sees fit. He asks for exemption from the requirement to take a 10-hour break, from the 14-hour rule daily duty maximum, from the cumulative 60 in 7 days and/or 70 in 8 days duty limitations.
But, crucially, not from the 11-hour maximum daily drive time limits, a fact lost on some readers who didn't fully engage with the hours of service exemption request's summary, as Lee noted in the podcast today.
That fact wasn't lost on everyone, though. What appears to have been among the first of the comments filed to the exemption request's docket came from one James Berns:
Allowing drivers the flexibility to sleep when they're tired and drive when they are rested is much safer than forcing them to stay off duty for 10 hours, then potentially drive when they are tired. This should be an option for all drivers.
And that, with experience and proven safety, is part of what the Schmitts are hoping for when it comes to the ultimate fate of what they're requesting. Hear more about it in the podcast:
Comments are open on the exemption through July 11.
Also in today's podcast: