In this edition of the Overdrive Radio podcast, we'll drop into an interview Overdrive News Editor Matt Cole conducted with Arrive Logistics Chief Strategy Officer J-Ann Tio, about the broker-3PL's "We Deliver Flexibility" program. The trial run for the program is getting its footing as a connection engine between independent owner-operators and small fleets in Arrive's network and larger private fleets the company also does business with.
The Arrive program, as Tio notes, hopes to alleviate issues on both sides of the coin, for owner-operators enduring the deflationary rates environment in the spot market as costs rise, limiting growth, and for private fleets needing safe, professional, reliable freight-moving capacity. It could well be a way into new opportunities for owners both inside and out of Arrive's network, as Tio describes it, in fact -- a chance to develop new contracts for freight with large clients that might typically not have had much of an interest doing direct business with the smallest fleets.
[Related: New program aims to connect owner-ops, private fleet for new freight opportunities]
There's more in today's episode, though, too. If you've missed it as yet, hear our own "Long Haul Paul" Marhoefer's moving eulogy for Ken "Shoestring" Waugh, part of Overdrive's "Over the Road" collaboration with PRX's Radiotopia podcast network.
And: Catch the latest from trucker-songwriter extraordinaire Tony Justice. Justice delivered a $33,000-plus check to the Susan G. Komen Foundation for breast cancer awareness and research this Monday in Nashville.
After that presentation out front of the Country Music Hall of Fame, I sat with Justice and his wife, Misty, to hear more about the haul raised by the well more than 100 owner-operators, small fleet owners, show vendors and more who participated in the first-ever Large Cars and Guitars truck show in Kodak, Tennessee, back in May. And there's a bonus in that conversation, too: Team Justice has big things planned for the new year, with a newly-custom-wrapped 2002 Prevost he and Misty have started using for their music work (pictures below).
And, no, contrary to any road rumors you may have heard, Justice hasn't yet hung up the keys to his trucking career. He's still hauling in the rig he pilots for Everhart Transportation out of Greeneville, Tennessee. Take a listen: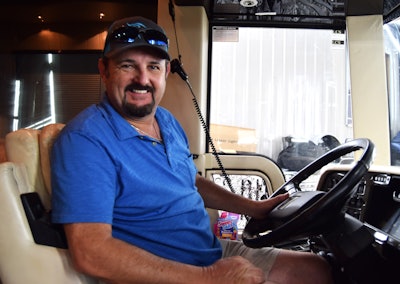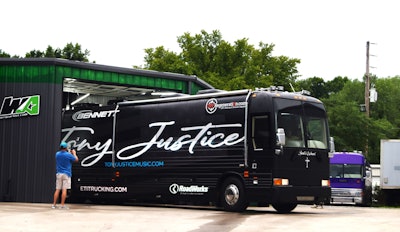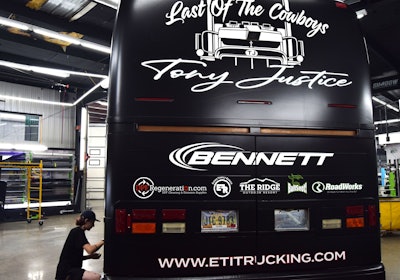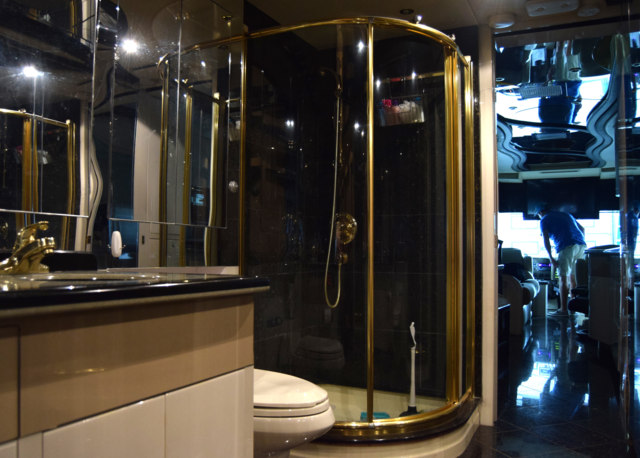 The interior is well-equipped in terms of creature comforts for Tony and Misty Justice, with plenty storage for the band's equipment and more.