Owner-operator Angelique "Tornado" Temple's one-truck Tornado Transport business, based out of Beaverdam, Virginia, follows a two-decade-plus career as a company driver hauling liquid-bulk hazmat, much of it spent with Atlantic Bulk Carrier. If her name sounds familiar, it could be for a couple reasons. She sits on the Federal Motor Carrier Safety Administration's 2021-established Driver Advisory Subcommittee, for one.
For two, she's the latest inductee in the Howe's Hall of Fame recognizing worthy participants in trucking and farming industries that have supported that company now for more than a century.
Owner-operator Temple's story will no doubt strike a chord with anyone in the audience who's tried hard to balance a true love of work on the road with pursuits back home -- and the frustrations that come with that work, for that matter. One of those was well evident when Temple picked up the phone for our talk -- behind 25 other rigs in a line to get unloaded at a distribution facility, and the guy at the head of that line had been there for four hours.
That's right, she's not hauling bulk hazmat any longer. In 2021, though she was making $130K-plus hauling bulk, she made good on a long-held aspiration to own and operate her own trucking business, purchasing a 2018 International LT and leasing to the CloudTrucks "virtual carrier," whose platform is geared toward maximum owner control of all aspects of the business's operation. (Regular listeners may recall my talk with reps from CloudTrucks, as well as owner-operator Jason Hurley, who'd moved to lease there after years with Schneider.)
There's more to her plans for the future in addition to eventually getting her authority, too. Her youngest son, one among six children Temple raised over the course of those 20-plus years hauling tank, plans to get his CDL and join her on the road and in business. Dive in with Temple's trucking history, her training, mentoring, membership on the federal advisory board, charity work and so much more in today's edition of Overdrive Radio. Take a listen: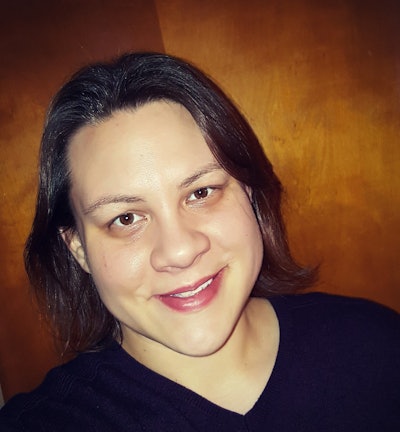 Also in the podcast:
Joining owner-operator Temple and I was Howes Vice President of Business Development Erika Howes, who speaks to the history of the Hall of Fame. It stretches back to its launch in 2020 and before, when Howes conceived it to be an enduring, ongoing effort to show appreciation for the two industries, trucking and farming, that have kept them in business for more than a century. (Year 2020 marked 100 years in business for the company.
Transcript
Angelique Temple: I came here and they said, "Go around here to wait in line." And the guy at the front of the line says his appointment was at 12, and my appointment is at four. So it was 25 trucks in front of me. And I was like, I told my husband, I said, "Ironically, I want to get in here because I don't want to be disturbed doing this interview. And I don't think I have to worry about that. Because it looks like I'll be here till midnight. I'll be here till midnight, and I'm only 20 minutes from the house. How screwed up is that?"
Todd Dills: That is the voice of owner-operator Angelique "Tornado" Temple, her Tornado Transport one-truck business based out of Beaverdam, Virginia. And following a two-decade-plus history working as a company driver hauling bulk liquid hazmat, which we'll hear all about today in this edition of Overdrive Radio for December 9th, 2022. I'm Todd Dills, your host as usual, and recently happened to be talking to Temple following her recent induction into the Hall of Fame hosted by Overdrive Radio sponsor Howes. Angelique's story will no doubt strike a chord with anyone in the audience who's tried to balance a true love of work out on the road with pursuits back home. Likewise, the frustrations that come with that work well evident in the tale of the long wait to get unloaded owner-operator Temple detailed expecting at the top.
What kind of facility are you at? Are you at a --
Angelique Temple: At McLane's. So they're the food group that delivers to the 7-Elevens and stuff. So that's where I am. But I brought this load from New Jersey.
Todd Dills: That's right. She's not hauling bulk hazmat any longer, since going out on her own more than a year ago now.
Angelique Temple: I'm dry van. I heard the guys telling me reefer's good, and I said, "I'll see." Because reefer means I'm going to be at every place like this.
I don't want to do that. I don't want to do that. I don't want to do that at all.
For me, like I told the gentleman a few minutes ago, I said the backup for me is not the issue. It's that we are all the way around the corner. They don't have places to park. We're in the facility, but I've never seen where they don't say, "Well, go up and park, and in between here and here just have spots where you get park and wait to be called." But this is like a 25-truck line, and there's 20 more trucks that are actually parked at the dock. And I'm like, "Wow, OK." But what can you do?
Todd Dills: Are you running with your own authority here, or you're leased with somebody at this point?
Angelique Temple: I'm leased with CloudTrucks.
Todd Dills: Regular listeners will recall my 2021 talk with reps from CloudTrucks, as well as owner-operator Jason Hurley, who had moved to lease there after years with Schneider National. His reasoning was quite similar to what Angelique Temple cited as appealing at the company, which bills itself as a "virtual carrier." Its central component is a platform connecting brokers and leased owner-operators with a large degree of control over all aspect of their businesses.
Angelique Temple: That's why I picked them. Because I did about three months of research before I picked, because me coming from the tanker side, I left my company at $135,000. So you can't tell me, "Just do your number." And tell me because I was a senior driver and I was like, "No, no, you're not going to take 45, 50, 60-something percent from me. I'm not doing that." So yeah, that was the biggest deal. But I am going to do my own authority. I just made my first full year on my own, even though I've been driving 24 years, but in my first full year. So this is really good, because I wanted to get out here and deal with Cloud. And then I'm going to go to the other stuff.
Todd Dills: As you'll hear in today's edition, there's more to those plans, with a son among owner-operator Temple's six children planning to get his CDL and join her on the road in the business. So stay tuned. You'll be hearing from another voice today, too.
Erika Howes: Hi, I'm Erika Howes. I'm the vice president of business development at Howes Products.
Todd Dills: As most regular listeners well know...
Erika Howes: We are the makers of diesel additives and lubricants for over a hundred years. So we have recently opened the Howes Hall of Fame. Back in 2020, we celebrated our centennial. So as part of that celebration, we wanted to find a way to show our gratitude to the industries that it allowed us to be around for a hundred years. So we decided to create the Howes Hall of Fame, which is a digital platform developed to recognize and honor members of the trucking and agricultural industries for their amazing contributions. With the onset of COVID at the time, we decided that it would be best to make the Hall of Fame a virtual environment that can be accessed by anyone, anywhere at any time at their convenience. So what it is it's a 360-degree panoramic experience, which means it allows you to look up, down, all around from any device, and then feel like you're really there.
So since its creation, we've actually already done one major renovation to it, to make it a more engaging experience. We've taken it a step further by creating a virtual reality version. That's pretty cool. And now, we're actually in the process of renovating it once again to make it even better. So what our goal is for it to really be just this ultimate place to show our support for the people, places, and things that make up two of the nation's most important industries, which are trucking and farming. So we plan to improve it for years to come, and hope that it will always be worthy of housing. Such amazing nominees.
Todd Dills: For the most recent member of the Hall of Fame, on the day we talked, luck was on owner-operator Angelique Temple's side, and she had to break off from the conversation. When she came back...
Angelique Temple: It's 15 trucks, and she's like, "Go into Door 74." And I'm like, "Oh, okay. That's great."
Todd Dills: So you're not going to be there until midnight. Good.
Angelique Temple: I wouldn't stay that, because I've been at the door and sleep. I actually went to Connecticut one time, and I actually went to the dock door and I slept. I woke up and it was 7:30 and they were not done. I mean, I had my cereal and everything. I have my cereal, my banana, and I'm like, "Okay." Because after a certain amount of time, I just said in my mind, "I'm getting ready to do my break now. Because there's no need to stress." But you can't bring that into the industry. You can't bring that to the industry. I've actually lost my oldest brother to stress recently. He actually passed away in 2019.
Todd Dills: Oh no.
Angelique Temple: I just added that to a part of what I mentor about. Because it's easy to tell someone, "Don't stress," but you have to tell them things that they can do. What can they do? How can they keep things off their mind? When we train ourselves in the truck to say, "Hey, when we get in this truck, everything that happens has to stay out of the truck until we get back out of the truck."
Todd Dills: We'll dive into Angelique Temple's trucking history, her training, mentoring, membership on FMCSA's driver advisory board and charity work, and so much more after today's message from Overdrive Radio's sponsor. So keep tuned.
Speaker 5: Now that winter's here, it's time to prepare yourself for the conditions you'll encounter. By adding Howes Diesel Treat at every fill-up, you can prevent your diesel fuel from gelling in even the coldest temperatures. While it safely removes water, adds lubricity, and prevents deposits, the nation's number one anti-gel will help protect your engine and provide you with the added power you crave. Backed by the only no-tow guarantee, Howes Diesel Treat will keep you rolling no matter what weather comes your way. Learn more at howesproducts.com. Howes. Tested, trusted, guaranteed.
Todd Dills: Here's Angelique "Tornado" Temple.
Angelique Temple: I am Angelique Temple, owner of Tornado Transport LLC. I am just making my almost 24 years in this industry. I spent the previous 23 years pulling hazmat for companies, and it's always been my dream to have a transportation company, among other things. But I raised six children, put two through medical school. And when my last two graduated was when I came out here on my own because it was something that I was going to do, but I wasn't willing to let their livelihood be at risk. Because most of the time, I was a single mom. So I wanted to make sure they were good before I came out here. And I came out here, and I also do women in trucking. So I mentor, I do charity work. We're still in the process of getting ready to build one of the largest, if not the largest community centers.
Because my son and I are partners in that, and we just like to give back, we like to do the work and we like to give back. And this is my whole story in a nutshell. I'm born and raised in New York. I wanted to drive trucks since I was 12. My dad was against it; because he works for New York Times as a supervisor, he had heard so many horror stories from the truck drivers. He was like, "No, no, no." So that was the big thing. "No, you're my only daughter, we're not doing this." So yeah. I have more brothers. So yeah, we just skipped that to the back of the head. And when I got grown, I was like, "Okay, I'm doing it."
Todd Dills: Did you just say you had brothers that got into trucking too?
Angelique Temple: No, but I was the only girl with the family.
Todd Dills: Now when you first got started on the road, how did that play out practically, I guess? How old were you? Where were you, what time of period was this? That kind of thing.
Angelique Temple: Yes. When I first got started, I was about 22. So when I first got started, I did start pulling gasoline. Actually, it played out very well. Because when I finished school, I took the position at a gasoline company called Oil Transport. So the gentleman there that was in charge, his name was Pete Futrell, and he's actually who gave me the nickname, CB handle "Tornado." So he was like my dad, because my dad was still in New York at the time. So he was the first father figure that I met here, and he's passed away now. But yeah, he's the story behind the whole "Tornado" name, hence Tornado Transport. And I've been a runner since the beginning. So when he gave me my work and I came back, it was on that day that he was like, "Yeah, you've done that fast. I'm going to call you Tornado."
And it's just become, I have it on every vehicle. Every vehicle I have, all my vehicles that I get, I have a guy that makes a sticker for me, put it right on the windshield. Every vehicle. So yeah, it was really great to start off in something that I came out here to do anyways, which was hazmat. Because that's what I wanted to do. Not just drive a truck, but pull hazmat. So therefore, that was the great part. It was very difficult being a woman out here, though. I only had one other woman in the whole Eastern region of Virginia at that time, it was me and another young lady. She's passed away now as well. She was older than me as well. And it was just her and I. So it wasn't easy. It wasn't easy.
Todd Dills: Was she in the same company as you?
Angelique Temple: Yes. She actually did a little bit of training with me, and then some of the rest was done by the gentlemen that were there. And she was like a sister to me, but like an older sister to me. And she was great with everything that she taught me. So on one side, you have the guys teaching you how to do everything you need to do, as far as trucking and unloading, and hooking up the hoses and being safe and being careful. But then you had Johnette, who taught you how to do it as a woman.
Because when you're doing gasoline and you doing vapor recovery, you can't just lift it like a guy, and put it up against your chest and push it. That's going to cause for some real pain and later on, some health issues if you don't learn how to position your body. And a lot of people don't think that there's a difference. And in trucking, there's not much differences. But in tankers, there is a difference in the way that you have to handle things, being a woman. So that you protect your body from later on having health issues and injuries and such.
Todd Dills: That first work hauling gasoline locally and regionally for Virginia-based Oil Transport left its mark for what would be two decades plus of tanker hauling. As for the company, though. …
Angelique Temple: They shut down years ago. But glad they weren't shut down when I came along.
Todd Dills: Talking to owner-operator Angelique Temple, it's 100% clear that she is nothing if not a master of wearing many hats. That's been true from the very beginning of her trucking life. By the time she made the move to Virginia from New York to start trucking, she was already a mother of two. Today, she's a mother of six.
Angelique Temple: My firstborn is getting ready to be 30.
She's ready to be 30 in March. Yeah. And they're all grown now. So my babies are 20-year-old twins. Those are my babies. That's it. I'm on my third marriage now. I had my first two children young, so of course, I wasn't married then. So my daughter was born in 1993, so I wasn't married at that time. So still was raising her and her brother. And then after that, I got married, and then I was divorced some years later. And then got remarried and then divorced. Now I'm remarried. And I said, "There's no more divorce. If you're going to leave, just leave. I'm not telling nobody." He was like, "Well, I'm not going anywhere, so don't worry about it."
I did Oil Transport and I actually did, I'm going to say a few, because it wasn't very long, at Pepsi. And that was just in between, to get some dry van experience. So I was actually doing both when the slow season came, and I actually broke my arm at Pepsi with one of the dock plates and still was driving. I got it wrapped it up, they didn't catch it. So when they put me out and they said, "Well, it's just sprained," they found out it wasn't just sprained. It was actually fractured and it grew back the wrong way.
But I still, I didn't let them re-break it. I was like, "No, no, no, no, no, we're not doing that." So I actually just kept on doing what I was doing. I just kept on driving. So when the last two were born, I didn't know it was going to be twins, but when they were born I was like, "Okay, that's it." Because I actually just wanted to have another son. Because I didn't want my oldest son to be the only boy.
Todd Dills: That injury, it sounds like it didn't limit your ability to just do the work.
Angelique Temple: I don't think that I know what that means, because I've had that happen. I've had broken ribs, I'm pulling tankers and different, the way the tanks are built with the sides. So I've been getting up and taping up ribs, and I did that for almost a year and still never missed a day. I've had a broken thumb that I wrapped up, and had them give me a splint, and I still was working. I rolled my ankle three times, and then they told me if I rolled it again, it was going to break. And that was due to a defect on the side box …. So yeah, I don't think I know what that word means. I don't. Yeah, because the older people, I don't like to say old folks, so the older generation used to say when you come outside, and they say, "Hey, cut this grass and do this." And you said, "Yeah, I'm tired." Yeah, they say, "You rest when you dead." So I don't really know that there's anything that couldn't really prohibit me from driving, because I'm going to do it. I'm going to do it.
Todd Dills: No limit.
Angelique Temple: That's it.
Todd Dills: Walk me up through to the decision to buy the truck and go lease over to Cloud.
Angelique Temple: That decision was made way before, because I knew that I was going to be my own boss. I knew I wanted the company, I knew this is what was my dream. So that wasn't the issue. But as far as waiting, I'm at the company and I'm pulling tankers, but I'm self-dispatched. So I'm dealing with the customers and the shippers, "You want it by this time. When can you have it ready? I'll pick it up. I have it here." So this has been my whole career at Atlantic Bulk, which I spent 20 years there.
Todd Dills: Atlantic Bulk Carrier, where Temple spent the bulk of her career.
Angelique Temple: I mean, that's where everything happened. And when I came, I was the only woman. And then later on, women came and went and I taught, like Erika said, I was a certified hazmat trainer. And I mentored, I've been mentoring all my life. I still mentor. I mentor with women in trucking. But I also mentor outside of that. So basically, when the kids graduated, I said, "Before they graduate, I need to get everything together. Because this is the time now. They're going to graduate, and this is the time for me to do what I need to do." So this is when everything came about. And I knew that I was going to lease on at first, but I didn't want a company. I didn't want anybody calling me, telling me where to go. I don't want people taking so much from me.
So when I found out that CloudTrucks was actually just digital brokers, that fit into exactly what I wanted. So I mean, they let me do what I'm going to do. And you have to do everything yourself. So the relationship with the brokers, running my company as Tornado Transport, because it's not us working for them. It's actually a business contract that we have in place, that says between them and Tornado Transport and not Angelique Temple. I mean, they've been great. They support me in everything I do. I'm also on the board for the FMCSA. I'm on the Driver Board for that. Yeah, I mean, I just try to find, I got to find it. If it's out there, I can get in it, I'm going to try. I'm going to do it. I'm going to do it no matter how long it takes. I'm going to do it.
Todd Dills: There's a drive here to be involved and be an influence on the people coming up behind you. Right?
Angelique Temple: Yes. And it is necessary. It's necessary because a lot of people have their misconceptions about the industry, but a lot of people don't have the confidence that they can do it. So when you have people that come up, and women in particular, or even guys, if they're not having the ego trip where they don't want to talk to the women, some of them do not want to have conversations with us about their future and this career. But it's very rewarding if they say, "Well, I don't know if I can do this. I have child, I have this or that." I had six. This is where I come into being one of the largest mentors where they call, "Oh, now, call Angelique. Call Angelique." My phone doesn't shut off. So I'm like, because I love to do it. And as far as the charity work, I've always given back.
I don't know if more fulfilling is the proper word, but it's great to be able to do it how I want it, when I want it. I did the volunteer bus, and I'm still available if any church or organization calls me and says, "Hey, we need this done. We're dealing with children," I will do it. Like Erika said, I raised and rescued pit bulls for 13 years. So it was my job to make sure they didn't get put down, and take them in and get them healthy and get them trained, and then get them adopted out. So up until this September, I've done that for 13 years, and I took a little break. And I do raise rabbits, because I love rabbits too, but I don't give away my rabbits. I keep them until they die.
But I do organizations for Christmas, Thanksgiving and anytime during the middle of the year there's a need. So I had so much trouble finding the same people that I've worked with in the past, and I got so frustrated, in a good way. But I got so frustrated, I said, "You know what, that's fine." So I actually did it myself this year. I did everything myself. So I called the local Richmond schools, found out that there were some families that needed sponsoring. I took on two of the families that needed sponsoring, and I also ordered everything I needed, instead of ordering the stuff that the most of the time the charities need, I did it myself. So I ordered it and I had hand warmers, the deodorant, the toothbrush, toothpaste, everything. The wash cloths and waters. And I just made over 50-something sandwiches. And me and my children, Elijah, one of them and my other one, Asha, which is my 21-year-old, they came with me because my husband was working, and he was coming home to try to cook for Thanksgiving.
And I said, "That's okay, we got to get out here early." And we hit the streets. We were out there for over four hours. We hit the streets, and I had the bags and we were giving out food. And we hit most of parts of Richmond. We must have hit about three, four different towns inside of Richmond. And that's what we did. A lot of them weren't out when we first got there, because a lot of the homeless people out there were staying in the shelter. So the way how Richmond, Virginia, does it, they allowed them to stay in the shelter during the day, but at night, they have to leave. That's what gave me the idea to get the hand warmers and the foot warmers. And I've also done blankets before. So I'm like, "We got to do it." So I'm actually getting ready to gom the weather's pretty decent, not freezing, even though nobody should be outside, period.
But my husband and I are actually getting ready to do … I don't even want to call them crock pots, because they're giant pots. And we're actually going to do chili. So we're going to do that again, and we're going to do chili and it's going to be hot. So this is what needs to be done. Because everybody is not doing what they were doing in the previous years to help. Or if they are helping, they're not helping in a way that I feel that would be satisfactory to me. I've always just wanted to do it the way that I'm doing it now, and then bigger. And then bigger and better, bigger and better. But I do, I had two, three organizations last year. So two needed a whole Thanksgiving dinner provided for 40 people. So I did that. Donated the food, everything else they needed.
And another organization, he actually was going out and he was feeding the homeless. So did two separate organizations, and the third one, they didn't need a lot. So that was pretty good. But this year, it's like I didn't see where they were in the same mission mode, if that makes sense. You're saying that you're giving, I'm like, "Okay, so what is the plan this year?" If you can't tell me the plan, then I back out. If you don't have a plan, I have a plan. And that's what we did. So we're actually going to do it again and then we're going to do Christmas time. And I picked up two families that the young lady that works with the social department for one of the Richmond High schools, she's going to give a list of what they need. And we're just going to keep on doing what we're doing.
Todd Dills: Talk about a lot of hats, eh? Most form-fitting among them these days, as any owner-operator hearing this might likely guess, is her Tornado Transport business, of course. What's it powered by?
Angelique Temple: It's a 2018 navy blue International LT625. I picked the truck. I've never driven an International for a long time. It's been Peterbilt, Kenworth, Freightliner. But the key to this one was that it has the X15 Cummins engine. And I'm a big buff for them, what's under the hood. Because I don't want to be broke down and then realize I don't even know who makes the engine. So they had an extended warranty on this one. So International actually teamed up with Cummins. So I have an extended almost five-year warranty on this truck, which is why I bought it as my first truck. Because it's enough stress to deal with other things. I did not want to deal with the stress of something happening to a truck without a warranty.
Todd Dills: That's still the factory warranty or is it --
Angelique Temple: Yes.
They extended the factory warranty, and put an extra part because of the engine that's in it. So I don't have to worry. I mean, sure, you have to pay for certain things, but the big major things that would go wrong within the time that you have it should be covered. Or if it's not, then work it out and get it done. But for the most part, the truck's been really good to me. But then again, I don't Ricky race and dug my truck out either. So they could have all the warranties in the world, if you driving it like you're driving a motorcycle and yeah, that's not going to work. It's not going to work. And I actually went to Georgia, flew out to Georgia, my husband and I. I got in contact with a guy, his name was Mr. Ray. And he's in charge of Bulldog Trucking over in Georgia, and right outside of Atlanta.
Todd Dills: That's Bulldog Truck Sales in Cumming, Georgia.
Angelique Temple: And I spoke to him on the phone and he said, "Well, I don't know, Miss Temple. Because I mean, if you just coming out of it and just coming in new, I don't know. You got to talk a little bit more. I mean, you sound like you know what you want." But he was so sweet to me. But he was firm. And he said, "How do you know that you can make the money that you need to make to do what it is you're trying to do?" Meaning getting on your own, and you know that you're going to have to pay a percent. And I explained to him, "Yeah, it's not going to be not even 10% taken from me." And he said, "Well, you got that down. Let's talk about how that you're going to make the money with what you're hauling."
And he said, "Are you working now?" And I said, "Absolutely. I'm pulling tankers." And I told him how long I've been in that industry. And he was like, "That's amazing." And then he said, "Well, how do you know you're going to make the money?" I said, "Because I'm getting ready to leave, and I'm already above $130,000, and I'm a company driver." And this was in September. And the next thing he said to me was, "Send your information to my guy. We'll get you straight, and you come on out here." So he was really good to me, and I went and flew out to Georgia. And drove the truck back, and we've just been rocking with it ever since. I mean, it's been really great to see all the differences with the customers, and the shippers. And just the different drivers and the people from Howes, and you guys that do the radio and all the interviews.
I mean, it's phenomenal to me. Because when I first got the message and I was like, "Wait, Howes? Did you say Howes?" And I was like, "Yeah, no, I don't." Inside I was like, "They must be talking about somebody else." I was like, "They can't be talking about me." Because I was so honored. I still am really in shock. And even one of my friends, and he said, "So I saw a picture on the thing and I thought, so it was Howes Diesel Treat." I said, "I told you."
He said, "You said Howes, but I didn't know you mean that Howes." And I'm like, "There's only one Howes." So because it's such shock. It's such shock. For them to think that it is worthy of inducting me in a Hall of Fame, or even if they never had a Hall of Fame, they just thought about, "Hey, let's just call and see who Angelique Temple is." That would've been an honor in itself, just to think that someone thought about me, and what I normally do. To even ask about or even write about or even talk about, it's really an honor.
Todd Dills: So nobody ever told you they were nominating you at all?
Angelique Temple: They did not. I did not know that.
Todd Dills: You didn't know at all. That's awesome. So it was a total surprise.
Erika Howes: That's actually one of our favorite parts about the Hall of Fame, is that it is open to nominations from other people within the industry. Because we want to know who or what inspires you, who's had a great impact on you, to get to know not just our customers, but everybody in the industry. Because there's so many truckers out there, doing such fantastic things and such amazing work. And people deserve to know about them, and they deserve to be recognized. So the fact that anyone in the industry can send in a nomination to say, "Hey, take a look at this person." It's really exciting for us too. You can't know everybody on your own. It's really exciting for us to get the chance to know some of these great people.
Todd Dills: And it is an open nominations process. It's just like there's not a nomination period. It's just, you probably get nominations in perpetuity all the time. So you're just always carefully considering different folks who come in.
Erika Howes: Yep, absolutely.
Todd Dills: You can nominate a deserving owner-operator yourself via howesproducts.com. Navigate to the Hall of Fame page there.
Angelique Temple feels she's making strides just more than a year into business. On the way to building a base from which to generate income above the quite good compensation she maintained as a company driver. Keys to success for her include a close focus on load planning for maximum productivity and time efficiency. Commensurate with the Tornado Transport company name.
Angelique Temple: And it's just a matter of how you run. And me having the relationship with the brokers that I have, it's just, "Hey, this is where I want to go." And I run different than what I call the average truck driver. Because it's just the average truck driver does a drop-off and they might say, "Okay, I'm dropping off at two or three, and tomorrow morning, I'll pick up and we'll go somewhere else." And I don't run like that, hence the name Tornado. So I'm dropping off, but I'm looking for that open window. So I do a drop and then pick a day. So the same day I'm dropping, I'm picking up and I'm heading out. So this is what we do.
Todd Dills: Here's congrats to owner-operator Temple on the recognition of her career in trucking and what the future holds for the business. Finally, if it's not obvious, here's Erika Howes with a little bit of a distillation of just why the Hall of Fame team at Howes chose Temple as its latest inductee.
Erika Howes: We heard about Angelique through people that are involved in women in trucking, and her story really captivated us right away. So Angelique is safety-conscious. She's a fearless driver, she's a determined entrepreneur, she's a selfless humanitarian. So she's just done so many things, from making the decision to want to be a truck driver at the age of 12. And really following through, that in and of itself is really a feat to be reckoned with. Now driving for over 20 years, she's surpassed 2 million miles with zero incidents, which is an amazing, amazing feat as well. She was one of the most sought-after drivers in her company, had taken all her experience to open her own company.
But then on top of all of that is just all the things that she does. She's a certified trainer, she was a mentor, she's a volunteer bus driver. She is looking to open the community center with her son. She donates to several organizations around the holidays, with help from her family with that as well. She raises pit bulls and rabbits. So really, she's just always helping someone, people, animals, anyone, while doing the hard work that she does, and while raising six children. So it's really unbelievable.
Angelique Temple: I think Erika told the story better than me.
Erika Howes: Angelique, I know your story to a T. I am very impressed all the time. I talk about you to everyone.
Angelique Temple: Oh, thank you. I talk about you guys too, and my son does, too. Every time somebody buys, because he manages the truck stop. So every time somebody buys, he's like, "Yeah, got to look on their website. My mom is on there. The products work, too. But my mom is on there." I'm like, "Lord."
Todd Dills: Which son and what truck stop does he manage?
Angelique Temple: This is my baby boy. So he's one of the twins, it's boy and girl twins. So he's my 20-year-old, and he manages the nighttime shift at the Pilot Flying J in Ruther Glen, Virginia, which is where I park, which is where we live. So yeah, he's pretty great. And he's going to go to CDL school, because he wants to actually take over my truck, and then I'll get another one. So he's always wanted to be in trucking. And he wants to do other things as well, but he wants to open up on his own body shop, and do auto mechanic and diesel mechanic. So yeah, he has a whole list of dreams and time to do whatever he needs to do. Because he's young enough for all that. He's young enough.
Todd Dills: What's his name?
Angelique Temple: Elijah Tirado.
Todd Dills: If you run that area in Ruther Glen, tell Elijah Tirado we said hi. Thanks to Angelique Temple and Erika Howes for the time. As previously noted, you can check out the Howes Hall of Fame via the howesproducts.com site. Here's a thanks to the company for putting me in touch with Temple, and for helping make Overdrive Radio possible. And a big thanks to you for listening.