When I first met Missouri-based Jared Flinn, operating partner of the BulkLoads.com load board specializing in bulk freight, that business was at the two-guys-in-a-basement stage, following Flinn's work trucking himself a little, then managing logistics for a big commodities outfit. He comes to the BulkLoads.com project with a passion to serve small fleets and owner-operators, the 1-5-truck carriers that he notes in today's Overdrive Radio podcast are the board's primary customers (in addition to the brokers and shippers posting freight there).
Today, the company employs 45 people, hosting tens of thousands of load posts daily for freight moving in hoppers, pneumatic tanks, liquid bulk tanks, end dumps and more. The growth of BulkLoads isn't the instigating reason I spoke to Flinn recently, however. He's also the author of a brand-new series of children's books, featuring the hauling exploits of one Semi Sam, a freight-hauling tractor personified in the manner of, say, the "Thomas the Tank Engine" series many of you will be familiar with.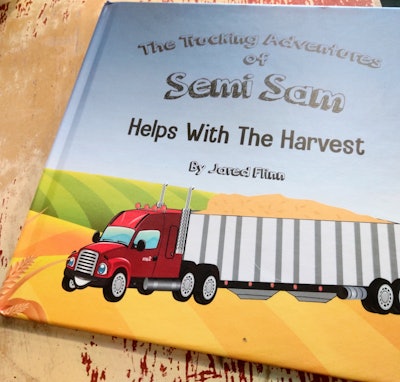 Flinn was driven to create the series after reading books to his three children as they grew. He drew on his own long interest in visual art and a recognition that there seemed to be a dearth of kids' literature involving the trucking industry. There's some out there, and I've written about the occasional kids' book that involves the business when one or more has popped up over my many years here with Overdrive. But generally, Flinn's right. There's not much, and the big response to the three "Semi Sam" books out as of now is testament to that.
He couldn't have realized "how good of an impact this would have. I've had so many people reach out," he said, noting "there needs to be more books like this."
If that describes your thoughts on the matter, stay tuned. For the series, it's three and counting, as it were. Take a listen: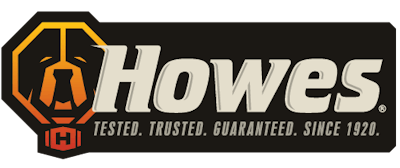 Also in the podcast:
Flinn notes that inflated commodities prices have delivered generally a pretty good year for a lot of the ag-related bulk haulers, among others who utilize BulkLoads.com, and the bulk freight world generally. He also details in brief the board's expansion with a new factoring arm, likewise an insurance agency for small carriers and owner-operators (commercial auto liability and cargo, primarily), a bulk-freight-specific TMS and more.
Below, too, find one the early Semi Sam sketches Flinn talks about in the podcast, shared as a window on the work as it progressed.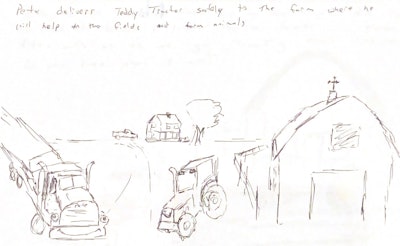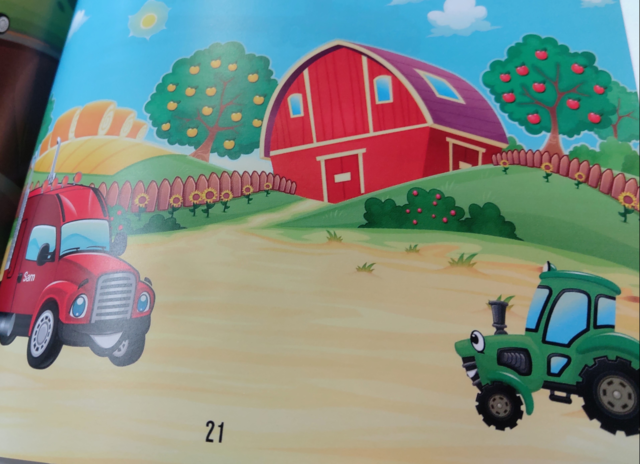 Spoiler alert: Sam gets to his destination with Timmy Tractor intact, shown here on the final page of "Semi Sam Delivers a Tractor."
Transcript
Todd Dills: Hey everybody, it's Todd Dills again, your host for this edition of the Overdrive Radio podcast for December 16th, 2022.
We're going to drop into a conversation with Jared Flinn, operating partner of the BulkLoads.com load board specializing bulk freight, which has grown quite considerably in recent years. When I first met Jared Flinn, the business was at the "two guys in a basement" stage. Following Flinn's work, trucking himself a little, then managing logistics for a big commodities outfit. He comes to the bulkloads.com project with a passion to serve the small carrier and owner operator.
The one to five-truck carrier that he notes in today's podcast is the board's primary customer. Flinn, too, is also the author of a brand new series of children's books featuring the hauling exploits of one Semi Sam, a freight hauling tractor personified in the manner of, say, the Thomas the Train series many of you will be familiar with.
Jared Flinn: I would read these books and the kids just loved them. I'm just an idea guy, but I kept telling my wife when they were little, I was like, "Man, some of these, I could come up with this."
Todd Dills: And more importantly, he asked himself just why he didn't seem to see much in the way of kids' literature about trucking. There's some out there, and I've written about the occasional kids book about the business that pops up over many years here with Overdrive. Generally he's right. There's not much, and in response to the three trucking adventures of Semi Sam books out now, it's testament to that.
Jared Flinn: I didn't realize how big of an impact this would have. But I've had so many people reach out and comment saying like, "There needs to be more books like this for kids to read."
Todd Dills: Since I had last spoken with Jared Flinn, in the early days of Bulkloads.com, he's certainly been in expansion mode there.
Jared Flinn: We have kind of three entities now. BulkLoads is still kind of the mothership. There's 11 people with that. Smart Freight Funding, we spun that off in 2014, and that's a factoring arm that supports bulk loads. And then this past year we also started an insurance agency, Bulk Insurance Group that we do all lines, but primarily commercial truck insurance for our owner operators. So cargo, cargo and liability, auto liability. And there's some other lines. We do work comp, but yeah, all these guys, the bread and butter are bulk loads guys, these one to five-truck operators, getting them affordable truck insurance.
Todd Dills: How many loads are moving through the BulkLoads platform now?
Jared Flinn: Well, we just looked at that. I mean actually I can tell you right now today, I think we average around 30,000 a day.
Todd Dills: Posted.
Jared Flinn: Yep. It's hard to judge because we don't keep track of ones that actually get booked and moved. I mean, we're 8,000 plus subscribers, so there's some pretty good volume. We've done some metrics just on what we try to do, just to get generic number, and we kind of track more, in our industry since it's bringing in a lot of people, it's all based on tonnage. So this year, based on the volume, we're already about $12 billion in commodities that have moved in 2022 alone. And what we do is we just take metrics on the volume plus the average price of these commodities, corn, soybeans. So it's a pretty good number.
Todd Dills: Is it primarily agricultural-related stuff here, or I'm trying to remember if you got into stuff like. … I did a run with a guy hauling PVC powder the other day, for instance. Things like that. Chemicals and liquid bulk too. All that stuff.
Jared Flinn: All of that. So the bread and butter's going to be the grain and feed commodities. So raw corn, soybeans, wheat, milo, all your organic grains that get moved, and then all the byproducts and feed ingredients. So soybean meal, corn gluten meal, I mean all your meals, pet food products, that's the bulk of it.
But then just as equally, we do a lot of recyclables. So all your scrap metals, aluminums, we deal with a lot of guys hauling like in-dumps, plant stuff.
But then all the bulk tanker stuff, so dry bulk, which could be, like you just mentioned, but it could be like plastic pellets, resins, powders, and then all your liquid ones.
Liquid, probably more on non-hazmat stuff. So different fertilizers, liquid fertilizers. We deal with some petroleums. But I guess the heart of it is kind of more on the ag side. I'd say that's probbly 70%. 30% would be industrial and aggregates.
Yeah, we also deal a lot with all your different coal, coke, aggregates, sand. There's a lot of guys that move that through our site.
Todd Dills: On the other side of a break for a quick word from Overdrive Radio sponsor Howes, we'll hear more from Flinn about BulkLoads.com, the Semi Sam books, and much more. So keep tuned.
Speaker 3: Skip the fuss that comes along with 9-1-1 and grab Howes Diesel Lifeline. You don't have to waste time mixing it with additional diesel, just pour it directly into your fuel filters. Save on those too, because with Lifeline, there's no need to change them. Without any harmful alcohol, Lifeline will de-ice frozen filters and reliquefy gelled fuel fast. So don't bother wasting time and money waiting around for a tow. Switch to Lifeline and get yourself back on the road.
Todd Dills: For more information, visit Howes. That's H-O-W-E-S. Howesproducts.com. And if you'd like to try Lifeline, dial our podcast message line, 615-852-8530 and we'll send you a prize pack with a bottle of Lifeline and the Howes Diesel Treat preventive fuel treatment. Just leave us a message there with your name and address for shipping. That's 615-852- 8530.
Jared Flinn: I'm Jared Flinn. I am the operating partner at BulkLoads.com. We started in 2011, myself and my business partner Matt Fredin. The company's based here in southwest Missouri. Ozark is kind of our world headquarters, but my business partner, Matt, he lives in California.
My primary roles are more on the sales, marketing and operations front. And then Matt is more on our technical development side, all the backend operations. And yeah, again, kind of like every other business out there, started in a basement with the two of us and again, have grown to 45 employees as of today, between all the other business segments.
Todd Dills: Remind me, do you have bulk trucking experience? How did you get into this?
Jared Flinn: Yep. So prior to bulk loads, I had worked for a grain company, Bartlett Grain, in Kansas City. I started there in 2005 doing truck logistics. And it was interesting, at that time I was hired just to manage the logistics for one commodity group, the wheat group. And I saw that there was a need to really centralize all of our logistics within the company, and within six months created my own division, handling all the logistics for the company.
But even prior to that, I can talk more on that, but prior to that, I actually drove a truck right out of college, and it wasn't in ag, but I drove one hauling construction materials, and it was just within the state of Missouri, and kind of more central. But that's where I really got my feet wet. Just learning trucking and logistics and even dispatching.
I had worked on the truck and then kind of moved inside where I was dispatching, lining up the loads. But it sounds mundane, but, until you do it, you realize there's so much to it. And a lot of guys out there can speak, especially when you're working the office dispatching, nobody's your friend. I mean, you're always getting in trouble, by the drivers are mad at you because of the loads, and the end user, they're mad at you. Not always, but like I said, it's a tough role to be in.
But that's why I think I learned how to make that better. And I think that's kind of what we've even done with BulkLoads. Not to segue it into there, but how do we streamline these processes to make that relationship so much better between the shipper, the broker and carrier. And there's so many different scenarios that you can go through there, but that's been my passion over the last really 18 years, is there's always got to be better ways to do this.
Todd Dills: Before BulkLoads.com existed, you didn't see this kind of freight posted on digital load boards like this. It just didn't happen very much, did it?
Jared Flinn: No. And there were some bigger load boards out there, but they really focused on the big general freight. So the van, refrigerated freight, flatbed freight, where we just saw a need to really encompass the bulk freight. And there's truckers that do both, and we understand that, and they use those other services.
But it's interesting that a lot of our guys, it's very niche, that they're really just handling bulk commodity freight. They're pulling hopper bottoms or some kind of tankers. And a lot of it gravitates to our customer, which is we deal with a lot of farmers, grain elevators, co-ops, grain trading companies, and a lot of those guys stay right in that space.
Todd Dills: Are you guys technically a broker yourselves?
Jared Flinn: No, we're not. No, we're strictly third party. So we're not a shipping company, we're not a brokerage, we're not a carrier. Our job is to enhance the relationship.
Number one, we're trying to help that owner operator find that load, whether it's full-time business or part-time work, maybe he just needs a reload out of somewhere. I hate to use the word backhaul, that's a negative one in our vocabulary. But really trying to help them find those loads to make a full round.
But at the same time, you're helping that shipping company find that trucking company. So you may have a shipper out there that they got excess loads, or there's a new lane that they're trying to figure out trucks to run on. And then the broker that can serve as both roles, that broker can be representing the trucker or the shipper, depending on what side of the market that they're on.
Todd Dills: I can't remember, did you get the notion of a reload in a backhaul in one of the Semi Sam books or not?
Jared Flinn: No, but actually that's a great idea.
Todd Dills: That was my little attempt there to segue, I suppose. But the trucking adventures of Semi Sam children's book series does, though, seriously, it translates some of the particulars of trucking into a form that should spark curiosity in young minds. There's plenty embedded trucking shorthand either spelled out for just what it is, or delivered with a wink to adults familiar with trucking culture.
Jared Flinn: Yeah, you'll see, I don't know if you noticed, Mr. DOT is in there. There's a weigh station. That's what I was just telling somebody yesterday. I was like, "Yeah, there's some adult humor in there." But I say "adult humor" as fun adult, not like adult, like children can't...
But yeah, there's some really interesting in that, and that's a lot of people, and you have to be more probably into logistics to get the humor of that. But yeah, there's a lot of little underlying stories in there, or remarks that only people in our industry can relate to.
Todd Dills: Back us up and tell us about what the genesis of this project was. And actually, first give me the layout of what you've done here. Is it just the two books at this point?
Jared Flinn: There's three that are available now on Amazon. There's two in the process as well.
It really started as, so I have three kiddos. My daughter's 13 now, a 10-year-old son and eight-year-old son. And when they were little, just like most of the listeners out there, we read books to them.
My wife would typically pick some up from the library, or we'd get some as a birthday present or whatever, or she'd order some. And again, there's a lot of those iconic or classic stories. There's Thomas the Train, and Little Red Truck, or Little Blue Truck, I think it is.
But there's these ones, Goodnight Moon, just these classic ones that we'd always read. And there was two things. I would read these books and the kids just loved them. And I'm just an idea guy, but I kept telling my wife, when they were little, I was like, "Man, some of these, like I could come up with this. I could do this."
And just a little background too, one of my passions too, I love art. I was big in art in high school, visual art. Yep. Actually drawing and painting. There was a teacher that was a mentor of mine, really poured into me in high school. So I think that's why I developed a passion for that. But then even took art classes in college. I was in the ag school, but art has always been just something I've loved to do. Even a therapy today.
My wife, even over the years, she had bought me different art supplies and drawing pads, and all that. But I started just drawing these sketches, and I was like, "What about if I could develop this character of this truck?" And then I kept thinking, I was like, "Do I make someone in the truck driving, or do I make the truck an actual character itself?"
These are all the things that went through the thought process. And I guess to simplify it, I was like, "Man, I'm going to actually make the truck character his own person." And then I just, like we talked earlier, I kept thinking about, "What are these stories that you hear over the years in trucking that these guys face, good or bad, and what do they do?" So I just started thinking of those storylines, and how do we put that together?
Again, another passion besides trucking is agriculture. So I wanted an ag tie to it. Now a lot of these stories, there's some of these, even the new ones, that don't have as much to do with agriculture, but just trucking in general. But I wanted that to be important, as well, to children to listen to.
So yeah, that was really the foundation. So I started putting the sketches together. I started thinking of the idea, the storyline. I started doing research just on what makes a good story. You know, you got to have a hero, you got to have a guide, you got to have people that work alongside them. There's got to be some kind of obstacle that person faces, or challenge. And then how does he overcome that challenge?
If you look at every story, it's the same scenario. So I said, "Okay, how can I put that together?" So that's what kind of led to the characters that I chose.
You'll see in the story again, only logistics professionals would probably get it. But Semi Sam, he has a guide, which is Davy Dispatcher, his dispatcher. He's the one that's helping him, finding his loads for him, letting him know what's going on, being his guide to help him out.
But that's where it kind of came up with. So I started making these sketches. I started thinking of these storylines, but again, I'm not a digital artist, and I'm not an author. So I was like, "How do I get this to the next level?" And that's where I found a ghostwriter to help me really put together the actual script, to make it more appealing. Because if it was me, there'd be a lot of grammatical errors and probably inconsistencies.
And then I found a digital artist, I sent them all the sketches saying, "Hey, here's what I want you to do." And then they kind of put it all together. So I was wanting to be very clear on that. I didn't actually write every sentence of the book. I had someone help me along the way. I want to give credit where credit is due on that.
Todd Dills: And these are not free hand, these are not necessarily free hand drawings and paintings, they are digitally-created images.
Jared Flinn: Yep, yep. I had the initial ones. And yeah, I probably created 30, 40 plus sketches. I still have, actually, I was sharing some with some friends, actually I got a notepad right here. I was sharing them.
But no, I actually had somebody actually put the color to it, and the characters and all that. But yeah, that's where it really came.
But here's the interesting thing, and there's always got to be, even telling you this, there's a story behind it all. But I started doing this four years ago, I think it was, almost five years ago. And just like everything else, you start doing this, I'm like, "Man, what am I doing this for? Who's going to care? Who's going to have interest in this? Am I doing this to please myself? Am I doing this to try to make money off of it? And are people going to make fun of me?"
I'm just being very candid with you. My goal in life wasn't to create a kids book, but the more and more I thought about, it's like, "Man, if I don't do this, I'm going to have regrets." Who cares what people say, if they think I'm silly, or if they think it's stupid. I mean, that's for them to judge. But I'm just going to push it out there and see.
So it was really a couple of years ago, I started looking at it again. But then this last year I found a person who really helped me on the backend to say, "Okay, let's look at where we can get this done, self-published, how we can implement it and get it on Amazon." And Ashley's her name, but she really helped me get it to where we could really get it out there and market it.
But I say all that too, and again, I don't want, I think too many of us, we sit there like, "Man, is this a bad idea? Can I do this? What are people going to think?" I don't know, it's been rewarding to see the positive aspects of it, to see that people actually love it.
And again, it wasn't to make money, I mean, if there's some financial rewards, so be it. Like I said, I haven't collected a dollar yet, but that's not the importance of it. It's like it's really to get it out there, and see how people resonate.
And that's been the cool thing. It's almost been, I don't want to call it a movement, but I didn't realize how much big of an impact this would have. I've had so many people reach out and comment saying, "There needs to be more books like this for kids to read."
Everybody knows a trucker, and almost everybody has a family member that was a trucker at some time, or a truck driver. And there's a little bit of a lost, I mean, there's these heroes out there that's kind of been lost, and there's still a lot of drivers today. But when you talk to people, it's like, "Man, my dad was a trucker, my uncle was a trucker, my grandpa was a trucker." There's this feeling that people get when they read this, and being like, "Man, these people need to be recognized more." And there's, this isn't-
Todd Dills: For the whole trucking business, this is kind of like for people that live their lives around their local communities, it's like, "Out of sight out of mind," even for people that are in their own families. But this, things like this, put the reality of everything back in people's minds, and in this case, at a very young age.
Jared Flinn: And then the agriculture part of it, the first series was delivering a tractor. He is delivering a tree. He's helping with grain harvest. The grain harvest was one that, every year you hear these stories of a farmer that either dies in an accident or passes away, has a heart attack, and these other farmers step in and help him. And it's just like, it's always you get emotional, reading it teary-eyed and like, "Why not do a book about that, where actually Semi Sam does the same thing?"
There's a guy that's harvesting grain or helping this trucker, and he steps in. So that was the underlying premise of that book, to have that backend tie. You don't realize how much it touches people, they see it's not just a book. I mean, it's not just a book and a story. There's a lot more to it, and it draws so much emotion. I guess that was always the goal. It wasn't like, "Hey, I'm not just going to do this to put some pictures that kids are going to like, think are cool," but there's a story that can be told over and over and over.
Todd Dills: The first two books Jared mentioned in what you just heard there, "Semi Sam helps with the harvest." And quite simply, "Semi Sam delivers a tractor," in which the very helpful, aforementioned Officer Dot -- spelled D-O-T, of course -- stops Sam and warns him of attempting to traverse a particular mountain pass. But the third book...
Jared Flinn: Semi Sam delivers a tree to the White House. It's just interesting, as we're doing this today, but there was an article just this past week, the truck line I think out in North or South Carolina, that delivered the tree to the--
Todd Dills: Capitol Christmas Tree, yeah.
Jared Flinn: The Capitol Christmas tree. So again, this one, Semi Sam delivers it to the White House, not the Capitol. Not to confuse, but that was the thought pattern with that. It's like, "Hey man, every year that a trucker gets selected to go, or a trucking company. So it's like, why not put this in a story format for kids to see?" And, then as kids get older like, "Oh man, I remember."
Todd Dills: It's a real thing that happens.
Jared Flinn: It's a real thing. So all these things are a real deal. And I don't want to give a spoiler alert. Do I have one where Semi Sam goes to the truck show? And there's some hurdles that he faces along the way. There's one Semi Sam meets an electric truck, and there's some issues with that. A lot of people, the electric truck gets picked on. He's different. He is not a diesel. But you can see how cool, there's so much you can do with this, and some real life meaning to our industry. I don't want to give those away yet.
Todd Dills: That's cool though. But those are coming next, I guess.
Jared Flinn: Those are in the pipeline. And it's been funny as I've been sharing these, people have been giving me a lot more ideas I've been jotting down too. So it's been pretty cool.
Todd Dills: Still looking for a Christmas gift for that young family in your life? Here's where you'll find Flinn's Semi Sam series.
Jared Flinn: Really two spots. We initially had them on lulu.com, and...
Todd Dills: Lulu is that sort of self-publishing platform, right?
Jared Flinn: Self-publishing platform. And then now we got them on Amazon. But yeah, the easiest way, man, everybody has an Amazon account, but if you go to Amazon, and you can search my name Jared R. Flinn, or just search Semi Sam Trucking, and you'll see all three books that pop up there.
I also want to see this tied to, and again, this is, I mean this in all sincerity. If somebody's out there listening, or can't afford that, it's more of getting this in the hands of people that want to read it, I'm happy to drop a copy in the mail. So I mean, if they want to reach out to me, I'd be honored to mail them a gift free of charge.
Todd Dills: Find Jared Flinn through his Facebook profile or that of the BulkLoads business. Or, via the BulkLoads.com website. Speaking of which, I asked Flinn to speak to the current market for bulk freight movement, and particularly for the agricultural-related bulk freight that many of the owner operators and other carriers utilizing the BulkLoads board specialize in.
Jared Flinn: The bulk trucking's always a little siloed, compared to the rest of the truck market. Man, we've had a great year. I say great, we as in the industry had a great year. Commodity prices are relatively high, which creates more planting, more harvesting, more truck movement.
We've had issues with the barge market waterways, which has put more pressure on trucking, so created a lot more demand. You know this with the railroads, I don't need to go into details on that, but that's created more opportunities for trucks as well.
So yeah, there's been a lot more demand in our industry. So really still demand staying pretty good, compared to the rest. We're starting to see a little bit of a migration, and it can go both ways, but we're seeing a lot more entrance into the bulk space, just because there's still a strong demand. Guys exiting then maybe on the van flatbed side and getting into it. We're forecasting still a strong 2023.
Again, it's interesting, you can look at it as typically, not always, but when there's uncertainty in the markets or say inflation, commodity prices go high, well that usually helps the bulk trucking, because more demand and all that. So where the other markets, it's a negative, but it could be, in a way, positive. But again, it has to correct itself, otherwise it can be negative.
Oh, no, it's really been a great year for us. Really the past couple years have been strong. And I think we'll see a strong 2023.
Yeah, I say this, I don't want to flood the market or hurt anybody, but I think there's good opportunity right now. So if you're out there listening and it's slow, or maybe looking for some other opportunities, give us a call. We're not trying to just sell you a membership, but we can show you what's available, with the money to be made. And again, our industry depends on where you're located, but especially if you're in the Midwest here, I mean that's our bread and butter.
Todd Dills: And as Flinn detailed in part at the top, the growth in services that BulkLoads.com offers has been geared to delivering tools to the carriers who utilize the service, including now a TMS platform, that is specific to the bulk niche.
We wrote about a few relatively new such software platforms, geared to help owner operators and small fleets manage the back office and communications from the road, all the way down to accounting functionality in many cases.
One of those was the car haul-focused carrier TMS of Ship.Cars, that regular listeners heard about several weeks ago, via my talk with Slava Sobetki of Taurus Auto Group. BulkLoads is doing something quite similar, as you'll hear.
Jared Flinn: But our job really, and hopefully we talk more about this, is the evolution of our company has really changed in 12 years, where, we're really not just a load board anymore, but we're handling every piece of that, we call it the load cycle, load life cycle, from not just finding that truck, but getting the insurance to the appropriate parties, to getting the documentation to the trucker, to tracking the truck, to the delivery piece, to the bill of ladings getting back, all the way to the payment piece. And then even the data behind all that. So if you think of every little aspect we have now, we are now touching every piece of that cycle.
Todd Dills: And that's through that affiliated, you said the factoring company that you launched, and the insurance agency, but also it just sounds like you've probably built in some functionality into the BulkLoads application, to where you can do electronic proofs of delivery, and things like that.
Jared Flinn: Yep. We call it Bulk TMS, it stands for Transformation Management Solution. But that's another enhanced product that our service that we offer, that encompasses more of those detailed management.
So again, we do have customers that just use the load posting aspect, but now we have a whole new evolution of customers that are using the full package. And this time, if you can go to one spot to service everything you need and have these systems talking to each other, it's just so much easier, so much more efficiently. And you can do so much more productive as a logistics professional.
Todd Dills: You've got this very specific niche, freight niche that also has its own set of expectations that are met in part by this niche-focused TMS that you guys are doing. What about it is specific to the bulk niche?
Jared Flinn: It's interesting, a lot of these TMS companies, and there's a lot of them today, but again, they focus on the general freight. They're focusing on the van, reefer flatbed.
We built a system solely focused on bulk loads. I don't want to give away the secret sauce, but most freight and bulk, it's paid on tonnage, bushels, it's not paid on flat rates. There are some fuel surcharges, but typically it's kind of built-in. We've developed functionality that focuses strictly on that, and there's many more than sites of pricing, but it's easier for us because I worked in this industry for years, but we've built it out specifically for guys that are dealing with bulk trucking.
Todd Dills: Is there accounting functionality within it too?
Jared Flinn: Yeah. Again, full start to finish. We have an invoicing piece of it, a tracking piece. So yeah, we try to every piece of that professional, whether it's the trucker, broker, shipper, we've tried to encompass that in there, so they're not having to use... And we do have APIs that do plug into QuickBooks and some of these other ones, but we also have the same functionality that we can give to that customer without having to use a QuickBooks.
Todd Dills: A big thanks to Jared Flinn for his time. You can find him via the website of the BulkLoads board. That's BulkLoads.com. And you can find links to the Amazon pages for his Trucking Adventures of Semi Sam children's book series in the show notes, and in the post that houses this podcast for December 16th, 2022 at overdriveonline.com/overdrive-radio. In the podcast post too, you can see a few of those early sketches of Semi Sam that Flinn mentioned. Always nice to see a piece of work in progress, of course. Here's a big thanks to you for listening.