With today's edition of Overdrive Radio we're going to drop into conversation with a man who's been making a name for himself around the Atlanta-area trucking community the last decade or so while building a small fleet -- Mike Nelms, owner of Keep Trucking Transportation. The 20-or-so-truck fleet pulls reefers and dry vans with a mix of brokered and direct business, made up mostly of owners leased on, including many owner-operators. Nelms has just a few trucks of his own.
Nelms' instincts for raising up those around him with an interest in the trucking business led him to incorporate distinctly educational efforts directly into operations. All employed there approach relationships with contracted owners with an educational mission in mind, hoping to set up all owners for future success as they remain leased on or, eventually, go out on their own with authority.
And last year Nelms debuted an event in Atlanta to connect owner-operators and others with newer trucking businesses with potential funding sources, whether truck loans or other needed lending, in the form of a mixer on a downtown rooftop. The second such event is coming up March 4, 2023, on top of the Ascent building, from 6 p.m. to 11 p.m. There's more to it than just funding, ultimately, too -- a chance to network with stakeholders in trucking with a wide range of experience. Hear all about Nelms' now-almost-decade-long journey into and through trucking in the podcast.
Also in the podcast: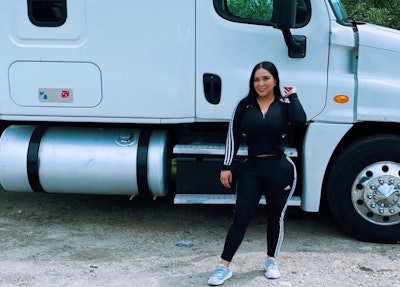 Keep Trucking Transportation has been the leased-on home of Rhode Island-based Carolina Correa for most of the last couple years. Correa's a fairly newly-minted owner of the 2016 Freightliner Cascadia picture above, which she put on with Nelms' Keep Trucking Transportation after a less-than-stellar experience leasing to another fleet. Correa's not an owner-operator in the traditional sense, but rather came to an interest in trucking as an investor. To this day, she has a full-time job as a fund-raiser for the state of Rhode Island, a sort of go-between for the state with private, corporate philanthropists and investors.
It's been a learning experience, no doubt, she said, lauding Nelms and the staff, including six full-time dispatchers for 22 trucks, for the operational support they've provided. Likewise: "the quarterback" of the whole operation, as she calls the employed driver she pays a flat $1,800 a week, with a variety of bonuses as well.
Now with one truck and three trailers, which she leases out for extra income, she can clear $9,000 to $11,000 in monthly profit most months. The 30-year-old Correa has long been interested in real estate investment, but says nowhere in America could she invest in a piece of property that would pay those kinds of regular dividends.
It was the pandemic and its foregrounding of the essential importance of trucking in the U.S. economy that sparked her interest in the first place.
"I've always invested in real estate and the market was really bad," Correa said. "I read the paper every day, and I saw the trucking business, when the pandemic started, .... [as] the backbone of the country that would prevail through it all." Yet "All I knew about trucks was that I was afraid to drive next to them."
She spent six months networking with people in the business, sitting on "virtual calls, joining Facebook groups, learning about what's a good truck, how to manage dispatchers. ... For me, I'm not a driver or dispatcher. I'm an investor. I want as passive an income as possible through the trucking company."
After diving in headfirst with the Cascadia, she leased to a trucking company, but "after I ran my numbers" as time elapsed, she knew it wasn't working. Nelms had been one of her early mentors, encountered initially through his social media profiles. She made the move to lease to his company in mid-2021, and she's glad she did given how difficult 2022 turned out to be.
"This past year was tough," Correa said. "What got me through it was that I was leased on at such a smart trucking company, with such attention to detail."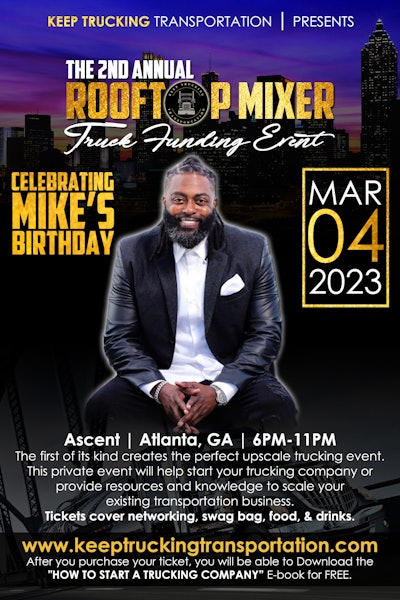 Her operation is such that, though she hasn't "seen my truck or my driver in almost a year," she takes comfort in knowing she can "depend on [her] team for everything." She's grown through close contact with the team in Atlanta, though truth be told she's mostly "approving loads and doing payroll," she added. As we all know, stuff happens on-highway, but "by the time I see messages about the problem" -- she referenced a recent breakdown -- "Mike is on the issue. Everything there is so individualized. That's what I think has set them apart."
[Related: Poised for longevity, growth: Small Fleet Champ Silver Creek Transportation]