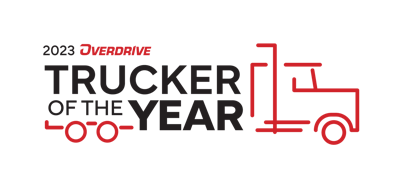 Truck driver recognition programs abound via fleets and associations around trucking. For year 2023, though, Overdrive is launching this Trucker of the Year program to recognize the business acumen and innovation of the owner-operator, the bedrock of the entrepreneurial spirit in trucking. Whether you're leased to another motor carrier or out on your own as an independent, if you've controlled costs and maintained healthy profits in the current inflationary environment, you're no doubt a worthy contender.
As with Overdrive's "Trucker of the Year" program of past years, independents both leased and with authority (up to 3 trucks in either case) can nominate themselves; alternately, if you're a representative of a motor carrier, brokerage or other service provider with a business relationship to an outstanding owner, you too can nominate that owner.
Winners, ultimately, will have demonstrated above-average profit and safety and put small-business-trucking best practices in place, laying the groundwork for long-term business health.
WHAT'S IN IT FOR YOU?
No shortage of bragging rights, no doubt, for a year's reign.
A custom-designed scale model highway tractor as trophy.
Visibility through features on OverdriveOnline.com, including podcasts and videos. 
Coverage beyond Overdrive in sister publication Truckers News and others.
The kind of exposure that, in the long run, could yield new opportunities.
HOW DOES IT WORK?
Overdrive editors will interview the best applicants, review submitted operating criteria, and select a Trucker of the Month for every month throughout 2023. From those stand-out owner-operators, a final Trucker of the Year will be named in early 2024.
The initial application (find it in full below) must be filled out completely. If there are certain figures you or the nominating individual don't have, provide the best estimate. (Entries will be open through mid-2023. After this first entry form, be on the lookout for a follow-up email from Overdrive editor Todd Dills requesting further information of potential finalists for the monthly recognition.)
[Related: Meet January 2023 Trucker of the Month honoree Kelvin Schmidt of Minnesota]
ELIGIBILITY
(Applicants must meet all these criteria:)
Operating either with motor carrier authority or leased to another carrier over the last four full calendar years (2019-2022).
Operated with 3 or fewer Class 8 trucks in for-hire freight (owned or leased) for all of 2022.
INCENTIVES AND COMMITMENT
Each of the monthly finalists will receive a cash award to be determined, among other prizes.
Finalists and the ultimate 2023 Trucker of the Year will be featured prominently in an Overdrive story and in Truckers News.
The winner also will receive a custom-built scale model tractor as trophy, designating them as the Overdrive's Trucker of the Year.
Winners agree and acknowledge that neither Randall Reilly nor any sponsor has made any representations to winner regarding the tax consequences related to the receipt of any prize. All expenses and costs, including all applicable taxes, associated with the acceptance and/or use of any prize are the sole and exclusive responsibility of the winner.
---