Trucking news and briefs for Wednesday, May 3, 2023:
Trucker Path analysis details worst regions for parking availability
With truck parking a top concern among owner-operators, the people behind the popular Trucker Path app put together a snapshot of where it's most difficult for drivers to find a place to park.
Surprisingly, the most-difficult region wasn't the Northeast. Trucker Path polls its 1 million-some users every time they open the app on parking availability, and looked at where drivers most often report "no parking spaces available" the most.
The company determined the Southeast had it worst, with app users reporting no parking available 23% of the time, followed by the Northeast at 21%, South Central at 20%, the West at 19%. The North Central region had it best at 15%.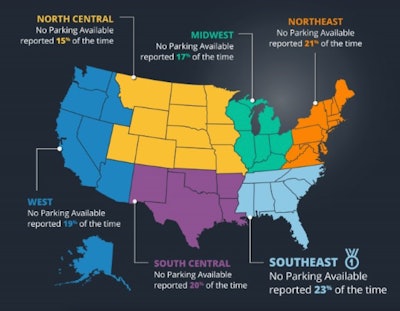 Overdrive has long reported on the issues surround the public importance and basic owner-operator necessity of truck parking, from in recent months detailing local governments' efforts to block owners parking the truck on their own land and how to best advocate for parking at those local and regional government levels to the issue of whether or not smartphone apps with truck-parking utility and other availability guides actually have all the answers.
A common theme shows drivers routinely pointing out Florida (South Florida especially) as particularly difficult. Last month in Miami, local government approved 400 truck parking spaces near the port after the sustained advocacy of one operator.
[Related: How to fight for your right to park the truck]
Trucker Path went on to highlight the truck stop in each region where app users most commonly said there were plenty of spaces.
In the Northeast, it's the TA in at 875 N. Eagle Valley Rd. in Milesburg, Pennsylvania
In the Southeast: Discount Truck Parking at 7138 Narcoossee Rd.. in Orlando, Florida
Midwest: the rest area at 2218 County Rd. 62 in Auburn, Indiana
South Central: Gateway Travel Plaza at 1480 W. Fwy. Blvd. S. in Vidor, Texas
North Central: TA Beto Junction at 2775 Highway 75 in Lebo, Kansas
In the West: Petro Wells at 1440 6th St., in Wells, Nevada
[Related: How drivers are crowdsourcing a solution to the truck parking crisis]
Bill reintroduced to protect carriers from staged-accident fraud, and adjudicate expensive cases in federal court
A bill that would protect trucking companies from defending against or settling fraudulent insurance claims as a result of staged collisions has been reintroduced in the U.S. House of Representatives.
Last week, Reps. Mike Bost (R-Illinois), Garret Graves (R-Louisiana) and Henry Cuellar (D-Texas) reintroduced the Highway Accident Fairness Act, which was first introduced in the last Congress in 2021.
The bill would make staging accidents with commercial vehicles a federal crime punishable by up to 20 years in prison, or by a minimum of 20 years in prison if a staged crash results in "serious bodily injury or death to another person," the bill reads.
The bill would also provide jurisdiction to federal courts in civil cases alleging injury or loss of life in crashes involving commercial vehicles in which more than $5 million in damages are sought and the plaintiff and defendant are from different states.
[Related: Eight more sentenced in staged-accident scheme targeting trucks]
Legislation looks to streamline CDL licensing process
U.S. Rep. Darin LaHood (R-Illinois) recently introduced a bipartisan bill to help streamline the process for obtaining commercial driver's licenses.
The Licensing Individual Commercial Exam-takers Now Safely and Efficiently (LICENSE) Act, would streamline licensing regulations by making permanent several waivers that the Federal Motor Carrier Safety Administration implemented in response to COVID-19.
The bill would allow state and third-party examiners who have maintained a valid CDL test examiner certification and have previously completed a CDL skills test examiner training course to administer the CDL knowledge test without completing a CDL knowledge test training course. The continued availability of CDL knowledge testing would help maintain an adequate and sustained supply of trained truck drivers, according to a press release from LaHood.
The bill also would allow states to administer driving skills tests to applicants from other states, streamlining the credentialing process.
Rep. LaHood was joined by U.S. Reps. Henry Cuellar (D-Texas), Troy Balderson (R-Ohio), Jim Costa (D-California), Dusty Johnson (R-South Dakota), and Josh Harder (D-California) as co-leads of the legislation.
Cat Scale updates app
CAT Scale has released updates for both the iOS and Android versions of its Weigh My Truck app.
The new Driver Dashboard allows drivers to control their account within the app instead of the website. New features include being able to update payment method, view weigh history, edit driver profile and more.
Other new app features include the ability for new Weigh My Truck accounts to be created directly in the app. The app now also stores tractor and trailer license fields for Arizona and New Mexico compliance.
Additionally, the app allows drivers to weigh, pay and see their weights on their device without leaving the cab, saving them time. Fleets have the option to set up a profile to get back-end data, manage driver access and more.
[Related: Closer look at owner-operator Deron Salmon's new Truck'N broker review, nav and accounting app]