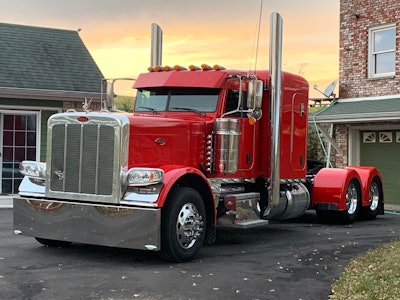 Mark Havens, a fuel-hauling owner-operator based out of Shelbyville, Indiana, says his Viper Red 2019 Peterbilt 389 extended hood came to him as a gift from above. Coming off of having retired from running fuel for Marathon as a company driver, Havens lucked out by landing the hard-to-find Pete on the very same day he started leasing on at a new company. Now, the rig has earned him the win in the 2021 Overdrive's Pride & Polish Working Bobtail, 2009 & Newer category.
"I had been looking for a flattop back in 2018, but there was none anywhere in the country," said Havens. "You just couldn't find a flattop Pete. I just happened to call after my orientation for my new job in Kentucky to the sellers in Indiana to see if they had one."
After the dealer initially expressed doubt, he checked and discovered one had been delivered overnight, just the night before. "I said, 'please be Viper Red.' I prayed for that truck," said Havens, who does business under the name Proverbs 3 Trucking LLC, where he switches between trucking under his own authority and working for different fuel haulers like Petroleum Traders and Luke Oil.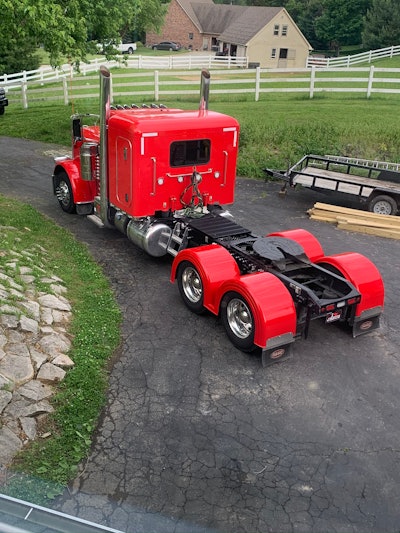 "I want to give glory to God, the lord that gave that," Havens said of the unit. "I bought it sight unseen. I had it dressed up -- all the chicken lights, 8 inch Dynaflex straight pipes to the custom rear fenders. It has a Cummins ISX 15."
The rig features an 18 speed transmission with a 270-inch wheelbase and a Blackmer pump. Havens owns a 2014 LBT tanker with air ride and disc brakes. Havens mostly hauls gasoline and ethanol, he said.
He cut his teeth in trucking starting in 1988, when he fulfilled his lifelong dream of hauling cattle for National. "They were an elite fleet. All outlaw truckers, always on the left lane," said Havens. "They brought me in right. Now I'm leased on to Breckenridge Trucking, and it's like hauling cattle. It's cool but let me tell you it's one of the hardest if not the hardest."
As for his biggest challenges, Havens said something that most likely rings true with most any driver at some point: "Finding a company where you're more than just a number." While he added he makes more money when operating under his own authority, the overhead and administrative headaches often represent more trouble than they're worth, he said.
Nonetheless, after a few decades on the road, Havens has himself situated pretty comfortably.
"I'm hauling every day about 500 or 600 miles, 12 hours a day... . I sleep in my bed every night. I got horses at home," he said. "I put in my time OTR, and now it doesn't get a whole lot better than what I'm doing."
Regardless of his load, the classic look of the flattop 389 draws a crowd wherever it goes, he said. "It's just the classic truck with that red and the chrome. My truck is like a Harley-Davidson, it brings young and old, all ages. It's just the heritage."
On that score, Havens may be on to something. In 2020, the winner of the newer-model one of two Working Combo categories also was a 389.
For the success he's seen, in the end, he stressed that all glory for his truck, career and life should go to God.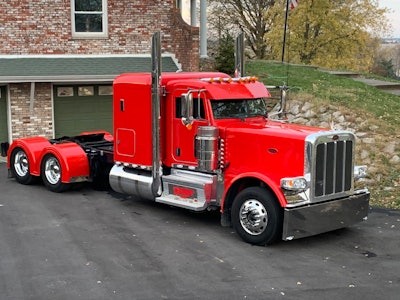 [Related: Meet the 2021 Pride & Polish champs]