Chris and Ruth Smith were named Overdrive's Truckers of the Month for February 2023. Read more about their business here in an updated profile on the team owner-operators.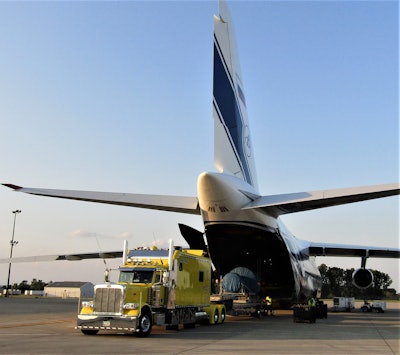 Chris and Ruth Smith have been "getting back into normality" when it comes to operating since "about the beginning of the year" as freight has picked back up in their business, leased for several years now to Southern Pride Trucking, Chris said. The company specializes in aircraft engines, parts and ground support for the airline industry.
"By the beginning of the year we were flat-out, and never stopped," Chris said. "We never used to get anywhere near having to run on recapped hours," until this year. "I'm not complaining, since 2020 was such a disaster."
The pair, it's worth noting, had the perfect rig to ride out the slowdown, though. Their 2020 Peterbilt 389, Beverly II, named after Chris's sister who passed in 2002 and a successor rig to Beverly I, sports a 192-inch behemoth of an ARI custom sleeper with all the comforts of home on the interior. The pair scored first place in Overdrive's 2021 Pride & Polish custom rigs competition's Working Combo, 2001 & Newer category.
The Smiths spec'd the rig from the factory with a 380-inch wheelbase to accommodate the sleeper, and bore witness to the entire process from the Peterbilt factory in Texas to Shipshewana, Indiana, where the sleeper was built and added.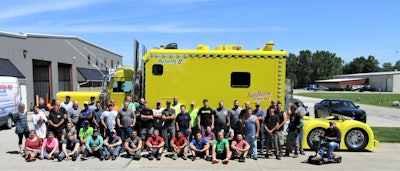 The Smiths earn 77% of the load, including accessorials, at all-owner-operator Southern Pride -- a standard set-up there along with 100% of fuel and tarping surcharges, according to Southern Pride's Tom Lynch, in management at the company for decades. "Some trucks here make well over $400,000 [in revenues] a year to the truck." Single leased owner-operators average around $300K, he added, with teams "around $360K," with the company's commitment to remain all-owner-operator. (Today, Southern Pride manages freight needs for 90 trucks, around half of which are teams.)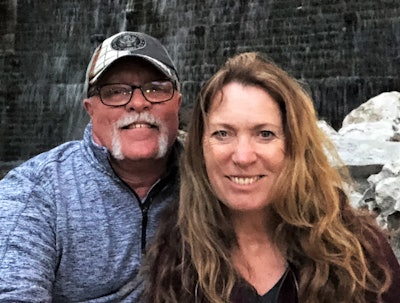 Given the freight specialization, it's not your average trucking. The company is famous for outsize wheelbases and big sleepers like the Smiths', part of the reason being that "so much trucking is based on how much weight you can haul," as Lynch put it. Yet "in the airline business it's how responsible you can be," given generally lower-weight (they have to get up in the air, after all) and very, very expensive components.
Single drivers coming into the company anew typically have prior experience hauling wide and tall and start by pulling double-drops/low boys.
"Those jet engines are worth a lot of money. You don't get to learn on those," Lynch said. "We don't do long, and we don't do heavy."
On the Smith's step deck, they pull a little bit of everything in the fleet's freight mix, Chris said. The secret sauce to staying loaded is simply being available wherever they may be, he added.
Lynch said work at the company typically includes "the ability to stay out on the road for long periods of time. It really is the way that it works, [many running under] some variation of 8 weeks out and 2 weeks home. It's a solid industry that continues all the time and generally operates 24/7. It's a pretty clean commodity," and tarps are custom cut to fit the freight.
Tight delivery locations? As suggested, extra-long rigs like the Smiths are no problem. "If you can turn around a 747 there you can turn around one of these trucks," Lynch said.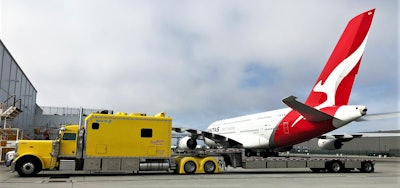 The Smiths' journey to their home at Southern Pride runs not only through other careers but other countries. Chris was born in the United Kingdom but his parents immigrated to the United States when he was five. After a stint in the Army as a young man, "I thought to myself, 'What am I going to do?'" he said. "There weren't many jobs out there for old infantrymen." He ended up back in the UK and driving trucks all over Europe, down to Turkish-Iraq border and other Middle Eastern locations, even the old Soviet Union during the late 1980s/early '90s period of its dissolution.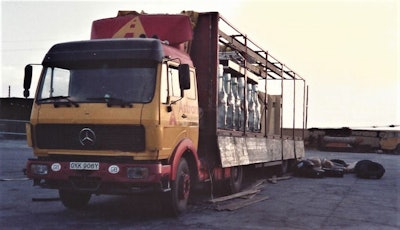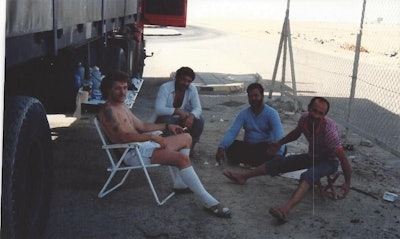 "I used to deliver to the United Arab Emirates and Saudi Arabia and all that stuff," Chris said, every European country except Albania. "I couldn't get in there."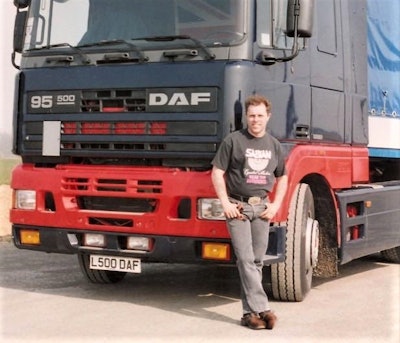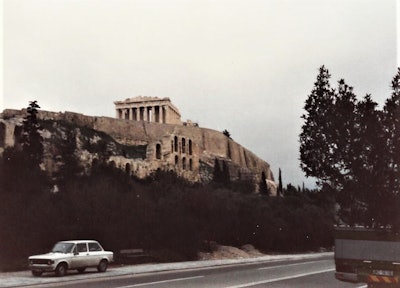 He met Ruth in Britain. Unlike Chris, Ruth was born and raised entirely in Britain and certainly sounds like it. "I'm the authentic one," she said. "He's a bit of a fake."
The pair married in 1997 and in early '98 both came to the United States, hiring on with Dick Simon Trucking out of Salt Lake City, Utah, where Chris was a company driver and eventually taught Ruth the ins and outs of driving as she got her CDL. "I hired on with them," she said. "They had a training school and [Chris] was my trainer."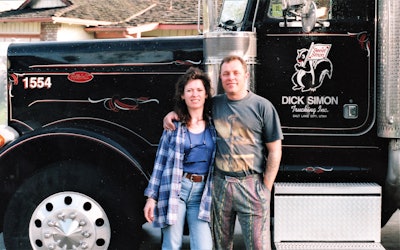 By 2004, the pair had gotten out of trucking entirely and moved home base from California, where Chris had been working as a telephone lineman, to Florida, where they experienced that year's disastrous four-hurricane season. They beat a path back to England, and Chris continued with work for British Telecom.
Yet they weren't happy. "This job was basically going to be the end of me," he said. "I didn't want to work for people anymore. We had no kids so didn't have to worry about that. We thought, 'Let's go back to the States, buy a truck and we can go into business for ourselves.'"
Researching that idea nearly a decade after their return to England, they came across a picture of a big yellow rig that used to work for Southern Pride. Chris spoke with the company from the UK -- they wanted a minimum three years of experience. He had that, yet it was by then more than 15 years gone. They jumped back into U.S. trucking nonetheless, working for six months with a mega-fleet before landing with Meiborg Brothers Trucking out of Rockford, Illinois. "We wanted to stay with them," Chris said, but "I wanted my own truck." He and Ruth "were hemming and hawing" -- go for the big bunk, or go for a normal-size truck?
They were hauling through Texas around this time -- Ruth was driving, and Chris woke with an urgent need to use the facilities. "The next restroom was in 100-something miles," he said. "I yelled out, 'We're going with the big truck!"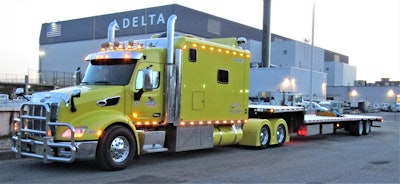 Since that time, clearly, they've now found their home, both at Southern Pride and in Beverly II, their second truck since 2016 and with only two years left on payments. (Even with the downturn in airline-related freight last year, they were able to keep up with their scheduled payments, a feather in the team's cap.)
"We made good money at STI," Chris said, but in a niche where he felt they had to work their "backside off to get it. We came here to work less" for that same money. "You can work, and still have a life."
Chris designed the rig's exterior overall as a tribute to his family heritage -- the color an approximate match to the little yellow house he grew up in in California.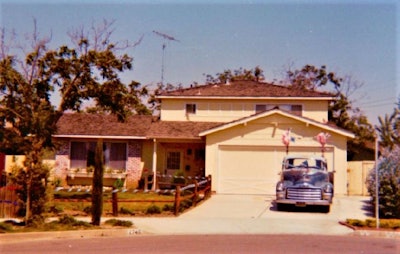 There are seven lights on top of the sleeper, signifying his mother's birthdate of December 7. Ten lights on the front bumper mark his father's: the 10th of July.
"We researched Beverly," Chris's sister, Ruth said. "We found out her favorite color was green, and her name is written in green on the truck. ... Other people [from Chris's family] have names and dates and things on the outside of the truck as ... a nice way to pay tribute to them and keep a little bit of them."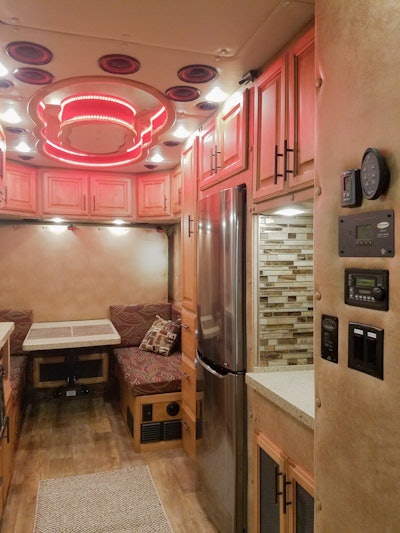 What's next for the rig? The cab interior, Chris said. "We've got everything in Washington [state] waiting for us," including Rockwood dash panels and new gauges and door and floor panels.
Further down the road, maybe "a year after the truck is paid off," Chris said, he plans to take six months off work and ship the whole thing to the UK and "do the big truck shows there."
Judging by how well Beverly II did in its very first show, our own Pride & Polish, the Smiths ought to clean up across the pond.
Stay tuned.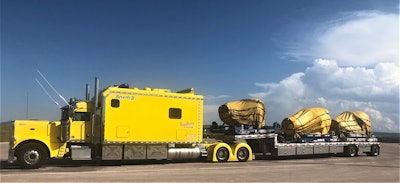 [Related: Ron Kelsey's 'Sunrise Express' 1981 Peterbilt 359 -- Pride & Polish Antique champ]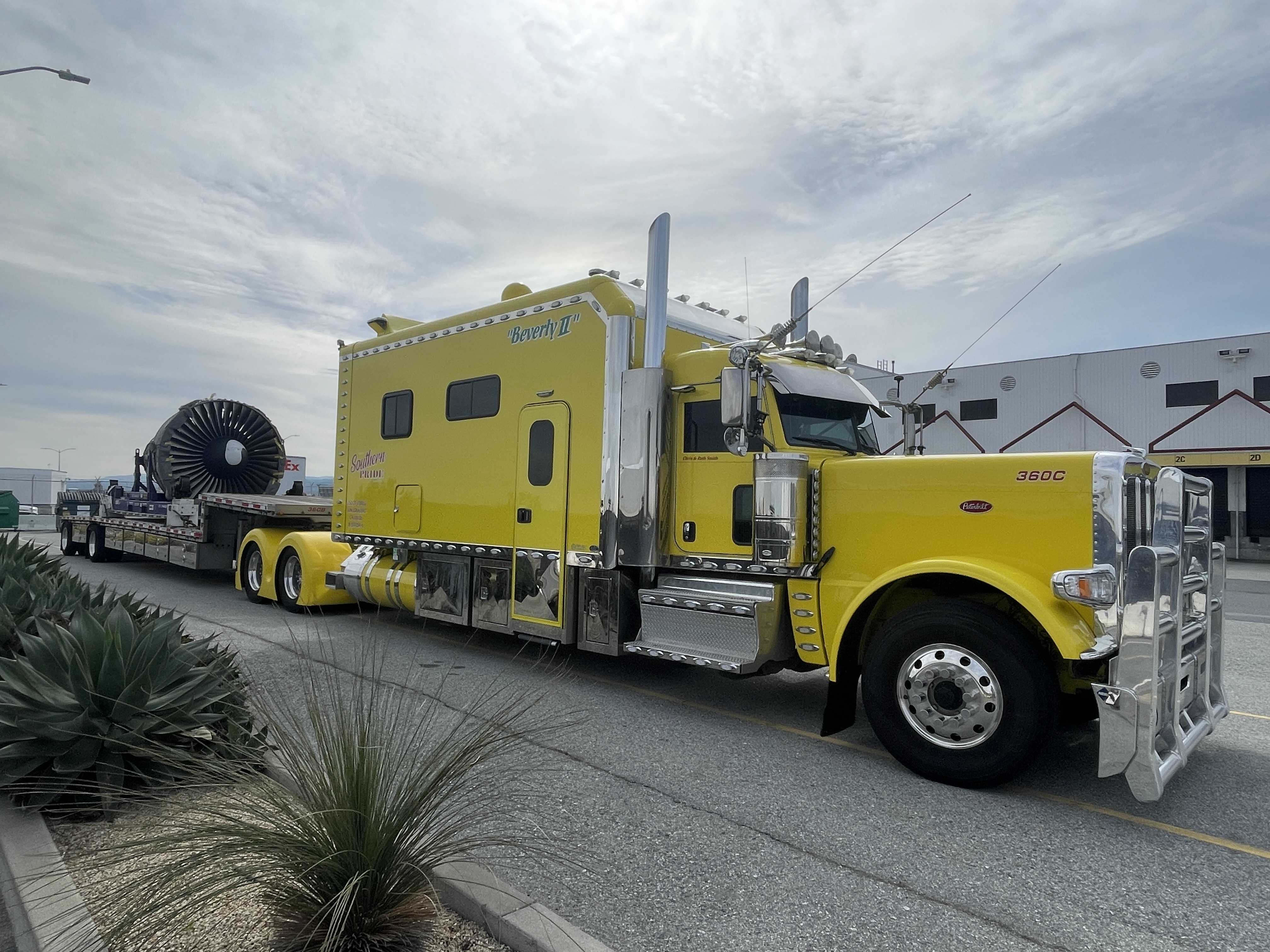 Team owner-operators' unique path to trucking success
February Truckers of the Month Chris and Ruth Smith took something of an unconventional path to ownership over the course of nearly 30 years, but now the team is banking big profits hauling jet engines for Southern Pride Trucking.