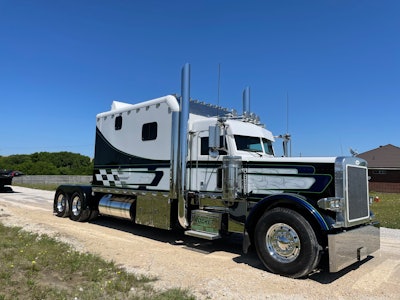 Fourth-generation truck driver and owner-operator Chris Kulow bought his Pride & Polish-winning 2007 Peterbilt 379 back in April 2021 after truck show royalty had customized it in its previous life. This year, the truck earned first place in the Overdrive's Pride & Polish Working Bobtail, 2008 & Older class.
The truck, dubbed "Long Term Affair" by Kulow's wife, Jaqueline, was originally ordered by an older gentleman with the 144-inch ARI sleeper that it still sports today. The paint job and other custom touches, however, were done by Pat Eilen with Hampton, Minnesota-based Eilen & Sons Trucking. The Eilens are regulars at the Pride & Polish competition, as Pat and his brother Jonathan have both competed and won awards in the series' history.
Kulow said Pat Eilen painted the 379 to match his competitive truck-pull truck and used it to primarily haul that to truck-pull competitions.
Eilen later sold the truck to Caldwell, Texas-based Truett Novosad, who owns Equipment Express – a heavy-haul fleet that is also no stranger to show truck competition.
"I'm friends with Truett, and he sold me the truck back in April," Kulow said. "Most of the stuff was already done on the truck. Eilen & Sons, they go all out with their paint jobs and everything."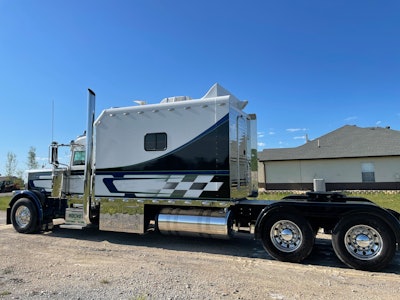 The truck features a 550-hp Cat C15 with an 18-speed and sits on a 320-inch wheelbase. The sleeper is fully loaded with the full shower, toilet, convection oven and microwave, big-screen TV, a fold-up full size bed with a fold-down dinette table, as well as a twin top bunk that Kulow's 3-year-old son can sleep in when he goes on trips.
Kulow, 32, originally from Iowa, has deep ties to the trucking industry as a fourth-generation trucker.
"It started with a horse and buggy in our family," he said. "Three of my four uncles and my dad all drive trucks, and my grandpa retired at the age of 84 – he drove for over 60-something years – and his dad did it."
Like Kulow today, his father and grandfather mostly did step-deck work. His dad was leased to Waterloo, Iowa-based Warren Transport for 28 years, and his grandfather was leased to Seegers Truck Line in Denver, Iowa. They also bought, sold and hauled hay for the family business, Kulow Hay & Straw.
Kulow got his own authority as Southern Style Express in 2007 and moved from Iowa to Texas when he was 23. He said he wanted to move to Texas as soon as he turned 18, as there are "a lot more miles to drive when you're 18 in Texas compared to Iowa," but that didn't work out. But by 23, he was spending enough time working in Texas that it made sense to make the move.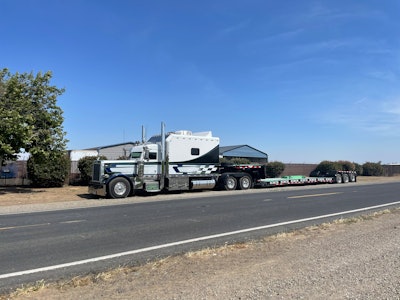 "I started doing a lot of trucking down here," he said. "Local stuff like Dallas to Houston, Fort Worth to West Texas. I spent so much time down here, I finally decided to move. I owned a house in Iowa, but I spent so much time down here, on weekends I'd find a place and get a hotel and just check out different areas, and that kind of led me to where I am now."
He typically runs 80,000 to 90,000 miles a year, hauling mostly machinery and oversized freight in Texas and the Midwest. Before he bought this truck, he bought a 2020 Peterbilt 389 brand new, which finished second in the Working Bobtail, 2014-2021 class in the 2020 Overdrive's Pride & Polish virtual competition.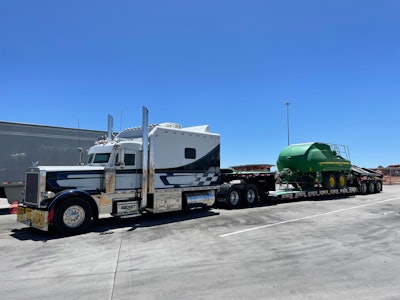 [Related: Fuel hauler Mark Havens' 2019 Peterbilt 389 -- Working Bobtail, 2009 & Newer Pride & Polish champ]