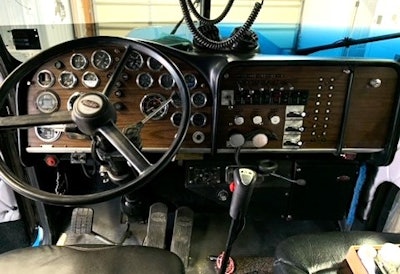 Owner-operator Horace Goldman's classic Pride & Polish-winning standard-hood Peterbilt 359 is from the very last year of the iconic model, 1987. Yet it was "built in September of 1986," the owner-op said.
Goldman well knows its history. He's hauled in it as of this week for 23 years. Previously, a company from his native Minnesota pulled reefers with it, then a farmer owned it and hauled grain with it. From there, a buddy of Goldman's bought it, and the 359 "went from my buddy's hands to me" in short order, where it's remained ever since.
The rig turned plenty heads in Overdrive's 2022 virtual Pride & Polish truck show, where it was crowned champ in the Working Bobtail, 2014 & Older category.
Goldman hauls heavy and oversize leased to T.J. Potter Trucking, on a straight 78% of the load -- 82% if it's a brokered load, he said. Loaded with a locomotive engine surround on a 48-foot RGN lowboy when Overdrive spoke to Goldman in December, he noted other work with a variety of trailers Potter owns. "A lot of what I do is with a double-drop stretch or a step-deck stretch."
One among the winning pictures of Goldman's well-maintained classic showed a mini-deck double-drop whose platform sits four inches off the ground from the bottom of the deck -- it's "17 inches above the ground before you load," Goldman said.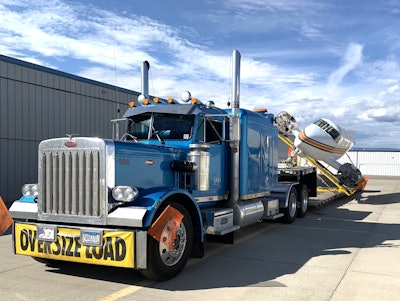 Few loads he chooses require pilot cars these days -- his last one was in the late summer/early fall of 2022. "I went to New Mexico with an enclosure," he said, at 13'6" wide, 93-feet long and 16-feet high, grossing 87,000 lbs.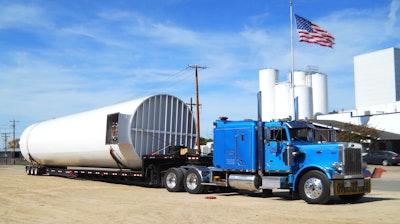 His long career prepared him well for just whatever freight gets thrown at him, really. "I started driving in 1972 for Mission Petroleum out of Houston, hauling gasoline" straight out of the military, Goldman said. His wife at the time (she's since passed on) wanted to get closer to where she was from and the pair moved to Minnesota. Goldman found work with Bray Truck Lines, "hauling swinging meat and butter," among other refrigerated freight.
He'd go on to haul grain, pull end dumps, flatbeds and other trailers, where he was in 1976 in his career when he bought his first truck -- "not a very good truck" is about the extent of what he needs to remember about it -- then a 1965 Freightliner cabover that he "ran for a good seven-eight years," he said.
Other trucks came and went before, finally, the owner-operator found what he wanted, and stuck with it.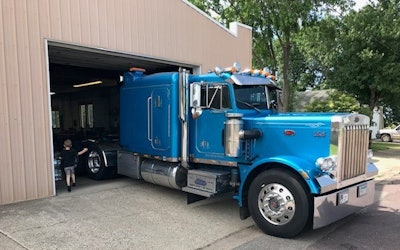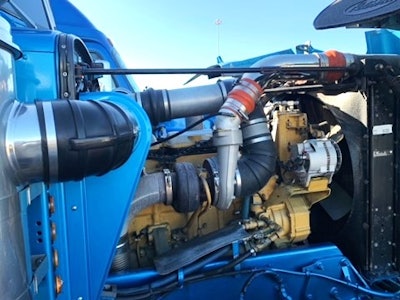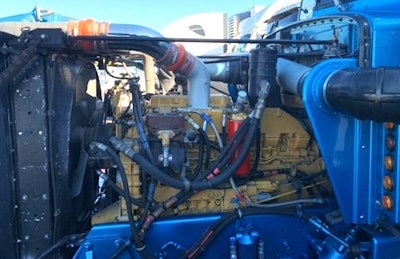 If it sounds to you like Goldman knows his way around a wrench, you'd be right. "I've done just about everything to it" through the years, Goldman said, much of the work performed at his home shop in Easton, Minnesota. "It's got the original front axle, cab, and sleeper, original fuel tanks and battery boxes, but that's about it.
"Pay enough attention to anything and keep it up -- it'll last you."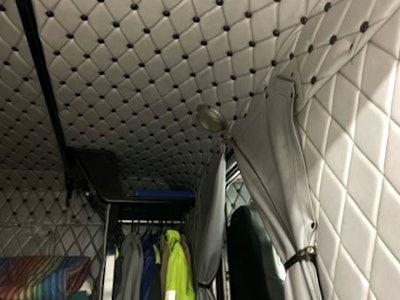 The rig came out of the factory with 1000-20s on the drive rims "and 22s on the front," he said, though he's since upgraded the suspension to one from a '99 Pete, replacing the frame rails but keeping to the factory 250-inch wheelbase, now with 24.5 low-pros on the rear and "24 talls" on the front -- "the truck sits level," he said.
He's upgraded to hub pilot hubs, he said, and the stacks are six-inch straight pipes with Donaldson silencers built into them. The paint shade, called "Mariner Blue," remains what was on the rig when it came out of the factory. "I've painted it four different times," Goldman said.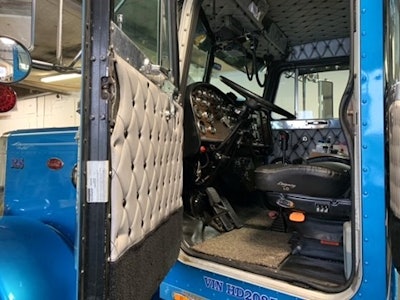 Goldman's long work with the rig runs back to the dawn of the current century, when in those days he was leased to a friend's small trucking company. Even then, he was "hauling stuff for Todd Potter" of T.J. Potter Trucking, he said. Potter, like Goldman, started with just a single truck back in the early 1980s. "He's got 60 owner-operators leased to him and has some company trucks. He has about 10 people in the office, and three-four all they do is permits." Goldman's now been leased there about 15 years.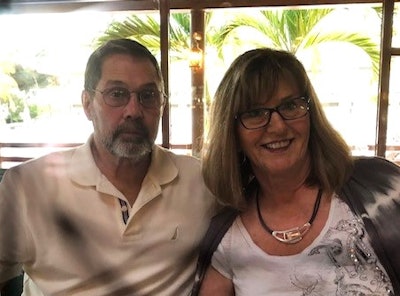 At 73 years old, Goldman said he'll keep truckin' "as long as I'm physically able," though he won't tarp anymore. In December, he noted the winter season advancing and the reality that it was the "first year in three years that I've worked this long" into it. A typical year for his recent history includes shutting down from the first of November to the first of March. He can afford it, he said, well-compensated for his work as he is.
It's been "a good life," all around, he said, with the award-winning 359, even with the logistical headaches of increasing congestion through the years, and the decline of the sit-down restaurant.
He offered this pro tip, nonetheless: If you're running I-49 north or south through Missouri, due west of Springfield in the town of Jasper sits Judy's Truck Stop. "It started going there in the early 1970s," said Goldman. While "they don't have any fuel, they still have the restaurant going. I make it a point of stopping there" in part for the specials. "Every day they have a noon special. It's got very good food. Good coffee there, too."
If you get by Judy's, tell them Horace Goldman sent you.
[Related: Custom champs: 'Joke's on You' 389 no stranger to the spotlight]