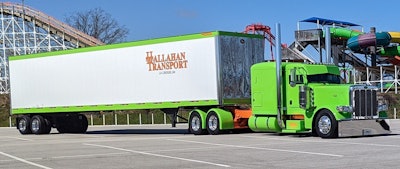 Rob Hallahan's "Joke's on You" 2022 Peterbilt 389 is no stranger to Overdrive's Pride & Polish, or show truck competition in general.
In 2021, the truck picked up the first-place prize in the Limited Mileage category of the virtual Pride & Polish competition, along with a second-place in Interior.
In the 2022 competition, with the truck doing a good bit more work, it was chosen by Overdrive readers as the winner in the Working Combo, 2012 & Newer category with the 2022 Great Dane dry van tastefully adorned with the small fleet owner's Hallahan Transport insignia in colors matching the tractor's. It also earned a third-place nod in Interior.
The truck was something of a part-time worker in 2022, running about 65,000 miles in between truck shows hooked to a stainless steel spread-axle van. As reported in 2021, however, Hallahan "built the truck to show," and that's primarily what it will do in 2023.
After picking up a first-place trophy for Working Truck -- Limited Mileage at the 2022 Shell Rotella SuperRigs in Branson, Missouri, the driver Hallahan had in "Joke's on You" was involved in an accident with the truck.
After that, Hallahan said his wife, Karen, told him to take a new approach to insurance for the rig and "just park it" as policy. He said he's still going to keep his Hallahan Transport trucks in show-quality condition, but "I'm not going to dump a lot of money" into them to make them show trucks like he has with "Joke's on You."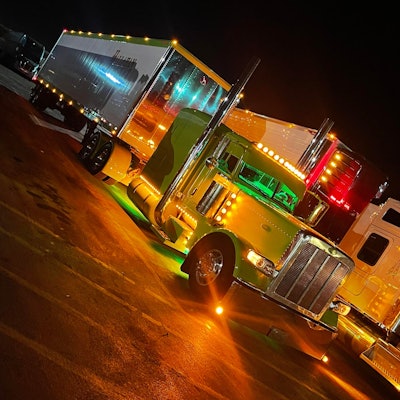 Beyond Pride & Polish, Hallahan said he had a "bucket list" of things he wanted to accomplish with the truck in 2022. It's always had a tie to the number 2, as it was truck number 22 in his fleet, pulled trailer number 22, and Karen's favorite number is 2.
"Well, in 2022, we won Shell Rotella, we got a spot in the Rockwood calendar, they built a scale model of our truck, and we got picked for a Cat Scale card -- all in 2022," he said. "I had a bucket list of things I wanted to accomplish with it, and I accomplished every single bucket list item."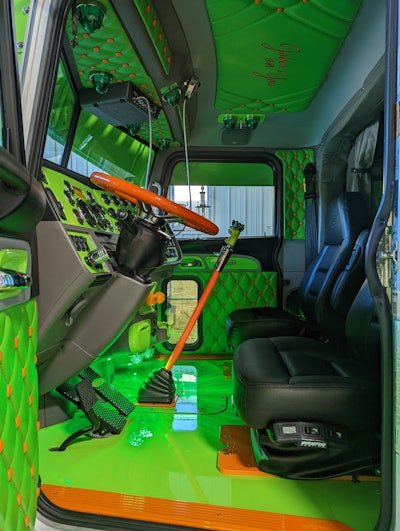 Business-wise, the year hasn't been all sanguine, as Hallahan Transport has experienced the same tough market that most everyone else has. He's starting to pivot the business into hauling more reefer freight after years specializing with dry vans. His fleet, also a 2021 finalist in Overdrive's Small Fleet Championship that year, is also down from about a dozen trucks a year ago to seven today.
"We lost some owner-operators -- they just couldn't afford to keep running anymore," he said. "We had a couple guys that came together when they started. One of them got in a wreck ... so he quit." A friend who came to Hallahan with him left at the same time.
Overall, "I think we're doing good for what the economy's like and what I'm hearing everybody else is doing," Hallahan said.
He said he's changed how he chooses loads and just doesn't take cheap loads. "We'll sit and wait on loads," he said. "We'll wait for a good load to come up before we take a junk load. We're not throwing a bunch of money in the bank like we used to, but it's survival mode. We're doing good surviving. We're not going backward, but we aren't getting ahead any."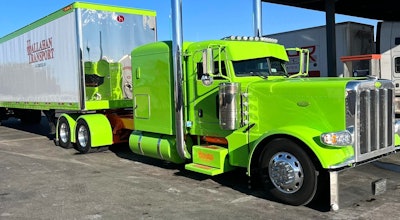 Despite the slowdown, Hallahan said he's not going to give up his build spots for trucks. He just placed an order for a 2024 Kenworth W900 that he's "been on a waiting list since last year" for.
Other than his bit of a freight-focus shift to refrigerated work, "I'm really not changing anything right now. We're just not adding more people," he said. "I'll still buy trucks because prices keep going up, and if you don't get them now, you won't get them. In my opinion, [a truck] is good for a million miles. If it sits in my shop for six months, it's still good for a million miles."
He said he has two trucks sitting in his shop right now without a driver, but believes "that's a good decision" considering the alternative: "get rid of them and have to pay more" to replace them down the line. "They're getting older, but the age of a truck doesn't matter. It's the miles."
The goal for 2023, Hallahan said, is to continue to weather the storm of the current market and be one of the carriers that come out on the other side.
Hear more from Hallahan about the build of Joke's on You in the following 2021 video, showing the 2022 389 as it was at that year's Walcott Truckers Jamboree in Walcott, Iowa.
[Related: Concert-hauling 2011 Pete 389 glider channels old-school look]