Trucking news and briefs for Tuesday, March 21, 2023:
Stricter-than-nation EPA emissions standards to be allowed in California: Report
The Biden administration is set to approve new rules in California designed to cut emissions and phase out sales of heavy-duty diesel trucks, according to a report from The Washington Post on Monday.
The Environmental Protection Agency (EPA), according to The Post -- citing three anonymous sources briefed on the administration's plans -- intends to grant waivers enabling California to enforce further environmental regulations tougher than federal requirements and regulations.
American Trucking Associations President and CEO Chris Spear released a statement Monday evening expressing disappointment, noting that the trucking industry "worked tirelessly with EPA on aggressive, achievable timelines for emissions reductions over decades," he said. "Our industry hopes these reports aren't true."
EPA in December updated emission standards for heavy-duty commercial vehicles for the 2027 model year, tightening tailpipe NOx limits to a level 80%-plus below the current standard and reducing the particulate matter limit by 50%. The agency also will require that OEMs extend warranties to 450,000 miles from 100,000 and useful life limits to 650,000 miles from 435,000 miles.
The new EPA standards require heavy-duty commercial vehicles to limit nitrogen oxide (NOx) emissions to 0.035 grams per horsepower-hour during normal operation, 0.05 grams at low load, and 10 grams at idle, and will also increase the useful life of governed vehicles by 1.5 to 2.5 times and yield emissions warranties that are 2.8 to 4.5 times longer -- provisions that guarantee that as vehicles age, they will continue to meet EPA's more stringent emissions standards for a longer period of time.
California has also set truck OEMs on a path that reinvents truck sales in the state, mandating all heavy trucks sold there be either electric or hydrogen fuel-cell by 2045. If California-specific regulations indeed enact more strict emissions limits, it sets up an event horizon for trucking companies that do business in and through the state, as California seeks to start its even tighter emissions limits three model years sooner than EPA.
The Truck and Engine Manufacturers Association (EMA) last August withdrew a lawsuit against the California Air Resources Board (CARB) intended to confirm that CARB is required to provide manufacturers at least four full model years of lead time before implementing new heavy-duty engine emission standards.
ATA's Spear added that "if the reports are in fact accurate, let us remind you that this isn't the United States of California. As we learned in the pandemic, the supply chain can be a fragile thing – and its integrity must be preserved at the national level,. This decision has little to do with improving the environment, and everything to do with placating the far left of the environmental lobby without regard for the hard-working men and women of our industry or our country who will be left to implement California's vision for America.
"The state and federal regulators collaborating on this unrealistic patchwork of regulations have no grasp on the real costs of designing, building, manufacturing and operating the trucks that deliver their groceries, clothes and goods, but they will certainly feel the pain when these fanciful projections lead to catastrophic disruptions well beyond California's borders."
Massachusetts, New Jersey, New York, Oregon, Washington and Vermont, generally considered "CARB states," might be expected to follow California's lead..
A group of Republican Senators, led by Sen. Deb Fischer (R-Nebraska), in February introduced legislation that would overturn new NOx emissions standards on new heavy-duty trucks that were set to go into effect later this month.
[Related: Senators seek to overturn EPA rule on heavy-duty truck emissions]
Diesel prices down 95 cents from a year ago
Diesel prices across the U.S. have been on a downward trend since late October, with only four weeks over that span seeing increases in the national average, according to the Department of Energy's Energy Information Administration.
During the week ending March 20, the U.S.' average price for a gallon of on-highway diesel is $4.19, down 6.2 cents from the previous week and down 95 cents from the same week a year ago.
The $4.19 per gallon national average is the lowest since the week ending Feb. 28, 2022, when the national average was $4.10 per gallon.
During the most recent week, prices fell in all regions across the country with the most significant decrease seen in the Rocky Mountain region, where prices fell by 8.1 cents.
The nation's most expensive fuel remains in California -- the only region with prices over $5 a gallon – at $5.26 per gallon, followed by New England at $4.66 per gallon.
The cheapest diesel can be found in the Gulf Coast region at $3.93 per gallon, followed by the Midwest region at $4.02 per gallon.
Prices in other regions, according to EIA, are:
Central Atlantic -- $4.65
Lower Atlantic -- $4.15
Rocky Mountain -- $4.35
West Coast less California -- $4.52
ProMiles' numbers during the same week saw fuel prices increase by 5.2 cents to $4.33 per gallon.
According to the ProMiles Fuel Surcharge Index, the most expensive diesel can be found in California at $5.58 per gallon, and the cheapest can be found in the Gulf Coast region at $3.92 per gallon.
Trane approves fossil-free reefer fuel
Trane Technologies announced Monday it has approved the use of hydrotreated vegetable oil (HVO) fossil-free fuel as a sustainable alternative to diesel fuel in Thermo King global cold chain solutions, including refrigerated truck and trailer product lines.
Trane said the use of HVO fuel offers a 90% reduction in greenhouse gas emissions and more than 30% in particulate matter while maintaining optimal product performance. The approval follows thorough testing, including a successful pilot with a national food distributor.
HVO is a fossil-free, premium quality fuel product made of 100% renewable raw materials produced by the hydrotreatment of vegetable oils or animal fats. Trane said HVO is typically viewed as superior to regular biodiesel and does not release any new carbon dioxide into the atmosphere. It can be used in place of diesel with no modifications to a Thermo King unit's engine or changes in its preventative maintenance schedule.
"We are excited to now extend the option of HVO to our customers in the Americas who share our passion for creating a more sustainable world," said Karin De Bondt, president of Trane Technologies' Thermo King Americas business. "Through our advanced technologies, with efficient, all-electric units, as well as fossil-free fuels, we are enabling our customers to decarbonize as we continue to execute our strategic roadmap to net zero."
HVO has previously been approved for Thermo King truck and trailer products operating in Europe, Middle East and Africa, and Asia Pacific. The fuel is also used for unit testing on all assembly lines and customer units at the company's manufacturing facility in Galway, Ireland.
Thermo King also has committed to delivering all-electric, zero-emission solutions for every segment of the end-to-end cold chain by 2023 in Europe and 2025 in the Americas.
J.J. Keller expanding cargo securement offerings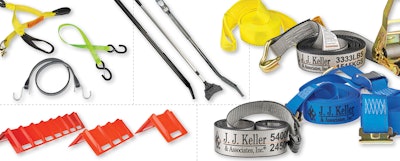 J. J. Keller & Associates recently expanded its line of cargo securement devices to include additional cargo securement straps and Doleco cargo securement devices, including tow and recovery straps.
The timing aligns with CVSA's upcoming Roadcheck May 16-18, during which one of the focus areas is cargo securement — 1,934 related violations and 10.6% of out-of-service vehicle violations were attributed to cargo securement during Roadcheck 2022.
"J. J. Keller's expanded selection of cargo securement straps and supplies will allow us to keep costs lower for customers and better ensure supplies are available when they need them," said J. J. Keller senior portfolio leader Kevin Kucksdorf. "Our goal is to provide an unmatched product range along with the best customer service in the industry."
J. J. Keller offers a large line of cargo securement products and services — from securement straps and devices to training programs, handbooks and consulting — designed to help customers ensure their cargo is secured and their drivers know how to secure it.