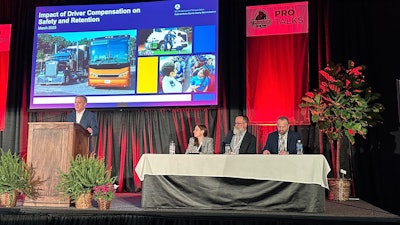 The Federal Motor Carrier Safety Administration on Thursday at the Mid-America Trucking Show in Louisville, Kentucky, provided updates on three initiatives it's working on -- an ongoing study into driver compensation, likewise detention time, and the CDL Drug & Alcohol Clearinghouse.
FMCSA Research Division Chief Jon Mueller said the agency is in the early stages of a new three-year study into detention time and its impacts on safety. FMCSA has previously studied detention several times, and the current study is the second phase of a study that began in 2014.
One notable change with the new phase of the study is that FMCSA is redefining "detention time." In previous studies, detention time has been considered to begin two hours after arrival at a facility.
Moving forward, the agency will calculate detention as the total dwell time minus the combination of loading/unloading and active dwell time. FMCSA said active dwell time is time spent completing tasks associated with loading/unloading, including preparing bills of lading, vehicle inspection, load securement, etc. And, of course, loading/unloading time is time spent at a shipping or receiving facility while cargo is actively loaded or unloaded.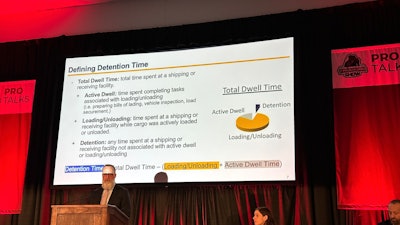 Detention will then be any time spent at a shipping or receiving facility not associated with active dwell or loading/unloading.
The new detention study is expected to be completed and a final report published by July 2025.
Nicole Michel, a program manager with FMCSA's Office of Research and Registration, said the Transportation Research Board (TRB) within the National Academy of Sciences is heading up the Congressionally-required study into the impacts of various methods of driver compensation on safety and driver retention in the industry.
Because TRB is conducting the study, Michel noted that FMCSA is not directly involved in conducting the study in order to "protect the integrity of the study," she said.
[Related: An argument for an hourly pay standard for truckers]
To date, there have been three TRB meetings on the study, two of which have been public. The public meetings so far have been "important to lay the groundwork to understand the landscape of the problem," Michel said, and to make sure the committee members understand the various regulations, how drivers are compensated and more.
The compensation study is set to conclude in July 2024, but it could be extended if more research is required. When the study is completed, TRB will issue a formal report to Congress that could include policy or legislative recommendations to various agencies throughout the government to address any issues that are found during the research.
FMCSA Associate Administrator Tom Keane said both studies represent "win-win opportunities" for the trucking industry, as they can "improve working conditions, break down barriers, improve flow" and more, while also being good for safety.
Keane noted, however, that "FMCSA's regulatory authority is limited to solve both of these issues," but the hope is that both reports "will raise visibility of these micromarket failures."
[Related: Overtime pay for employee drivers: Market benefits and drawbacks]
Clearinghouse update
Finally, Bryan Price, Chief of FMCSA's Drug and Alcohol Programs Division, gave an update of the CDL Drug and Alcohol Clearinghouse, which as of January has been in full effect for three years.
After three years, there have been nearly 200,000 drug and alcohol violations reported to the Clearinghouse. Out of the more than 175,000 drivers with at least one violation reported to the Clearinghouse since January 2020, only around 49,500 of those are in non-prohibited status and cleared to return to driving. Price noted there are more than 95,000 drivers who haven't started the official return-to-duty process.
Price said FMCSA is looking to do more to educate the industry on the RTD process to get drivers back on the road legally.
He also added that the number of drivers who are reported to the Clearinghouse for a "refusal to test" has been climbing, and a number of drivers reported for a refusal just didn't understand the rule.
"We're trying to do as much as we can to educate the industry about what a refusal to test is," Price said. "If a driver has a refusal reported, it's the same consequence as testing positive."
Price said he's seen many reports in which drivers were selected for a random drug test and left the testing facility too early, resulting in a refusal to test report. That driver then has to go through the full return-to-duty process.
Price also issued a reminder that, beginning Nov. 18, 2024, the "Clearinghouse II" rule will take effect, which will bring state licensing agencies into the fold. After that rule takes effect, if a driver has a drug or alcohol violation reported to the Clearinghouse, their home state will be required to downgrade their license, effectively suspending their CDL privileges until they complete the RTD process.
[Related: Fit or Unfit? FMCSA keying in issues with 'Conditional' rating limbo]