Trucking news and briefs for Friday, May 12, 2023:
Trucking safety groups urge House members to oppose bill blocking speed limiters
A coalition of eight groups penned a letter Thursday, May 11, to members of the House Committee on Transportation & Infrastructure urging them to oppose a bill that would bar the Federal Motor Carrier Safety Administration from mandating speed limiters on heavy-duty trucks.
The bill, the Deregulating Restrictions on Interstate Vehicles and Eighteen-Wheelers (DRIVE) Act, was proposed last week. The coalition of groups is composed of Advocates for Highway and Auto Safety, Citizens for Reliable and Safe Highways (Truck Safety Coalition), Institute for Safer Trucking, National Safety Council, Parents Against Tired Truckers (Truck Safety Coalition), Road to Zero, the Trucking Alliance group of large carriers, and Road Safe America.
The groups in their letter said "arbitrarily stopping FMCSA from this rulemaking process would compromise the agency from pursuing its stated mission -- to reduce large truck injuries and fatalities."
[Related: New bill would block FMCSA from mandating speed limiters]
The groups noted that speed limiter rulemakings have "been delayed over 20 times in the past 10 years," adding that they believed "truck speed limiters produce substantial safety benefits."
Opponents to speed limiters argue that creating a larger speed differential between trucks and four-wheelers would increase interactions between cars and trucks, leading to crashes.
The American Trucking Associations has long been in favor of speed limiters and in March 2022 joined Road Safe America in penning a letter to Transportation Secretary Pete Buttigieg again calling for the required use of speed-limiting technology on heavy-duty trucks. ATA threw its support behind the December 2019-proposed Cullum Owings Large Truck Safe Operating Speed Act. That bill called for all new commercial trucks to be equipped with speed limiters and to require existing speed-limiting technology already installed on trucks manufactured after 1992 to be used while in operation.
[Related: 'Fraud epidemic': Congress gets earful on double brokering, speed limiters, more]
Pilot makes $100k donation to military vets group
In honor of Military Appreciation Month in May, Pilot Company is furthering its commitment to helping veterans transition back into the workforce with a $100,000 donation to Hire Heroes USA, which helps provide quality employment opportunities to military veterans and spouses.
Pilot is also thanking service members and their families with several free offers in the myRewards Plus app throughout May.
The $100,000 donation from Pilot will provide Hire Heroes USA with the resources needed to guide more military members through the transition process, including placing more veterans into careers at Pilot.
"From our Pilot family to all the military families across the country, thank you for your bravery, service and sacrifice," said Brian Ferguson, Chief Merchant at Pilot Company and Air Force veteran. "This Military Appreciation Month, we want to show our gratitude by treating service members to free snacks and drinks during their travels and by joining Hire Heroes USA to connect veterans with resources and opportunities to pursue their career ambitions after leaving the service."
Pilot is also extending its thanks during Military Appreciation Month with exclusive offers throughout May for veterans and their families, in addition to its year-round 10% discount on food and beverages. To redeem these special deals, download the myRewards Plus app, authenticate through ID.me, and visit any of the more than 650 participating owned and operated Pilot, Flying J and One9 travel centers in the U.S.
Military veterans in Canada can also validate their military status through ID.me and utilize the year-round 10% military discount when checking out at participating Canadian Flying J travel centers.
Driver named Highway Angel for giving CPR to man who crashed into him
The Truckload Carriers Association (TCA) has named truck driver Anthony Robles, from Buckeye, Arizona, a Highway Angel for rescuing a man whose pickup truck crashed in front of him. Robles works for Hickman's Family Farms out of Buckeye.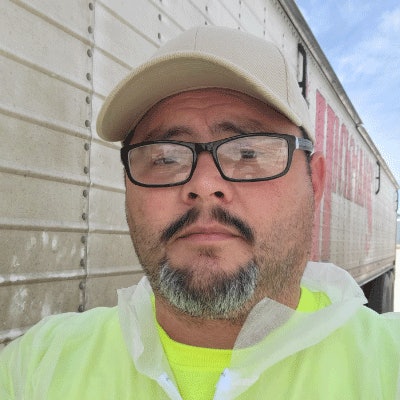 On March 21 at 9:45 a.m., Robles was driving northbound on State Route 85 when he was struck by another vehicle. The vehicle went off the road into the center, traveled 100 yards and crossed back over the highway and into the desert, where it stopped.
Robles stopped and ran from his truck approximately 25 yards into the desert to check on the other driver. He tried to open the driver's door, but it was locked and stuck behind a bush. Robles went to the passenger side of the vehicle and could not open the door.
"He was out," unconscious, Robles said. "Me and two other guys busted out his window and helped get him out of the truck."
When he pulled the driver out of the vehicle, he realized the driver was not breathing and had no pulse.
"I saw him not breathing and knew what had to be done," he said. "I was a little worked up but kept my head on straight."
Robles opened his airway and started CPR/chest compressions on the driver. He continued this until EMS arrived, and they took over care of the injured man.
Robles, who has been driving a truck for almost six years, said the last update he had about the injured driver was that the man had experienced a medical emergency while driving and is now in stable condition.