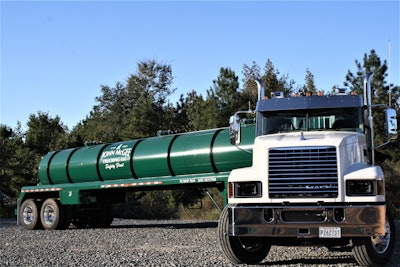 John McGee lives his life by a very simple rule: "Do unto others as you would have them do unto you." That's how he runs his business, too.
"Our mission statement is to follow the Golden Rule," he said, "not only with our employees and our customers, but also our community. Be fair, be safe, be reliable, be dependable, be honest and be nice. Do these and 98% of the people will be happy 98% of the time. Nothing will please that other 2%."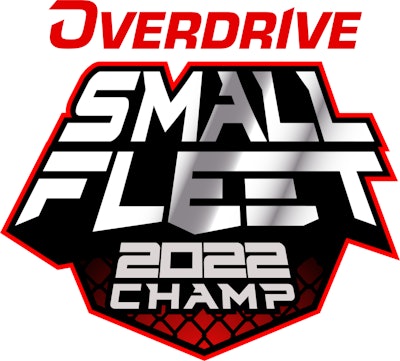 That strategy has paid off in spades for Simsboro, Louisiana-based John McGee Trucking. Since the company's finalist recognition Overdrive's inaugural Small Fleet Championship in 2020, McGee and company have continued to grow, serving mostly oil-services-related businesses. Contest rules prevented their entry in the 2021 contest, but this year they're back, one among 5 semi-finalists in the 11-30-truck category for the award.
McGee got his start in 1985 hauling for his brother-in-law's logging business in the North-Central part of his home state. Six years later, he bought a truck of his own and went into business for himself. John McGee Trucking was founded out of opportunity. Oil field work in his area started picking up around 2004 and he leased to an oil-services hauler. The company was bought in 2010. When the new owner opted to drop parts of the existing customer base, McGee got his authority and has been running John McGee Trucking ever since.
McGee's company primarily hauls oil-field liquids like produced water, completion fluids, fresh water and waste water, but it also works with FEMA providing disaster relief during floods, ice storms, hurricanes and tornadoes. "We also haul most anything that will fit on a flatbed trailer," McGee noted.
In 2013, McGee was still hauling full-time himself and employed two operators. A few years later he added trucks and tankers and the company nearly quadrupled annual revenues to more than $4 million between 2016 and the present.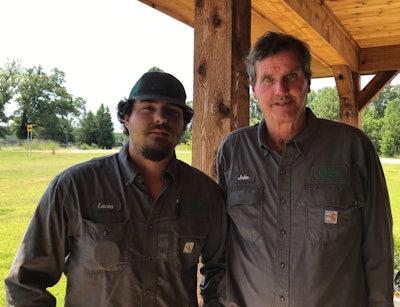 From 2018 to 2021 gross revenue grew by 50% and profit by more than 200%. John McGee Trucking has increased its revenue each year since its founding 31 years ago.
Today, the company owns 19 trucks and employs 24 drivers -- with annualized turnover of no more than 20%. McGee's built a 7,000 square foot shop, employing two mechanics and an office staff of three.
Small company, big practices
John McGee Trucking may be a small company, but McGee notes it offers big-company benefits: hourly pay for drivers, overtime after 40 hours, paid time off after six months, health insurance, a 401K with a company match, uniforms, monthly safety bonuses, production bonuses, Christmas bonuses, longevity bonuses, company-issued supplies and annual pay increases among them.
"We have flexible work schedules," he said, noting drivers work 12-hour shifts with four days on and two days off. "We'll let our day shift start anywhere from four in the morning until 7:30 in the morning. And then our night shift, they'll come in starting as early as 3:00 in the afternoon all the way up till about 7:00. It all kind of overlaps to where we're never without trucks [operating], but it also gives each of the drivers the freedom to try to fit the schedule to their family."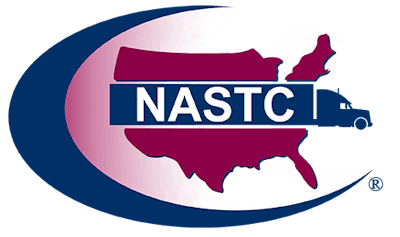 If you ask McGee what his title is, he'll list them. Owner. President. Manager. Driver. Relief Driver. Mechanic. Salesman. Safety Manager. Grounds Maintenance. "If it needs doing, I do it," he said. But all of the company's driver-friendly benefits and philosophies are rooted in the Golden Rule, and McGee doing unto his employees as he would have someone do unto him. "I love driving. I consider myself a driver and I love driving and if I had my choice that's all I would do," he said. "But everyday I'm up by about five in the morning getting everybody lined out and putting out the fires. So I guess that's my primary job: the dispatching and sales to keep these guys busy."
Part of what keeps his guys busy is JMT's reputation locally for reliability and going the extra mile.
Roy Wise, area supervisor for one of JMT's customers, Energy Transfer Company, recalls initially reaching out to JMT to handle waste water hauling -- the companies who'd handled it previously had been unreliable, and Wise was spending upward of $225,000 annually for the service.
"If we run that out over on the ground, it's a big environmental issue," Wise said of the waste water, underscoring the need to have it consistently and professionally removed. "Not only has he been Johnny-on-the-spot with that, this was one of the wettest Augusts on record [in Ruston, Louisiana], and his drivers -- instead of just doing their job -- they follow up. If there's more loads to be had, they'll call for more trucks. The guys in the plant yard don't have to deal with all that. They're very accountable and responsible. When they go out of their way, they go out of their way big-time."
Lance Acklin, field superintendent for Compass Energy Production, agreed, calling JMT "without a doubt the best water haulers we have ever had.
"They are a very responsible crew and they do a great job of not only their daily task but looking out for our interest as a whole," he said. "You won't find a better trucking company as a whole anywhere and you would be hard to find a better quality person as John himself."
Slow and steady wins the race
Transportation businesses, lauded as heroic just two years ago as the COVID pandemic gripped the country, have faced many ongoing headwinds since: supply chain issues, a tightening labor market, volatile fuel prices and 8%-plus inflation, just to name a few.
While some operators went all-in on expansion when freight rates reached an apex last year, McGee's approach has been more measured.
"Our business plan at JMT has been to only grow to meet our customers' needs and to be deliberate in growing at a slow, controllable rate," he said. "We work with some of the best upstream and downstream companies" in the oil services business, "and we work hard to maintain our services to meet their needs."
Working in the oil and gas industry does provide a built-in hedge against fuel price increases, McGee noted, as the majority of his contracts have fuel surcharges factored in. "However, we haven't been able to forecast or overcome all of the accompanying inflation, parts shortages, truck shortages and other supply related issues other than to pass these costs on to our customers," he said.
To help chip away at supply-related challenges, McGee added an inventory supply manager to his staff almost a year ago. First tasked with maintaining inventory to meet the needs of a then-17 truck fleet, her job quickly evolved into finding supplies at the best price in a timely manner to maximize uptime.
McGee takes a lot of personal pride in his company and what he and his team have built about 60 miles east of Shreveport, but if you really want to hear his voice light up, don't mention what they've built. Rather, ask about how they maintain it.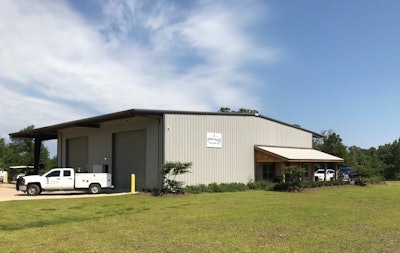 "Our maintenance program is second to none," he said, noting the JMT shop maintains its entire fleet "to meet or exceed DOT regulations, customer expectations and manufacturer recommendations. We worked with Mack to come up with a severe duty maintenance chart to maintain all these trucks, and the only time they go to the shop anymore is if it is warranty work. Everything else -- all the preventive maintenance and routine maintenance, brakes, tires, everything like that -- we handle in-house."
The company's 17 Mack Pinnacles are on a four-year replacement cycle running upward of 80,000 miles per year, and are washed and serviced weekly. "Safe, clean trucks promote an atmosphere of a company that takes pride," he said. "And we take pride in what we do, where we do it, how we do it and who we do it with -- both drivers and customers."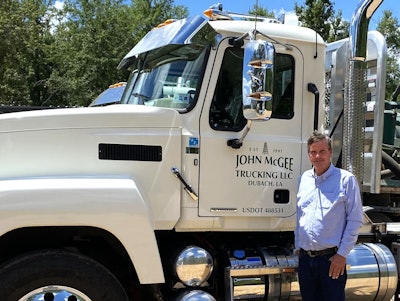 A four-year trade cycle (supply chain willing) also allows JMT to keep operating expenses relatively low. "We were running trucks for $1,000 a month because we were buying trucks for $130,000 [in 2016] and selling them for $80,000, $81,000 or $82,000" in 2020, McGee said.
The company partnered with an outside vendor to develop and implement a driver-based safety training and certification program to meet and exceed the requirements not only of the DOT and FMCSA. Crucially, though, the program "also satisfies our customers' expectations," McGee said. "This includes monthly safety meetings, driver reviews, online training, simulator training, job- and site-specific training, random drug and alcohol testing and recertification as deemed necessary. All of our trucks are equipped with cameras and telematics to ensure these vehicles are being driven and operated in a safe manner."
If the Golden Rule is the company's mission statement, then "To whom much is given, much will be required" is JMT's motto.
"It is easy to talk the talk, not always so easy to walk the walk," McGee said. From the outset at JMT, "our goal has been to be a good steward of what God has so richly blessed us with." .
John McGee Trucking is a corporate sponsor of Freedom13 Ministries (a faith-based organization dealing with victims of human-trafficking), Mercy Multiplied Ministries (likewise faith-based, empowering men and women to live free from life-controlling issues such as addictions, unplanned pregnancy, sex trafficking, abuse) and Ruston High Baseball. In addition, JMT is also a sponsor of the LA Tech Cheer Team, and supports various local fundraisers and non-profits, as well as a plethora of events its drivers are passionate about.