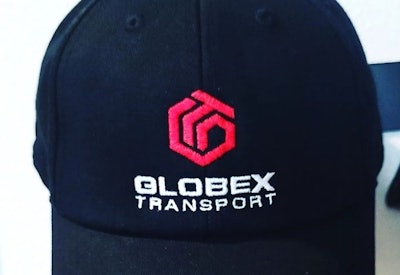 The last few years have been unqualified positives for the business of Tommy Piluyev, owner of mostly dry van and refrigerated carrier Globex Transport, up to 26 total power units as of July this year. That is, until the most-recent period. Speaking in August, Piluyev was helping arrange repairs from his Boise, Idaho-headquartered fleet's location in Lincoln, California, for an operator stuck with an issue with a reefer trailer damaged during unload far away in Alabama.
Piluyev chalked it up to an unwritten rule he keeps in the back of his mind when the freight markets are on the way down. "Whenever the market is really hot, you'll never have an issue, but the moment rates drop," he said, "trucks break down, stuff starts happening out of nowhere."
Variations on Murphy's Law -- anything that can go wrong will go wrong -- aside, Piluyev's been working through current market fluctuations with a stable of brokers and a few direct customers who've kept Globex's freight rates just below $3/mile across the fleet on average. Most of that rate on most of the loads goes to his owner-operator-dominant core of haulers, in addition to four company trucks he's invested in for the first time over the last year or so.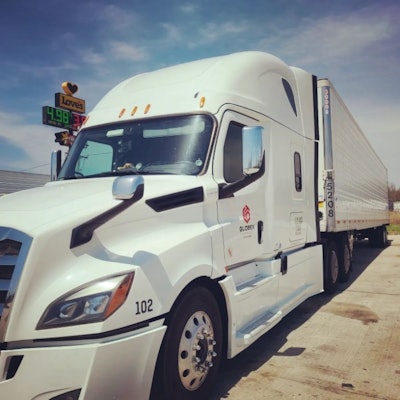 All owner-ops are dedicated to Globex in lease agreements, paid on percentage, and based across the country, with a core in the state where the fleet was born, California, some out East and all the way up to Alaska, even. "He lives up there and flies down to California to work for about a month" at a time, said Piluyev of the last arrangement with an owner-operator based up north. "Then he flies back for a month and goes fishing."
Repeat.
"And I'm stuck here in the office while he's sending me pictures" of the fish he's caught, Piluyev said. It might be enough to make some guys jealous, unsatisfied with their station in life. But Piluyev, in his late 20s, is still loving his work building the business, founded in 2017. It's grown fourfold in as many years, from just six trucks at the end of 2018, the first full year Globex was a business. "I love it," he said. "Every day there's something new going down. I love what I do."
Piluyev's skill managing freight negotiations from the office, and increasingly as the business has grown his ability to delegate, to set up new employees with the tools and knowledge they need to do the same, have helped spur that growth. Last year, when his average rate was between $3.50 and $4/mile, he said, most owners leased there "walked away with $300K-$400K in revenue" for the year. Word travels fast. This year hadn't been off that pace by much, he said -- by early August, "most of my guys are around the low to mid-$200,000s already."
Recognizing quick growth and substantial profit for the young business, Globex Transport is among five semi-finalists for Overdrive's 2022 Small Fleet Champ award in the 11-30-truck category.
An early footing in trucking out West
Tommy Piluyev was born in California in 1995 to parents who'd immigrated to the U.S. from Eastern Europe. His father has Russian roots, his mother Pakistani, Ukrainian and Russian.
His father drove truck in the U.S., and Piluyev started helping load him at the age of 15. "I started loading him and kind of fell in the love with the industry," he said. By 16 he'd started as a dispatcher at the company his father was employed by. That company grew from 7 to 30 trucks over the next few years, and Piluyev became the logistics manager there.
They were expanding, but had next to nothing in place to form the basis of a functioning safety department. The boss sat the young man down and tasked him -- "you're the only person set up here that I trust" to do it right, he said -- with building a safety/compliance program there from the ground up.
That company, VTS Transportation, Piluyev said, is a "150-truck fleet now," after growing to nearly 120 while he was managing the safety department himself. Yet he was "going to sleep thinking about work and waking up doing work."
He needed a change, and felt he'd learned the trucking business "inside and out" through the experience, he said. He partnered with 2-truck carrier with a 6-7-year history with authority to help manage the business, splitting profits 50/50 with the owner. "Very quickly I learned that was a big mistake," he said, as the company attracted 7-8 more owner-operators over the next year and a half and "I was doing everything."
He elected to go out on his own with just one owner-operator willing to take the plunge with him.
Thus Globex was born in the Sacramento, California, area, in 2017. His acumen for dispatch, for negotiating brokered freight rates, too, attracted several owners to lease on with him. But that first year, he said, "was a struggle" in efforts to effectively managing expenses and "just taking care of it all yourself," Piluyev said.
He was up to 7-8 trucks before he hired on some help in the back office, then learning a key lesson in business. "You have to invest in people to be able to grow," he said. Short-term, profits will suffer with a new hire, sure, but "with every new person" in the office, "I could contract with four or five more owner-operators."
With staff investments, profit began to jump exponentially. Nearing the end of 2019, Piluyev was running a 100% owner-operator business in Globex Transport headquartered in the state of California. He saw the writing on the wall relative to the AB 5 contractor law, whose application to trucking is now in effect and complicating traditional owner-operator lease arrangements. He moved the company headquarters to Boise, Idaho, in hopes of preserving those owner-operator relationships, the solid core of his business through today.
[Related: Three California small fleets take stock of AB 5]
"I've seen a lot of the bad stuff" in trucking, he said, whether the profusion of double-brokering cutting rates to outright theft of load payments. Early on in the business, he determined that honesty would be his guiding approach to everything. "If I'm going to raise up a company, I've got to do it the right way."
Not corner-cutting, and with the main office set up in Boise, the COVID pandemic's aftermath delivered a perfect storm for growth in his brokered-freight-centric business. In addition to the owner-operators leased on and his wife, Mila, Globex CFO, as 2020 dawned he had "about two-three guys working for me" in the office. "Within that year, I had three more." As he added dispatch capability, he added leased owner-operators, with a close eye on limiting the owner-to-dispatcher ratio to between five and seven to one. He wanted to be 100% certain he didn't fall into the trap of running people ragged he'd been put in himself in his career's very early days.
He wanted to job done "in he best way possible," he said.
That low ratio, the emphasis company-wide on honesty and so much more brought with it more success. Globex really started "catching the eyes of owner-operators who've been burned by other companies," Piluyev said. With "the relationship I built with them," and the service provided, he said, "When you're getting everything that you're looking for, why wouldn't you recommend anther person?"
Leased owners keep 90% of the load's gross to lease there, with a flat $950 a month for insurance separated out, too, another $100-$150 a month for ELD/elective dashcam subscriptions and other compliance costs. Owners benefit from company fuel discounts achieved via Piluyev's membership in the National Association of Small Trucking Companies and its well-known fuel program.
[Related: California trucking at a crossroads: AB 5, $7 diesel]
Building the team -- nationally and internationally
Word of mouth expansion as the fleet approached the 30-truck mark extended to back-office personnel -- and not just in the United States. A trucking associate with Ukrainian roots in California got married and moved overseas. Piluyev later learned that friend found work in "dispatch for a company here in the states." That led to a trial run of the associate acting as a kind of trainer for Globex dispatch personnel in that country with good English speakers.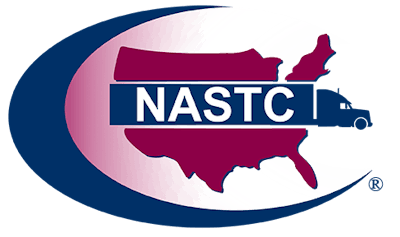 Today, Globex has a few overseas dispatchers (in Ukraine, Poland and Moldova) in addition to a few in the United States. Overseas dispatchers are particularly incentivized to perform because Globex compensates them at the same level as his U.S.-based dispatchers, or more than twice what they might normally make with similar work there. "All of them have great English," he said. "They've got an accent, but they're very communicative, very smart, and work-hungry. A lot of owner-operators like that."
All are people, he said, who "go above and beyond -- 100% I couldn't have done it without them."
He's fast in pursuit of further growth to support his existing and future owner-operators. With as much as half of his freight originating in the Southeast via brokerage networks, Piluyev's contemplated a terminal outpost there, in addition to his Lincoln, California, yard and Idaho headquarters.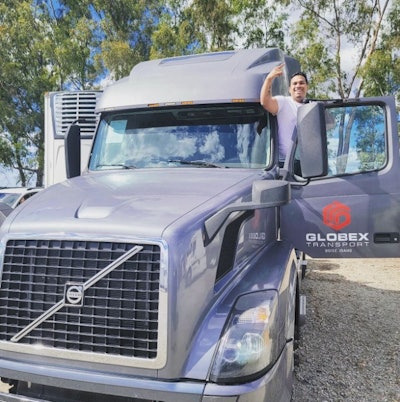 Within the last year, Globex dipped its toes into truck purchasing with employee drivers, also paid on a percentage basis. In September last year Piluyev bought four used trucks -- a 2018 and two 2015 Freightliners, and a 2016 Volvo -- all with cash. He's since put that on hold given all the uncertainty around the war in Ukraine, yet continues to expand into new areas with step-deck and other platform freight, some of it oversized or overweight.
With the right staff addition, he's been contemplating an honest approach to the brokerage game to satisfy needs of a growing base of direct customers -- a small portion of his freight mix today, with 85% of his business from brokers.
All in all, the company is clearly on the move. Literally and figuratively, "we're trying not to stay in one place," Piluyev said.
[Related: Meet all 10 Small Fleet Champ semi-finalists]