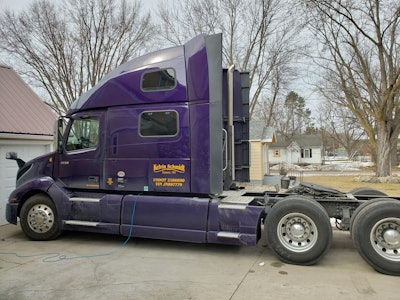 There's a quite simple design behind the one-truck owner-operator business of Minnesota-based Kelvin Schmidt. "I've been doing this myself with my own authority since 2011," Schmidt said. The key to his success? "I figured out how to make money and not spend money," simply put, today pulling the van trailers of T Bros. Logistics out of his home state to points East, West and South.
Schmidt's dedicated there, essentially. Though the independent can go wherever he likes, he places big value on freight, lane and rates consistency. The 61-year-old is supporting six young children -- ranging in age from 5 to 16, he said -- and his wife, Jennifer, back home. "I've got a mortgage just like everybody else," he added, on a five-bedroom home in the town of Dassel. "I'm just trying to be consistent with the freight, not trying everything. It's about finding one thing that you're good at, haul that freight and build repeat customers."
On his runs today, "I know all the people, I know the routes" involved, he said, and can easily hit either coast East or West -- or venture down to Texas -- and back within cumulative on-duty limits in the hours of service to get him home weekly.
Nominated by longtime friend and retired Teamster Steve Joramo, owner-operator Schmidt is a semi-finalist in Overdrive's Trucker of the Year award program for 2023, and our Trucker of the Month for January.
Schmidt was born and raised in Manitoba, Canada, and immigrated to the United States before he ever worked as a driver. He got his start in a one-ton dually with a flatbed, moving LTL freight.
"I bought a one-ton Ford and put a little sleeper on it , custom-made in Dallas, Texas," he said. New to the game, picking up partials, he quickly came to the conclusion that "this is not the kind of truck to use for this work," as he put it, given how quickly tires wore out, the frequency of oil changes for the Powerstroke diesel, and more. "I'm not even making enough money to live," he said to himself, whereupon he "hunkered down and started learning."
Some lessons came the hard way. He paid cash to upgrade to a used 2007 International single-drive-axle tractor and a 48-foot flatbed after having "listened to too many salesmen," he quipped. "That poor 2007," in his first year, "cost me $60,000 in repairs. Again: 'This is not good.'" Meantime, he was working load boards, running to Northern Canada "and bringing hay bales and straw bales back to the U.S."
Still, though, his quickly sharpening accountant's sense of his profit margin on every single load, combined with those huge repair expenses, told him, "I'm going backwards again," he said. A 2013 Freightliner Coronado glider by Fitzgerald followed, with a full warranty, but it, too, was in the shop for warranty work well more than he wanted. "I sold it with just 100,000 miles on it," he said, after a whopping two months' worth of downtime for a complete warranty-covered repainting of the rig.
He re-evaluated his entire approach, then. "I got smart," he said.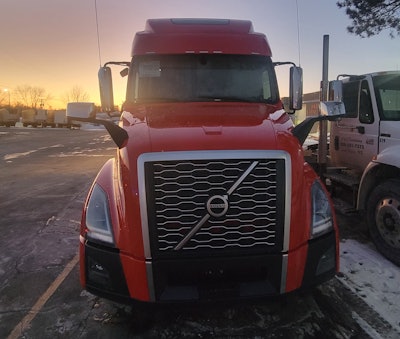 Schmidt's equipment, freight strategy shifts with solid profit outcome
Owner-operator Schmidt had had enough of the long load times with his flatbed, with all the downtime associated with maintenance and repairs. A customer in Minnesota recommended him to a broker/customer they liked, Stagecoach out of Hastings, with plenty opportunity not only in flatbed but with power-only dry van on dedicated accounts.
More importantly, in Schmidt's eyes, he solved his maintenance-outlay and downtime issues with a new approach to the equipment itself. He looked at a variety of new trucks at the time -- 2014-2015 -- finally settling on a 2015 Volvo VNL 860, purchased working with the GATR Truck Center dealer location in Sauk Rapids, Minnesota, with the longest factory warranty he could get on it and intention to move to a three-year trade cycle. He sold it, still under warranty, in early 2018, and bought the 2018 VNL he's just now sold, the pandemic and manufacturing delays extending the time he had to keep it, well after all depreciation had been used to reduce tax bills.
It was just shy of the 750,000-mile limit on the factory-extended warranty when sold, he noted, after his roughly five years of ownership. "I'm glad I bought the warranty," he said, a tactic he's repeated with the 2024 VNL he took delivery of just last week. "When you have one truck, you can't afford a $20,000 bill once a year" for a repair, not to mention the often equally costly downtime.
Knock on wood, he's "never been towed by Dr. Hook, ever." He stands by 30,000-mile (tops) oil drain intervals, though he's consistently counseled today's engines can handle up to 60,000 miles before a change with appropriate analysis.
"Oil is cheap, filters are cheap," he said. Better that expense than something major.
Before he puts a truck on the road he has wheels and axles aligned, something he believes has extended the life of his tires, keeping wear even. He specs disc brakes "all the way around" for less maintenance. "This has been a really good truck for me," he said about the 2018. He gets occasionally teased about just when he's going to get a "real" truck, he said, but lauds the VNL for its fuel mileage and reliability. Likewise ride comfort and interior space with a 77-inch sleeper.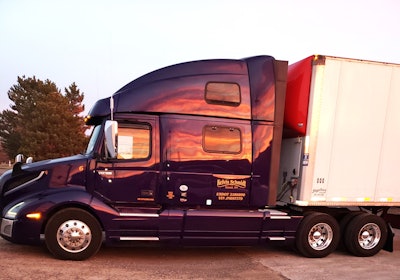 Schmidt found a reliable freight partner along the way with Stagecoach, first pulling concrete all over the United States before his principal contact there asked him if he'd be interested in pulling "one of their vans," he said. He parked his 48-foot flatbed and never looked back.
In March of last year, said T Bros. Vice President Nik Finley, that company acquired the account for which Schmidt had been a principal servicer for Stagecoach, and along with several owner-operators who'd been leased to Stagecoach, Schmidt followed the shipper to T Bros. "His time management is a significant part of his success," said Finley, noting too it can be "hard to find a guy who manages his personal wealth" as well as Schmidt. "He understands fuel economy and rates per mile and what that all looks like," and should look like for profitability.
Pulling freight under contract, Schmidt appreciates consistency there, too. Still, he's "worse than an accountant" with his close attention to numbers on a per-trip basis. "I figure out my profit every trip that I go on -- fuel, DEF, toll costs, every cost for every specific trip. Even if you go to the same place," he knows, costs, weather and equipment conditions, and so much more can change. Understanding those changes can alert you to a problem.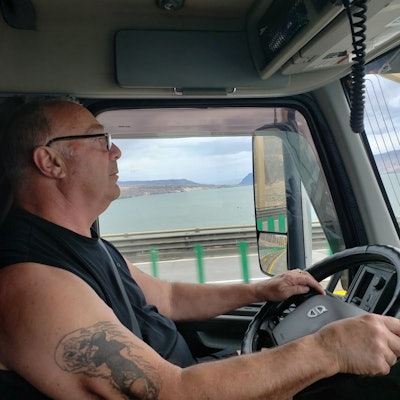 Longtime friend and trucker Craig Harris, hauling a belly dump in support of wind energy projects, notes Schmidt is "very clever with his fuel purchases," planning stops in places where the pump price minus taxes, and discounts through programs like the Mudflap app, is lowest. "He'll top off before he needs it," filling up before he goes through higher-fuel areas.
He's got two 150-gallon tanks on the tractor, and likewise benefits from use of a T Bros. fuel card for other discounts. "I've got everything so dialed in I know exactly where to buy fuel" before he even leaves, Schmidt said. "Buy fuel at the good price, fill it up. Save money. Don't do what I call 'truck-driver math,' do real math."
Most importantly for Schmidt, he knows well what it takes to generate a healthy profit and get back home every single weekend, where the most important element of his life is. "I never leave home without a trip both out and back. I haven't done a restart for 11 years anywhere" away from home, Schmidt said, among the reasons for his initial and ongoing decision to operate independently with his own authority and stay in full control of decision-making.
"I don't want to be owned by anybody but myself."
Said Finley, "We get him out and back, and he gets what he wants, we get what we want. He's by far one of the easiest guys to work with."
[Related: The origin story of the fuel-discounts app aimed squarely at independents, owner-ops and truck stops both]
Bonus to his independent status: "My kids can come in the truck with me when they're not in school," Schmidt said. He's taken every one of them at one point or another from Minnesota to California and back. "Once in a while I've had four kids with me at once," including a short trip north for a vacation to visit his mother in Canada, prompting lively conversation with the border patrol -- all in a day's work, or rest, in that case.
Despite the big jump in fuel prices last year, 2022 was a good one for Schmidt, with profits well above the owner-operator average of recent years. With no equipment depreciation left to set against those profits to reduce his tax bill, he paid forward roughly $12,000 worth in expenses for year 2023 late in 2022, including his insurance renewal, fairly low for an operation like his at less than $10K annually including cargo, physical damage, liability, trailer interchange and everything else. "You organize yourself" in terms of safety and compliance, and stay out of any accident, he said, and you can achieve the same.
Around his home community in Dassel, Minnesota, he's known for helping community members in need in a variety of ways, including cutting the grass routinely for an elderly neighbor, likewise caring for her pet, whatever's needed.
This "job I created for myself," owner-operator Schmidt said, ultimately, isn't about the trucking or simply making money. "I take care of the family" and their income needs back home. "That's what my real job is. Jennifer," Schmidt's wife, "actually has the hardest job" week in, week out, with six children to get to school and so very much more.
Their 19-year anniversary is coming up next month on February 28. Happy early anniversary to both.
You can enter your own owner-operator business or nominate another for Overdrive's 2023 Trucker of the Year competition via this link. Nominations will be accepted throughout the first half of 2023.
[Related: A closer look at insurance unique to power-only trucking]